The Scoop on Summer
The coolest sweet treats on the Emerald Coast we absolutely melt over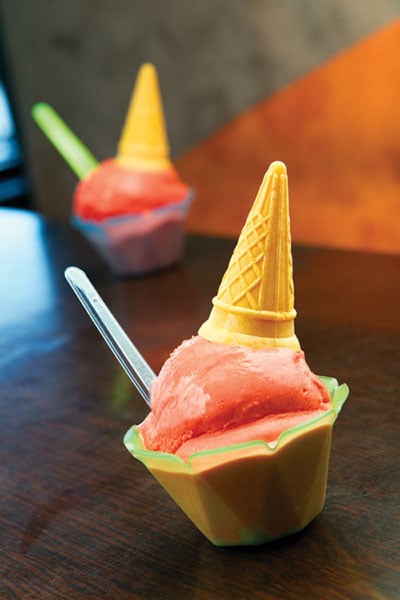 The nation may be divided on many things, but one thing Americans typically stand united on is the nation's favorite sweet treat — ice cream! As we near National Ice Cream Day (July 15) we begin to lick our chops at the long list of frozen desserts we love, especially in the summertime. Here are just a few of the coolest treats found in shops and stands along the Emerald Coast we simply melt over.
A Seaside Tradition
What's an idyllic beach town without an ice cream shop? Thanks to Bill and Heavenly Dawson, Seaside on 30A has two. Ice cream lovers flock to the giant triple scoop ice cream cone sculpture outside of Heavenly Shortcakes to tuck into a half dozen "hard scoop" ice cream flavors, 32 gelato flavors, as well as their signature dessert — strawberry shortcake.
Over the past 24 years, Dawson's Yogurt and Fudge Works estimates it has filled at least a million cones with three signature frozen yogurt flavors: French vanilla, chocolate and a rotating sugar-free option. If you are worried about indulging, don't. Dawson's answer is Yobe (pronounced 'yo-bay'), an all-natural, non-fat frozen yogurt that is just 25 calories a serving.
It's hard for many Americans to remember back to their first frosty encounter. But Dawson's is still converting "virgin" customers like Elaine Parkin from the United Kingdom. "It's the first time I've had frozen yogurt. I tried vanilla, and I liked it," she said.
Her friend, Heather Gourley, who munched on a Plantation Praline flavored cone is already a fan. "I'm not a milk person, so I prefer yogurt to ice cream," she tells. For Heather's husband, Roy Gourley, ice cream delivers more than sweet flavors. "It's a comfort food, and it brings back the child in us all," he chimed as he stuffed his napkin in his empty cup.
Frozen Foods We Melt Over
The Dawsons were on to something nearly a quarter of a century ago when they brought frozen treats to the beach. Today, the Emerald Coast appears to be erupting with frozen yogurt. In the past two years three new frozen yogurt shops ­— Twirl Frozen Yogurt, 32 Degrees: A Yogurt Bar, Yogurt Mountain — have emerged in Destin alone.
Arancia Rossa (blood orange) has a unique color and flavor that is grown only in the Sicilian provinces of Catania, Enna Siracusa and Ragusa. It yields a sorbetto with an incredibly smooth and pure orange taste. Food writer Ellen Brown says G.S. Gelato's rendition is "truly world class." Photo by Scott Holstein
Frozen yogurt's reduced fat and creamy texture are appealing features, but kids in particular love these shops because they can make their own dessert. Most of the frozen yogurt shops invite you to grab a cup and set you loose to choose from nearly a dozen flavors that often rotate weekly. After you pile on the nuts, fruit, candy, marshmallows and top with whipped cream, sprinkles and a cherry, you weigh your masterpiece and pay based on the weight of the final creation.
But yogurt isn't the only cool treat on the coast. Shake's in Destin is a great example of frozen custard, ice cream's smooth brother of another mother. Frozen custard is said to have originated in the early 1900s in New England and "chilled out" the likes of vacationers on Coney Island. According to Shake's general manager Chelsea Walsh, the Destin location is No. 1 in sales nationwide.
By definition, frozen custard must contain at least 1.4 percent egg yolk solids, which Walsh says "gives it its rich flavor and smooth and creamy texture." Apparently, the Emerald Coast has a crush on custard. Walsh says their drive-through shop makes at least 100 gallons fresh daily in the summer.
Shake's serves their delicious indulgence plain or in a variety of concretes, shakes and sundaes with retro-inspired names like Love Potion No. 9, The Bopper and Pink Poodle. Beware: After a visit to Shake's you just may need to jitterbug the night away.
Say Hello to Gelato
If ice cream is king, then Gelato is its sexy seductive royal cousin. Guido Tremolini and Simona Faroni are lovers who came all the way from Italy to the beautiful Florida Emerald Coast in 1995 to fulfill a dream: to bring authentic Italian Gelato to America.
G.S. Gelato is sold at San Gelato Café, a cozy Italian gelateria and café that could be found on the corner of any typical neighborhood in Italy. Locals can find it in three Emerald Coast locations: Silver Sands Factory Stores in Destin, The Village of Baytowne Wharf in Miramar Beach and on the Boardwalk on Okaloosa Island in Fort Walton Beach, where the artisan gelatos are made.
Aside from too many flavors to name (seriously), what makes this gelato delicious is the taste. One spoonful of the silky, sweet treat and you are transported to Italy. Yum.
Not only is gelato delicious and romantic, but it is healthy, too. G.S. Gelato is made with all natural ingredients and is 93 percent fat free. You don't have to trade taste for calories. This gelato is twice as dense as ice cream, so you are satisfied. The sorbet is also dairy, sodium, cholesterol and gluten free. Perfect for health conscious eaters.
Locals are not the only ones to drool over G.S. Gelato. The company was featured in a USA Today article headlined "10 Great Places to Get the Scoop on Ice Cream" in May 2011. The story noted G.S. Gelato as having the "most authentic" gelato in the country. The article comes from an interview with Ellen Brown, author of "Scoop: 125 Specialty Ice Creams," which also featured five flavors of G.S. Gelato.
Brown writes, "I've now had more than one hundred samples of frozen treats in my kitchen, and not one comes close to the ethereal taste and texture of G.S. Gelato's Blood Orange Sorbet. It's truly world class!"
All Hail the … Snow Cone!
New Orleans may be famous for its music, but it is the Sno Ball that makes it sweet in the summer. Anywhere else and shaved ice in a funnel-shaped paper cup is known as a Snow Cone. But kids growing up on Plum and Tchoupitoulas streets line up around the block to get a Sno Ball made with shaved ice (not crushed). The ice is topped with flavored syrup, sometimes more than one, sweetened condensed milk, chocolate sauce and sometimes whipped cream.
KC's New Orleans Sno Ball stand in downtown Fort Walton Beach claims to "bring the beach to the city." Beverly and Mike Parker definitely bring the flavor of New Orleans to their Sno Balls. Beverly Parker says the secret is the authentic Sno Ball maker purchased from the Crescent City. "It's all in the machine and how it shaves the ice," she says. She also credits her Destin "ice man" with delivering great quality ice. "We go through 15 10-pound blocks of ice and 25 pounds of sugar a day easy," she says.
G.S. Gelato spoons up and ships more than 100 different flavors of low fat, all-natural gelato and sorbet made with authentic Italian equipment. Photo by Scott Holstein
The Parkers, who have operated the stand for five years, cool down locals and loyal visitors with 34 fun flavors made from simple syrups (also from New Orleans). Some of their unique flavors are the celebratory wedding cake, which tastes just like it sounds, and their biggest seller, Tiger Blood — a combination of coconut and strawberry. Some Sno Ball lovers mix and match flavors, creating a nearly endless list of combinations. Adults can increase the octane by adding a wine-based shot to their sweet treat.
If the long line outside the KC's stand is any indication, this cool dessert is in hot demand. What is the mystique behind the Sno Ball sensation? "They are a refreshing, fat free treat on a hot summer day that is not filling," Parker says. "It's just sweet goodness."
Here Comes the Ice Cream … MINI?
Like moths to a flame, with just a few notes of that tinny jack-in-the-box-style music wafting from its speakers, children of all ages stop in their tiny tracks to head to their corner in hopes that the Ice Cream Man will turn his white, stickered truck down their street today. Though you may not spot them as often as you once did, ice cream trucks still meander neighborhoods trading kids their allowance for an ice cream sandwich, popsicle or Nutty Buddy sold through a side window.
Nostalgic as the Ice Cream Truck is, this American tradition is giving the right of way to new concepts. Move over Mr. Ice Cream Man, Santa Rosa Beach has a little ice cream company with a big personality with YUM-eez Itty Bitty Ice Cream MINI.
Instead of lilting lullabies they play Calypso steel drums and Island music. And in their custom cooler you'll find modern brands such as Ben & Jerry's, Good Humor, Klondike and SpongeBob Square Pants pops sold for a few dollars. "We are thanked a lot for not charging an arm and a leg," MINI owner Vonn Plunk says.
You can find this mobile party at family friendly events around town such as Digital Graffiti in Alys Beach (June 8-9).