The Sacred Heart Hospital Foundation
For over five years, they've rallied a community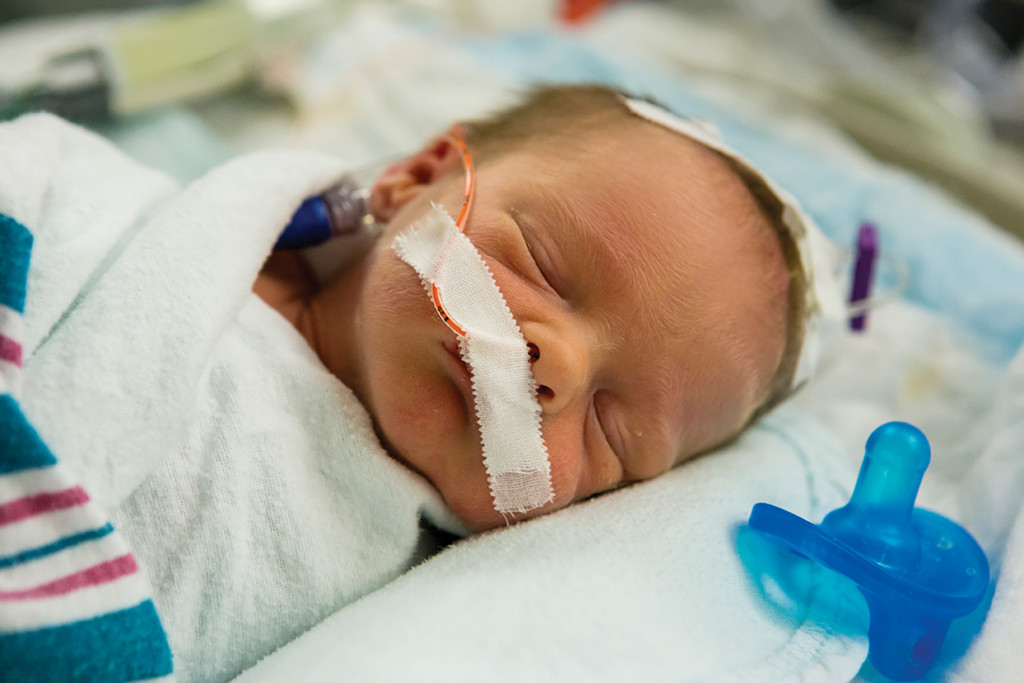 Weeks before it would open to the public, Studer Family Children's Hospital smelled like fresh paint and a thick layer of warmth and joy.
Yes, you could sense the excitement.
Carol Carlan, president of Sacred Heart Foundation, showed a visitor around the new four-story, $85 million facility in late March.
She occasionally came upon a worker touching up a wall, moving equipment into a room or taking a break in what appeared to be a state of satisfaction — or maybe reward.
Carlan would ask the worker what he or she did. Then she'd thank them for helping turn what was just an idea more than five years ago into what is now a state-of-the-art children's hospital that opened in May in Pensacola.
The worker would nod and smile in return as if to say, "And thank you for letting me do this."
"Every worker in that building was doing what they do best with caring hands, doing their labor of love, because the end result was taking care of kids," Carlan says.
Carlan has found similar motivation from donors throughout Pensacola and beyond.
Donors have included the wealthy and not-so-wealthy in the community and people from Sacred Heart Hospital — staff members, nurses, doctors, top officials, emergency personnel and others.
Many have volunteered for Foundation fundraising events such as the Cordova Mall Ball.
"It took everybody in this community," says Will Condon, president of the Studer Family Children's Hospital. "There was just an energy."
That's where Carlan and Sacred Heart Foundation come in.
The Foundation, a philanthropic advocate of Ascension Sacred Heart, has been working for more than five years to meet the nonprofit system's goal of $30 million in donations for the new hospital.
Through the middle of April, Carlan said, about 11,000 people had donated at least $1 to the project and helped the Foundation reach its initial goal.
The Foundation now emphasizes a new children's hospital phase: a $5 million campaign to construct a new, expanded pediatric oncology center.
"This work — raising money for a children's hospital that really doesn't make money — never ends," Carlan says.
She points out that more than 60 percent of the children's hospital patients are Medicaid recipients and that the hospital never turns a child away.
That motivates donors who respond to need and to helping the poorest children and families, she says.
Many find additional inspiration in a facility such as Studer Family Children's Hospital, which offers comforting amenities for children and families and boasts state-of-the-art technology that can make a difference and save lives.
Often, a donation starts with empathy.
"To give to a cause is an investment for a donor, so you really have to find out what their story is and how they connect to the children's hospital," Carlan says.
One family expressed gratefulness that a daughter born in the Children's Hospital's Neonatal Intensive Care Unit, or NICU, got the care she needed and is alive and healthy today. The family responded with a significant gift.
"We hear story after story," Carlan says.
As incentive, the Foundation offers naming opportunities that allow an individual or family to be recognized on a room, wall or hospital unit or section in return for a gift.
Upon walking into the hospital, you encounter a wall of fame of significant givers, highlighted in the hospital's calming and peaceful hues.
A "Dream Maker" panel trumpets donors who have given at least $5 million. A "Miracle Maker" panel touts families who have given at least $1 million, and so on.
Wall after wall and room after room features a plaque that honors a giver or givers. "There is a naming opportunity for just about every room in the hospital," Carlan says.
Other naming opportunities include the hospital playgrounds, the parking garage and one of the NICU floors.
Foundation and children's hospital officials remain confident that more donors will respond, especially now that the hospital has opened.
"Carol Carlan should be so excited because somebody who gave early, now that they've seen the hospital, will come back and say, 'I want to double my gift,' " says Condon.
"Like, 'Take another hundred thousand, or I want my name on the wall. How much does it cost to get my name on the wall? I want to be a part of this thing.' "
Carlan says the Foundation also offers various volunteering opportunities, including at the annual Mall Ball, which requires over 300 volunteers.
The Ball is held every January and has raised over $4.6 million for the children's hospital.
In the Preemie Cup, which takes place every August, the Foundation asks participants to enjoy a day on the water in support of premature babies at the children's hospital.
"Our events are always community driven," Carlan says. "So people can give three ways: their time, their talents, their resources — or all three."