The Retail Resurgence
Retail operators and owners discuss the boom and bust leading up to the latest retail resurgence along the Emerald Coast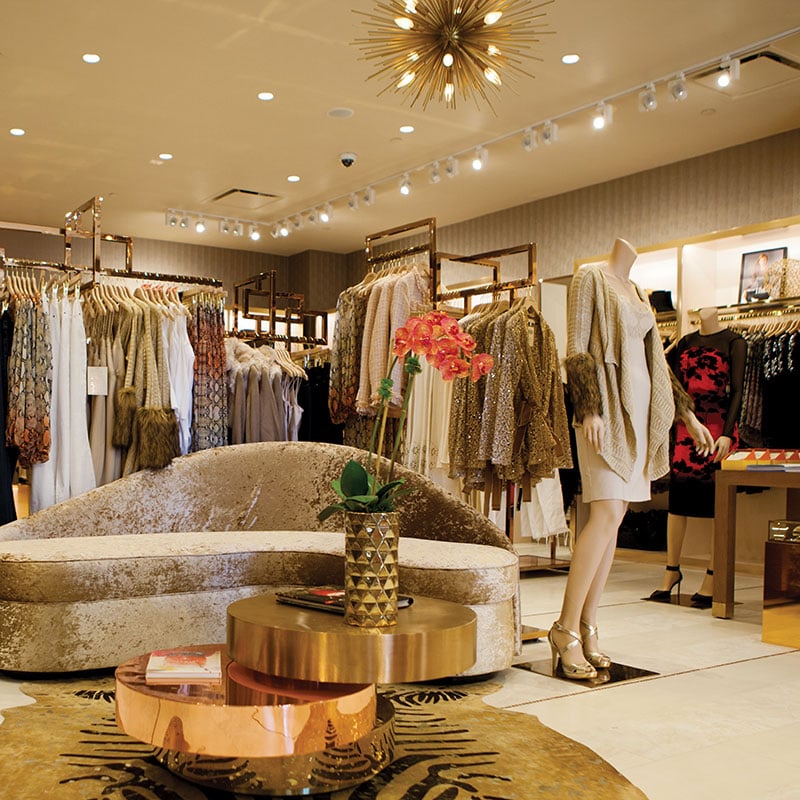 When Daryl Davis got the gumption to set up shop, it was summer, it was hot and passersby to her impromptu retail stand of mostly warm fruits and vegetables were few and far between. That was the early 1980s. Fast-forward 30 years, and not only is Seaside's Town Center a sophisticated stop on anyone's shopping circuit, but the entire Emerald Coast region is humming with mixed-use center expansions, retail renovations and new boutique businesses. Not even the crash of the Gulf waves seems to be able to deafen the cha-ching of local cash registers these days.
Shopping is good. A day at the beach is good. And according to Visit Florida, shopping after a day at the beach is apparently nirvana. With a record-breaking 90 million visitors to the state in 2014 and the most retail offerings in history here in Northwest Florida, you can do the math if your abacus can add up to nearly $80 billion.
Someone has to ring up and package all of these fabulous finds. The retail industry is second only to hospitality and the food-service industry for jobs in Florida. Add in local residents who can now dash out to snag nearly anything from school supplies to designer duds at a moment's notice, and you can pretty much say shopping the Emerald Coast is in the bag.
EC Magazine took a bit of a shopping spree and spoke to several retail operators and owners along the Emerald Coast. They talked about the latest trends, were candid about their competition, shared some of their secrets to success and even weighed in on whether too much of a good thing is a good thing.
Taking It Outside
Open-air market centers are one of the fastest-growing trends in retail. And it's no surprise that the Sunshine State is filled with them.
With 90 stores spanning 500,000 square feet in retail and another 70,000 in office space, Destin Commons is one of the largest lifestyle shopping centers in the area, if not the region. But as general manager Bob Perry tells it, the concept wasn't an easy sell.
"Back in 1999 and 2000, Peter Bos was doing everything he could to reach out to national retailers and tell them about what he was trying to build here, and he couldn't get anyone to return his calls," he says.
Eventually Turnberry Associates, which also operates the Aventura Mall in Aventura, Florida, did return his call, and in 2003, ground was broken for the first phase. Bos is no longer a financial stakeholder, but Perry has been at the helm for the past six years. He has successfully leveraged his 20-plus years in retail management to meet his goal of being a "first-to-market leader" — most of the time.
In summer 2014, Destin Commons added 22 stores. This year, it opened a number of new concepts for the area, including Emerald Coast Harley-Davidson, Relaxzation Spa, It'Sugar, World of Beer, Red Ginger, Zumiez, Smashburger and Which Wich. The Commons (as locals call it) also welcomed La Famiglia, a local, family-owned and operated business that was located on Destin Harbor. But the real excitement centers around the addition of Whole Foods Market, a leading natural and organic grocery franchise out of Austin, Texas, now under construction.
Anchored by Bass Pro Shop, Belk and AMC, Destin Commons is what is known as a "big box" center. It has fixed rent due to high upkeep for 24/7 security, housekeeping — the fountain alone cost $1 million to install and requires daily testing to keep it safe for kids to play in — and not many small local retailers can afford to set up shop there … anymore.
Perry says boutiques that started in the "boom times" (2003 to 2005) were able to survive because everything was booming. When everything stopped booming, they weren't prepared for it.
"It hurt us in 2008, '09 and '10 when they couldn't continue to operate effectively," he explains. And it hurt many local would-be entrepreneurs, too.
"There were a number of individuals who bought big boats and homes, and when the downturn came, they couldn't afford what they were doing — they lost a lot — divorces were involved. I don't want to put anyone through that," Perry says. "Unless they are well capitalized or have serious financial backing, it's tough to bring in a local entrepreneur. I don't want to say we are pricey, but we are not cheap."
This makes the staying power of Apricot Lane all the more impressive. Owned by husband-and-wife duo Jerry and Debbie Johnson, who relocated to the area from Opp, Alabama, in June 2012, Perry says this celebrity-inspired women's fashion boutique has been successful because it is a good franchise concept and "they went in with their eyes wide open." For the Johnsons — who are both veterans of the Alabama Army National Guard — it's an opportunity to both start a new chapter in their lives and leave a legacy.
"Family is important, and we are excited about creating a modern version of a family business with the hopes that our children will follow in our footsteps," says Jerry Johnson.
Though popular shops like the Johnsons' have helped Destin Commons take the lead in the market today — they are the largest non-hotel taxpayer in Okaloosa County — they were not the first major shopping center on the scene. For the most part, that honor goes to The Market Shops, which was built in 1985 at the entrance to Sandestin Golf and Beach Resort, which used to run it. And though it is the home of Sandestin Real Estate, the recently renovated 52,000-square-foot center, which is about half full, is now owned by OBP Partners out of Miami.
A big trend in retail is discount designer shopping centers. Silver Sands Premium Outlets in Miramar Beach — one of the largest in the country — is home to 110 designer name brands and anchored by Saks Fifth Avenue Off 5th. The Outlets opened its doors 27 years ago and is still hopping. Last year, the center opened eight new stores, expansions and remodels. And this year, Converse, Auntie Anne's Soft Pretzels and TaylorMade made their debut, while Johnston & Murphy, Carrabba's Italian Grill and Ciao Bella Pizza have undergone remodels.
Apricot Lane 
The center keeps in touch with its shoppers by keeping its name out there. According to Katie Johnson, director of marketing and business development, Silver Sands will sponsor more than 60 community events and donate as much as $135,000 this year.
Less than a mile away, The Village of Baytowne Wharf at Sandestin began a multi-phase opening of a 28-acre, pedestrian-only, mixed-use retail center in 2001 that was designed by Canadian developers who specialized in creating villages in ski resorts. This was their first and only attempt to capture and entertain beach resort guests and visitors with a sense of place reminiscent of classic old-world cities such as New Orleans and Charleston. 
The original "casting" of The Village of Baytowne Wharf was focused on "mom-and-pop" concepts. The rollout came with a lot of fanfare (handcrafted invitations placed in boxes tied with red silk ribbons were hand-delivered to local VIPs) and was a big success. In the first years, despite steep per-square-foot pricing, there was a waiting list. With somewhere different to dine every night of the week, the Village grew to more than three dozen merchants thanks to the draw of its "charming shops, quaint eateries and lively night spots" — and so did year-over-year resort room nights.
Though you will find a Subway and more of a Coney Island-style atmosphere today, the Village is still the heart and soul of the resort. And to capitalize on its popularity with the resort's primary customers, the current management, led by executive director Sara Becnel, has branded a collection of retail shops — Barefoot Princess, Island Clothiers, Coconut Kidz and Sandestin Clothing Company — as the Sandestin Family Retail Shops.
"We truly are a family shopping experience," Becnel says. "We cater to people of all ages. People who come in on a family vacation can come into our stores and find something they like."
Becnel, who has worked at various retail shops and has a degree in economics from Rollins College, has personally updated and refreshed each of the four stores to be sure they are welcoming and a fit for the brand family.
"Sandestin Family Retail Shops are definitely a lifestyle brand that is Southern charm, preppy and Florida fun, so we are always on the lookout for designers and lines that reflect that," she says.
Becnel lures visitors in by packaging shopping-themed girlfriend getaways.
With upwards of 70 percent of visitors saying shopping is near the top of their to-do list, according to research conducted by the South Walton Tourist Development Council, Sandestin's marketing strategy is spot-on. And when they do come, beyond the latest in well-priced designer brands, Becnel is ready with some extras. Her staff is trained as personal stylists, Apple Pay is accepted and parking is validated (for locals).
"It's been a great way to attract people to Sandestin and to the area who are all about shopping," Becnel says. They aren't the only people charmed by Sandestin's Southern brand family. Shoptique.com — a national amalgamation of boutique shops boasting items from 1,500 boutiques located in 1,000 cities — selected Sandestin to join.
"It's just one of the many things happening," Becnel says. "We recently rebranded Coconut Kidz, we just launched a new website (shopsandestin.com), and we have some exciting things planned for Island Clothiers in 2016, and we'll just leave it there as a teaser."
Lest you think shopping is just for the material-minded, Becnel thinks otherwise.
"It's a memory that you're taking home with you," she says. "You are not only buying a dress, but a souvenir . . . so every time they wear that dress they think of Sandestin, and hopefully it's a positive memory."
Eventful Experience
As retail centers go, Grand Boulevard at Sandestin is, well, pretty grand. Developed by Howard Group in phases beginning in 2003, they spared no expense, and it shows.
The first phase included a pair of Marriott hotels, both of which have earned accolades as best in class in the nation in their lodging category. The Town Center opened in 2007. Anchored by Orvis, Tommy Bahama, Publix and the Carmike Cinema, it is now in its third phase. In 2015, it opened Starbucks Coffee, Jimmy John's, Another Broken Egg, Emerald Coast Chiropractic and J. McLaughlin. There are plans for still more, including the highly anticipated Anthropologie, and perhaps even another hotel of some sort, though that isn't yet underway.
How do retail operators decide what shops can open shop here?
"Very carefully," says director of marketing and public relations Stacey Brady. "We consider we're on the 50-yard line between Tallahassee and Mobile. We look at who they are, what they expect and what they demand, and we think we offer a great mix of exactly what they are looking for in terms of sophisticated, fun shopping and great restaurants."
Several stores and restaurants in the center have won the Best of the Emerald Coast reader's polls, and Brady chalks up some of the center's success to "one-stop convenience and accessibility," but at the 12-year mark, Grand Boulevard has not rested on its laurels. In order to "stand out from the pack" of other retailers, Brady has lined up a series of events called Coastal Creations.
"For several years, we have been identifying events we thought would elevate the Grand Boulevard message and create another compelling reason for the customer to come to the Town Center and ultimately enhance the customer experience, because that's what it's all about now," she says. "It's not enough to be a great shopping and dining destination. Folks expect more, and you've got to deliver more, and events are a great way to do that."
The marketing strategy is paying off.
"Whether it's people coming to a concert and going to a restaurant for dinner beforehand or shopping before or after a weekend event, there is definitely a positive impact on the bottom line, but first and foremost we're looking at giving our customers another compelling reason to come and enhance that experience," Brady says. "If they do, they will come back and be repeat customers. It's translated into good business and happy people."
Brand It and They Will Come
Mike Ragsdale knows something about good business and happy people. The creative Santa Rosa Beach-based entrepreneur, who masterminded Digital Graffiti at Alys Beach, is the brain behind the 30A brand, which he launched as a website (30A.com) in 2007.
Ragsdale introduced his brand logo by dotting the region with hundreds of thousands of bright blue stickers sporting the 30A logo. It gained traction with the launch of a community website focused on all things 30A, and then further expanded in 2014 when Ragsdale began selling 30A gear online and in a few local stores. But as brand-loyal consumers are wont to do, they demanded more.
"We ran into issues when 30A fans were here at the beach and were looking for something specific," Ragsdale says.
And so, after beta-testing a store concept with a 30A truck at Gulf Place and opening what Ragsdale calls "store within a store" concepts at Sunrise Coffee Company and Amavida Coffee, he decided to open his own retail shops. Now the flagship stand-alone store is in Seagrove and sells 30A gear, wine and beer and draws customers in with live music and events.
Ragsdale isn't the only entrepreneur to set up shop on the Emerald Coast. 30Avenue, the 16-acre commercial development operated by the Corr Group, a private equity and real estate development company, is situated at the intersection of U.S. Highway 98 and the eastern entrance of Scenic Highway 30A. Design, Cuvee 30A, Willow+Mercer, V. Lala Galleries and Scenic Sotheby's International Realty are the first merchants at the upscale center, touted as the "Gateway to 30A."
Howard Group, the second largest landowner of waterfront property in Destin and developer of Grand Boulevard, has plans to launch Heron Harbor, an upscale, mixed-use community that will include retail, office, residential and marina components.
As for the future of retail for this tourist destination, entrepreneurs such as Ragsdale are optimistic.
"I think retail concepts will continue to evolve from seasonal shops that sell cheap disposable goods to year-round merchants who are focused on providing high-quality products, and as more people retire or move their families here full time, there will be an increasing need for retail stores of all varieties — not just those focused on the needs of visitors," he says.
Still, others caution too much of a good thing isn't always good.
"We have to be careful and developers want to put more and more here, but everyone has to remember that there are only so many year-round residents," says Becnel of The Village of Baytowne Wharf. "I'm all for development because it brings people here, but you definitely can overdo it."
And though Daryl Davis folded her fruit stand long ago, the progressive retail pioneer surely echoes her colleague Bob Perry's sentiments.
"We are all in this together and just trying to do something that helps them improve the quality of life here," Davis says.