The Power of the Bird
Inspired by the thing with feathers, Noah Strycker canvassed the avian world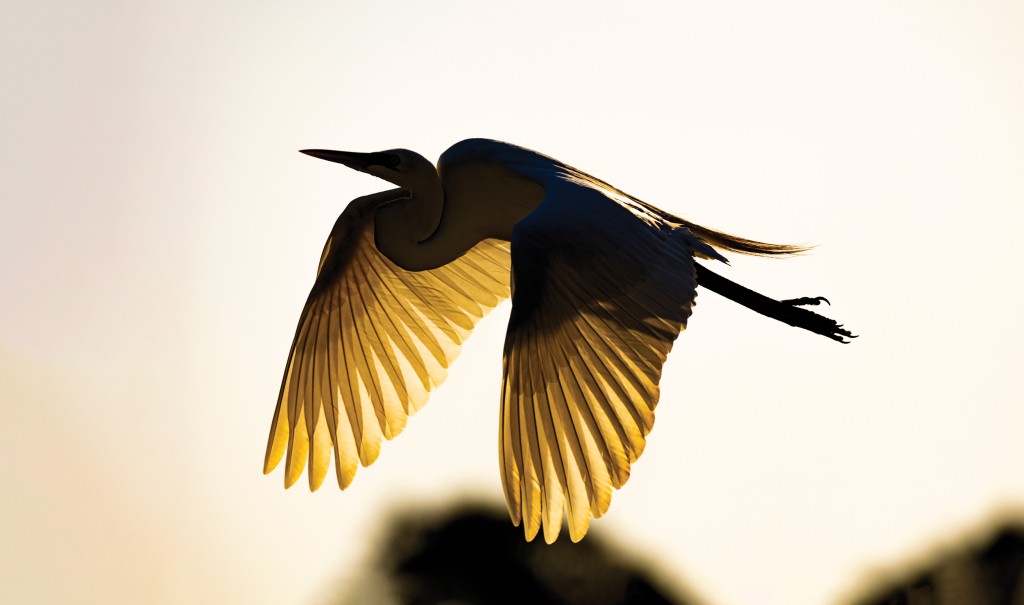 There he was, a male sandy-haired Oregonian, moving about lightly, as he characteristically does, on little catbird's feet and emitting a high and slightly nasally voice that sounds as if it exits a duck's bill.
Members of the Bay County Audubon Society had looked forward to Noah Strycker's visit with a degree of anticipation they usually reserve for, say, the arrival of migrating buntings in the spring.
Strycker is a rare bird.
Brian Dusseault, Bay County Audubon's vice president, pursued Strycker, one of the world's foremost birders and bird journalists, for years. Finally, monthly contacts with him became daily as Strycker's arrival in Bay County neared. In April, Dusseault introduced Strycker at Florida State University Panama City as the featured speaker at an Audubon Society Nature Connection event.
School children, too, had looked forward to the coming of the Bird Man, who presented programs about penguins at seven schools while in town. (While he surely could have, at no point did Strycker tell the joke that goes: One penguin approaches another penguin and comments, "It looks like you are wearing a tuxedo," whereupon the second penguin replies, "What makes you think I'm not?") Twelve schools joined in a penguin art contest.
The flurry of animated activity invited comparisons between the Bird Man and the Music Man.
Strycker was 10 and growing up in rural Oregon when his fifth-grade teacher affixed a suction-cup bird feeder to a classroom window. Students learned to identify the birds that it attracted. For young Noah, that experience would prove to be a formative one. Two years later, he was building bluebird houses with his father. He had become a Bird Boy.
In 2008, Strycker graduated from Oregon State University with a degree in fisheries and wildlife science. Thirteen years later, he earned a master's degree in marine science at Stony Brook University in New York. His research and thesis work focused on the population dynamics of chinstrap penguins on the Antarctic Peninsula.
"You could say that I am a penguinologist," Strycker told the gathering at FSU PC.
Too, Strycker is the author of several bird-centered books, including The Thing With Feathers and Birding Without Borders. The latter is an account of his travels throughout 2015, a year he dedicated to a singular goal: seeing at least half of the known species of birds on the planet, that is, about 5,000. He wound up eyeballing 6,042 while dealing with sleep deprivation, floods, war zones, mudslides, airlines, vehicular breakdowns and customs officials.
Strycker kicked off his world-encircling remarks by talking about Antarctica, where he began his "big year." He answered a question unlikely to have occurred to members of his audience, despite their collective bird IQ: What do you do when a chinstrap penguin, pursued by an orca, rockets out of the water and lands in your inflatable Zodiac?
"You have a penguin in the bow of your boat in Antarctica and he is posing for you with all of his best angles and you're taking lots of photos of it," Strycker commented while playing a short video clip of the encounter. "Then you notice some other penguins on a nearby iceberg."
Strycker thought to taxi the hitchhiker over to that occupied iceberg versus somehow returning the bird to water that was now being patrolled by a humongous and presumably hungry leopard seal.
The experiment worked. As the Zodiac neared the ice, the penguin shifted its attention away from humans and toward his nearby brethren before leaping onto frozen terra and joining them.
At FSU PC, the assembled birders reacted in unison with a big "Aw!" followed by thunderous applause.
Then, by way of drawing attention to the diverse ecosystems on the planet and the marvelously adapted birds that inhabit them, Strycker displayed a photo of a sword-billed hummingbird. The species has the longest beak relative to body length in the bird world, and its feet are the color of bubblegum. It is native to the mountains of Columbia and Ecuador and is equipped to probe the outsized blooms that occur there.
In his Big Year, Strycker would sight birds ranging from chickadees to cassowaries, collect stories and make friends with birders all along his 100,000-plus-mile, 41-country route.
Birding has come to enjoy worldwide popularity over the past two decades or so, naturalist Kenn Kaufman writes in his foreword to Strycker's Birding Without Borders, owing to two main factors — the information explosion and the advent of the internet. Guides to birds have proliferated. Strycker, in preparation for his travels, loaded his phone with photos of every bird-identifying plate in a stack of guides taller than he is. Data found at ebird.org helped shape his itinerary.
Strycker logged 466 birds in the United States and a whopping 784 during his treacherous travels in Peru. Twice his progress there was slowed by washouts that made primitive mountain roads even more scary.
At times, Strycker's efforts to log a fairly unspectacular bird were complicated by a fellow birder who did not stay on task.
Strycker was in upstate New York looking for an American black duck. Tim Lenz of the Cornell Lab of Ornithology was supplying him with companionship, transportation and sightings verifications when Lenz received a message on his phone.
A brown pelican, thousands of which Strycker had seen days earlier on the Pacific Coast, had somehow strayed to Cayuga Lake near Ithaca. Lenz had to see it. It was the equivalent of a moose seen south of the Mason-Dixon line. The black duck would have to wait a bit.
Months later, in Australia, a reporter for the Cairns Post asked Strycker what bird he most wanted to see on the island continent. "I've never seen a cassowary, and I'd really like to find one," Strycker told the journalist.
A day later, Strycker said, a story appeared in The Post beneath a headline to the effect of "Birdwatcher Wants to Break World Record with a Cassowary in Cairns." The article contained Strycker's phone number.
So it was that Strycker received a call from a man who said a cassowary with two chicks had been hanging around his backyard. Without hesitation, Strycker was on his way, undeterred by the cassowary's reputation as the world's most dangerous bird. More than one man has met his maker after being eviscerated by one of the bird's wicked middle toes.
The cassowary can reach a standing height of 6 feet, 6 inches and is marked by large pink wattles and a horny crown that looks like it might have been swiped from a stegosaurus.
"It was one of the greatest bird encounters I have ever experienced," Strycker said, "thanks to this very nice man who just happened to read about me in the paper and called me up."
Strycker and Kaufman are optimistic about the ability of birding to unite people and lower blood pressures.
"Everything in nature is connected, and as the birders of the world become more connected also, the reality of the future looks brighter already," Kaufman wrote. We can hope that the world's most evil despots take up the hobby.
On the morning following Strycker's presentation at FSU PC, I spent the day fishing not far from Bay County's airport. As I descended Crooked Creek on my way to West Bay, I spied two eagles aloft and wondered if they might be a mated pair.
I noticed that the occupants of a boat a few hundred yards from me were oblivious to the grandeur above.
They had failed to heed an admonition that Strycker wrote inside the cover of my copy of Birding Without Borders.
"Keep looking up."