The Pensacola Ice Flyers Are a Game-Changer
The hockey franchise is gliding over all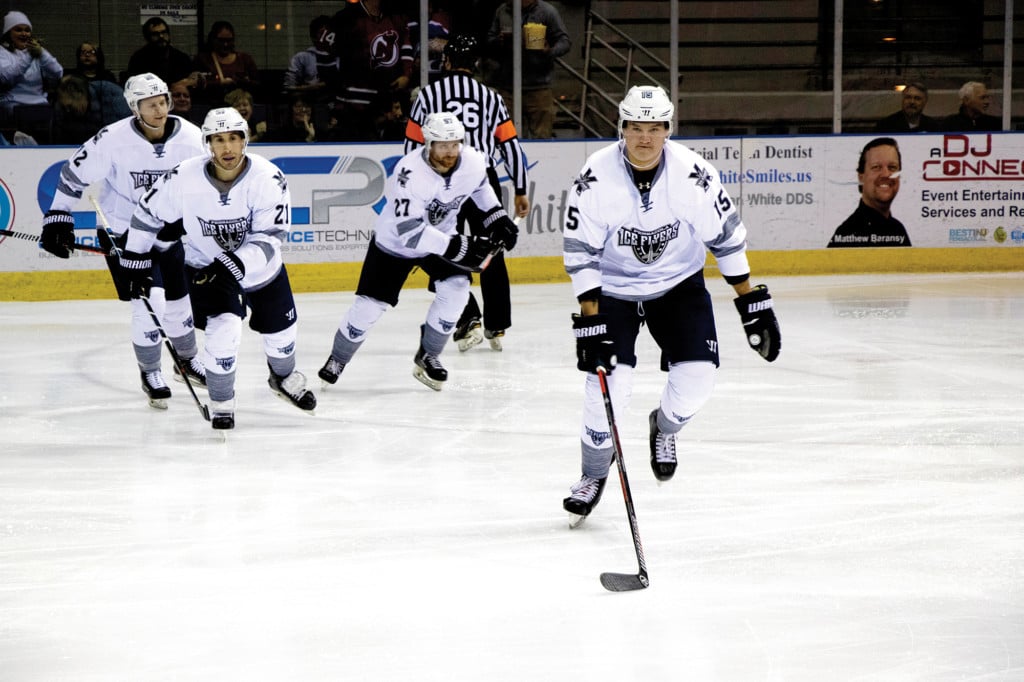 While the weather outside is sultry, come this October, the Pensacola Bay Center freezes over. A fleet of boys in blue take to the rink, armed to the teeth (or lack thereof) with sticks, skates and true grit.
They are here to defend their home ice. They are here to take what's theirs.
This year, says Pensacola Ice Flyers owner Greg Harris, they're on the warpath for victory, and he'll do everything he can to see that they, and the fans, aren't disappointed.
AN ELITE PROGRAM
Like most boys raised in Canada, Harris first learned to handle a puck about as soon as he could walk.
He skated his way to the United States, where he played college-level hockey at the University of Wisconsin Eau Claire, then back to his native country, where he coached junior "A" hockey in Manitoba.
But Harris, who received a business degree from the University of Alberta in Edmonton, has long been fascinated by the game's operational aspects.
In 2011, his lifelong ambition of owning a professional hockey team was realized when former NHL player and Pensacola Ice Flyers owner Tim Kerr invited Harris to make the 40-hour move from Edmonton to Pensacola, Florida.
Harris spent two years in the community learning the ropes and officially succeeded Kerr as Pensacola Ice Flyers majority owner in 2013.
"Most people are surprised to learn that professional hockey is Pensacola's longest enduring professional sport, but it started here in the late '90s with the Pensacola Ice Pilots," Harris said.
"That team went away during the 2008 season, but in 2009, the Ice Flyers were formed and integrated into the Southern Professional Hockey League (SPHL). We were very excited to celebrate our 10th anniversary this year."
And, in the eight years Harris has headed the organization, there's been much to celebrate. In 2013, the Ice Flyers won their first President's Cup championship, promptly claiming another in 2014 and again in 2016.
"Us winning three championships in four years really helped set the tone for our organization," said Harris.
"We want to be known as a strong, successful, elite program — one who members of the league want to come play for."
In general, SPHL rosters experience a large turnover. Trades between the 10 SPHL teams are frequent, and members who have been called up to play at the East Coast Hockey League (ECHL) — the next tier in professional hockey's hierarchy — will sometimes be called back down.
For Harris, it's imperative to identify core players looking to commit a good two to three years with the Ice Flyers.
"We finished the season 15-3-2 last year," Harris said. "We have excellent guys coming back to play for us again this season that are hard workers and will exhibit some crucial leadership for all of our younger guys coming in."
As far as Harris and the Ice Flyers head coach, Rod Aldoff, are concerned, a player's character far outweighs his skill.
Team members will be and have been tossed if they fail to hold themselves to the organization's standards.
"I have complete faith in Rod and what he brings to us," said Harris.
"He has a ton of respect around the league. He is always a professional coach who holds our guys accountable and mentors them beyond the game. Players who come to Pensacola have a great experience in that regard, as well as a high quality of life and fan experience."
VENT-LEVEL ATMOSPHERE
In the 2018-2019 season, the Pensacola Ice Flyers had the fourth-highest rate of attendance in the league. For Harris, that success is simply owed to keeping things "fun, fresh and interesting."
"It's imperative we not only put a good product on the ice, but in the stands as well," said Harris.
"When you think about the overall experience and the ways we keep fans entertained, the game itself almost comes secondary."
And, that's not just the case for minor league teams.
While Harris acknowledges NHL teams of the Original Six era — such as the Montreal Canadiens or Toronto Maple Leafs — will always keep the game day experience "old school," newer teams, such as the Las Vegas Golden Knights and Nashville Predators, are embracing hockey as an "event-level atmosphere."
"It's not just sitting down for 2½ hours to watch a game. It's about what's going on around you."
At the Pensacola Bay Center, four military appreciation nights transpire each year, which serve to thank and honor Pensacola service members and their families and grant generous ticket discounts to those with military IDs.
Other themed nights, such as last season's Avengers night, clad the team in Captain America-themed jerseys, which fans had the opportunity to bid for postgame.
Everything from on-ice Mardis Gras parades to intermission contests in the stands have celebrated success, but nothing puts a biscuit in the basket like …
"…Weiner Dog Race Night," Harris laughed. "People love it. That's one of those intermissions where no one gets up to go get concessions or use the restroom. They're glued to their seats!"
More seriously, Harris has been working to create for the 2019 season an autism awareness night, with the goal of raising $25,000 for Autism Pensacola.
"The community has done nothing but show us support, and it's very important to us that we give back," Harris said.
"Whether that's through fundraising or simply providing people a fun evening where they can come out, scream and cheer. For 2½ hours, you're going to be entertained — hopefully walk away with a win — but at the very least, you'll have some great memories you can share with someone in your life."
PENSACOLA: A HOCKEY TOWN
The irony of ice hockey in the sunshine state is not lost on Harris, but during his eight-year tenure, he noted, perceptions of the sport in the South have significantly changed.
National Hockey League teams such as the Florida Panthers and Tampa Bay Lightning, the latter of which, in the 2018–19 season, claimed the most points and regular season wins in the NHL, have certainly been influential.
"Professional hockey in Florida is, without a doubt, flourishing," said Harris.
"And that's helping our youth numbers as well. Our youth program, the Junior Ice Flyers, are bursting at the seams. The demand is there, and I'm very interested in growing those grassroots programs."
That extends to a demand for season tickets. Whether you're looking for glass seats and center ice spots or more modest perspectives from the corners and end zones, ticket prices are flexible and guarantee you won't miss a second of ice time.
VIP members are awarded with various merchandising discounts and benefits, including free memorabilia, autograph opportunities, premier parking passes and more.
Harris said he has also enjoyed fostering the team's corporate partnerships with the entire area of Pensacola, as well as providing employment opportunities and internships via the Pensacola Ice Flyers front office.
But what truly makes him feel his organization is successfully integrated into the community is as simple as "seeing someone wearing an Ice Flyers hat or shirt when I'm out and about."
"During hockey season, you see Pensacola Ice Flyers stuff everywhere, just like you do with the Wahoos during baseball season," said Harris.
"When I see the fans, that's what gets me. It tells me we've established a presence here, and for that we're always going to push to do better and be better for everybody involved."