The Panhandle's the Place to Be
Together Time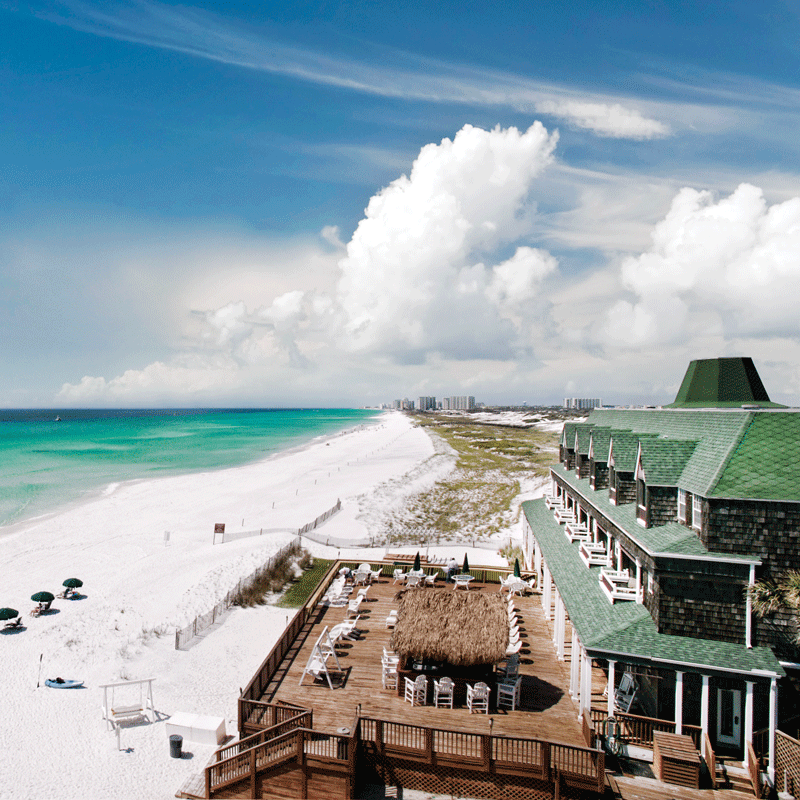 Courtesy of Henderson Park Inn
My kids are grown now, but when they were younger, I enjoyed all sorts of vacations with them — all-day extravaganzas at big, boisterous theme parks, getting waterlogged and sunburned at water parks, exploring natural wonders. Some of the best times on these trips were those moments between the photo ops where we just hung out and enjoyed each other's company. 
But there were other times (round-number anniversaries come to mind) where I was more than happy to leave the youngsters behind to spend romantic one-on-one time with my husband unbothered by my — or anybody else's, for that matter — children.
This spring, I was able to get a taste of both sorts of getaways within an hour of each other along the Emerald Coast. 
For romance, nothing beats Destin's Henderson Park Inn. And when it's time to bring the kids along, you'll find a variety of fun family activities just down the road at the beaches and rivers of Santa Rosa County, which bills itself as "Florida's Playground."
In the Mood for Love?
When I say nothing beats this charming clapboard beachfront inn, I mean it quite literally. Trip Advisor reviewers rated it the area's No. 1 hotel and one of the Top 10 Hotels for Romance, while other sites and awards have praised its romantic allure.
You'll feel special when you're greeted by the innkeeper at check-in, because with just 36 rooms throughout the entire property — you are. You'll be shown the beach-view dining room, where a full breakfast is served every morning and a box lunch will be waiting for you to eat there or take along for your day's adventures. By night, it becomes the elegant Beach Walk Café, serving gourmet Gulf Coast cuisine, with a soupcon of Italian and French influences. Dining on the Sky View Deck is an option or, for the ultimate in romance, you can choose a Toes in the Sand dining experience.
Breakfast and lunch are included in the room charge, as well as other amenities that include a happy hour on the deck (perfect for watching the sun set over the Gulf waters), a 24-hour coffee service and a help-yourself fridge stocked with candy bars, sodas and waters. You'll never be splashed by youngsters in the pool because children aren't allowed and, well, there isn't a pool on the property. But there is a capacious pair of hammocks tucked under the deck just perfect for a relaxing snuggle.
Love is most certainly in the air when you enter your room, where roses, wine and chocolate set on a tray on the bed await you. Most rooms also offer a spacious whirlpool tub, a small balcony and a million-dollar view of the Gulf. 
While some parts of Destin are rollicking day and night, the Henderson Inn is on a quieter offshoot of Highway 98. If you're interested in seeing and being seen, head east and ride the back streets on one of the Inn's complimentary bicycles. But you'll find a special treat to the west — the Inn property abuts Henderson Beach State Park. Destin Harbor is visible in the distance, but for more than a mile, there's nothing but dunes, sand pines, pristine beach — and each other — to enjoy. 
Courtesy of Henderson Park Inn
Scott Holstein (Zoo)
The quiet and seclusion of the Henderson Park Inn (top) offers the perfect setting for romance. Everyone will have fun feeding the animals (bottom) at the Gulf Breeze Zoo.
Family Fun from Beaches to Rivers
If your crew is rarin' to go, there's plenty of fun to be had in Santa Rosa County. Not to be confused with Walton County's Santa Rosa Beach, this is a county that stretches from the Gulf of Mexico to the Georgia state line. The pace is a little slower than Destin to the east or Pensacola to the west, but that makes it all the easier to enjoy the area's natural wonders.
Navarre Beach is the Gulf-end place to enjoy in Santa Rosa County, and its accommodations feature a row of condominium towers and individual houses that make for a not-too-crowded beach scene. The landmark is the 1,545-foot-long Navarre Beach Pier, which has to be one of the cheapest thrills I've ever enjoyed. Admission is a buck per person ($7 if you want to fish and tackle is available to rent) and gives you the run of the longest pier in Florida and the Gulf of Mexico. 
The original pier took a double wallop from Hurricane Ivan in 2004 and then Hurricane Dennis in 2005 and its massive (and hurricane resistant) concrete replacement opened in 2010. It's a third-mile walk to the end. In fact, the contractor kicked in for the labor and materials to make it 45 feet longer than originally planned, so it would take "longest pier" honors. It's a show as you walk along, with anglers reeling in ladyfish almost as soon as their bait hits the water.
But the real action is found at the octagonal fishing deck at the end of the pier. During my visit, the fishermen were literally running from one side to the other, attempting to catch a pair of cobia swimming around the pilings, then speculating on whether the fish that was eventually hooked would be long enough to be declared a keeper. 
I was able to enjoy some $2 beers and a cousin of that cobia at the casual, cabana-style eatery at the pier entrance.
Set aside at least part of one day to visit the Gulf Breeze Zoo. At 50 acres, it's not huge by zoo standards, but there are more than 900 animals on site and many, many delightful opportunities to get up close and personal with the inhabitants.
Be sure to buy everyone in your group a cup of animal food and a Budgie Stick before you begin to explore. Children (OK, and more than a few adults) will be thrilled to hand feed and give a scratch to many animals, including camels, giraffes, llamas, water buffalo and the cutest baby goats and bunnies you'll ever see. At the aviary, you're sure to make friends with several free-flying budgies (aka parakeets) who will light on the Popsicle stick you're holding and gobble down the seeds stuck to the end.
Stroll along a boardwalk or, for an additional fee, the cute Safari Line Limited train will take you through several free-range habitats, where you'll see gorillas, hippos, zebra, antelope, ostrich and more. 
While the area's beaches are sublime, you simply must (I insist!) travel inland for a different sort of natural Florida experience. Santa Rosa County boasts historic areas like the charming town of Milton. About a half-hour drive north of the beach, it sits on the banks of the Blackwater River, which itself offers myriad opportunities for outdoor activity.
A great one-stop place for these experiences is Adventures Unlimited, located about 15 miles north of Milton. Located on the banks of the Coldwater Creek near the Blackwater River State Park, it started out as an outfitting company in the late '70s for canoeing and kayaking. Those are still popular activities today, along with tubing and stand-up paddleboarding, but the facility has grown to include accommodations — from primitive camping to a luxurious, romantic tree house called the Lorax Loft — and a thrilling collection of zip lines. 
What you won't find are clocks, televisions, radios, Internet or decent cellphone service. And that's on purpose, according to founder/owner Jack Sanborn. "We subscribe to a No Child Left Inside policy," he says. "People find themselves here."
---
IF YOU GO
Head east on U.S. Highway 98 to get to the inn, or take the Mid-Bay Bridge toll road, which terminates very close to the property. To get to Navarre Beach, travel a little farther down I-10 and take the Highway 87 exit south. 
Henderson Park Inn 2700 Scenic Highway 98
hendersonparkinn.com, beachwalkhendersonpark.com
(850) 269-8646
Navarre Beach Visitor Center 8543 Navarre Parkway, floridasplayground.com
(850) 939-2691 
Gulf Breeze Zoo 5701 Gulf Breeze Parkway, gulfbreezezoo.org
(850) 932-2229
Adventures Unlimited Outdoor Center 8974 Tomahawk Landing Road, Milton
adventuresunlimited.com
(850) 623-6197
Gulf Blue Vacations 8499 Gulf Boulevard, gulfbluevacations.com
1 (800) 242-3224