The Other Pocahontas
She Won a Medal of Honor for Rescuing a White Soldier — and He Wasn't John Smith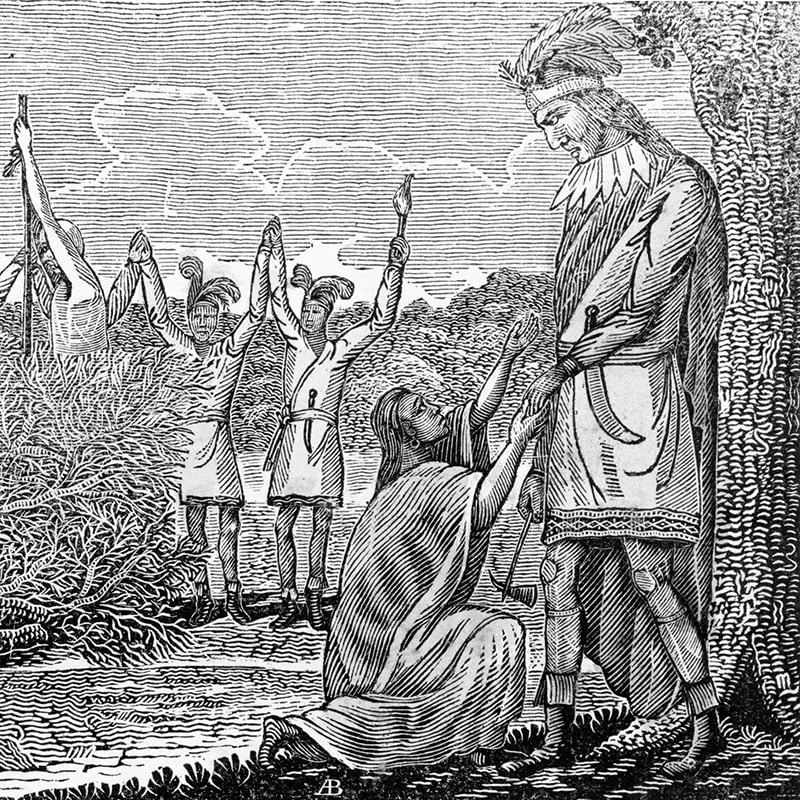 History has a way of misremembering its heroes. Most Americans know (and love) the story of Pocahontas, despite its historical embellishments. In fact, a far more authentic "Pocahontas" emerged nearly 200 years later in Northwest Florida, but she has been mostly forgotten.
This American Indian woman was awarded a medal from Congress for saving the life of a white soldier, moments before he was to be murdered by her tribesmen. She was the first woman and Native American to receive such a tribute from the U.S. government.
Milly Francis was the daughter of a Creek Indian chief known as Francis the Prophet. Their tribe had been driven into Spanish Florida by the Indian Wars of the early 19th century. Francis, one of the region's most influential chiefs, was a bitter opponent of American expansion.
Milly's story begins in 1818, when U.S. forces, citing Indian attacks on border settlements in Georgia, invaded Florida. Led by Gen. Andrew Jackson, troops swept into Florida in the spring, marching down the Apalachicola River and establishing a makeshift command center at an abandoned fort, which they called Fort Gadsden. From there, they mounted attacks on local villages, succeeded in burning the Indian village of Tallahassee to the ground and planned for the capture of the Spanish Fort St. Marks.
Jackson's ranks contained a young private from Milledgeville, Georgia, named Duncan McCrimmon. While his regiment rested at Fort Gadsden one morning in March 1818, McCrimmon decided to go fishing — a jaunt that nearly cost him his life. Indians belonging to Francis' tribe pounced on McCrimmon in the woods and hauled him back to their village. Francis was summoned and stood by while McCrimmon's captors decided his fate.
Milly and her sister were playing nearby when they heard the sound of a war whoop. Knowing this signaled that a prisoner was about to be killed, they rushed to the site. Years later in Oklahoma, Milly would describe the scene to Gen. Ethan Allen Hitchcock, who recorded her account in his diary. She told Hitchcock that a group of Indians had gathered around McCrimmon, who was stripped naked and tied to a tree, his captors preparing to shoot him. McCrimmon, scribbled Hitchcock, was "doubling himself to screen himself from the gaze of those that were looking at him and at the same time looking anxiously around as if to ask if there was no one to speak for him and save his life."
"Milly's eyes were very animated as she gave this account," added Hitchcock. "She is a good-looking woman now and must have been a beautiful girl."
Responding to McCrimmon's mute plea for help, Milly implored her father to spare the prisoner, saying it was a pity that a young man like him should be put to death. Francis reminded her of their custom: If an Indian captured a white man, it was up to that Indian to decide what to do with the captive; not even the chief could interfere. However, he told Milly that she could try to persuade McCrimmon's captors against killing him. Suddenly Milly, just 15 years old, found all eyes on her as she stepped forward to bargain for a man's life.
One of McCrimmon's captors had two sisters killed in the Indian Wars and was determined to take revenge through McCrimmon. Milly argued that killing McCrimmon wouldn't bring his sisters back. She again pointed out the soldier's tender age, insisting that he was too young to have gone to war upon his own judgment. Finally, the captors agreed to spare McCrimmon's life if he would consent to having his head shaved and assuming their dress. Milly translated these terms to McCrimmon, who gratefully accepted. It was an amazing deal for him: He escaped imminent death with everything but his hair intact.
Several days later, the Creeks traded McCrimmon to the Spanish garrison at Fort St. Marks for 7½ gallons of rum. The young soldier's luck continued when Jackson's army seized Fort St. Marks in early April. McCrimmon was freed and returned to Georgia just a few weeks after his rescue, but the story of how he had been saved by the comely daughter of Francis the Prophet spread quickly through Jackson's army.
Meanwhile, the Creeks' luck had run out. Francis was captured that spring and executed on Jackson's orders. In August 1818, the Creeks surrendered at Fort Gadsden. The war had left many of them starving and weak, unfit for the journey back to Alabama where they were ordered to return.
Back in Milledgeville, Duncan McCrimmon heard of Milly's straitened circumstances and immediately set out for Fort Gadsden. His hometown newspaper, eagerly following the story, reported that his intention was to propose to Milly and bring her back to Georgia with him. Energized by McCrimmon's chivalry, the people of Milledgeville took up a donation for Milly and her family and sent it after him. Then they waited for news.
On Dec. 1, Col. Matthew Arbuckle, the commander of Fort Gadsden, wrote a disappointing conclusion to the Milledgeville Journal: "Duncan McCrimmon is here — Milly, the Prophet Francis's daughter, says she saved his life, or used such influence as she possessed to that effect, from feelings of humanity alone, and that she would have rendered the same service to any other white man similarly circumstanced — she is, therefore not disposed to accept his offer of matrimony, which has been made as an acknowledgment of gratitude." Arbuckle added that Milly had received the donation and sent her thanks.
That fall, Milly and her family returned to Alabama. Her fame from the much-publicized incident with McCrimmon faded as she moved West and as time marched on.
Nearly 25 years later, Gen. Hitchcock was traveling through Oklahoma when he heard that Milly Francis lived nearby and decided to pay her a visit. Milly was by that time a widow with three children. Her poverty was evident. After hearing her recount the story of McCrimmon, Hitchcock resolved to petition Congress for the pecuniary relief he felt was Milly's due. His petition was successful: In recognition of her heroic act, Congress granted Milly a "medal of honor," specially minted with its own devices, and an annual pension of $96. Yet the reward fell to the bottom of Congress' to-do list, taking a full six years to be granted.
In the spring of 1848, Milly contracted tuberculosis. James Logan, the Creek agent charged with dispensing her salary, heard that Milly was deathly ill on the very same day the package from Washington arrived. Going to her residence, Logan found her in "wretched condition." He immediately procured medical aid and read to her the letter from Congress announcing her award. Milly, he wrote, was "so highly elated, that I flattered myself she was recovering — but my hopes were fallacious … ." Milly died on May 19, 1848.
There is no record of what ultimately became of either the money or the medal — unfortunate, considering the medal's historical significance. The location of Milly's gravesite in Oklahoma is also unknown. While she never attained Pocahontas' level of fame, Milly is not entirely forgotten. Today, small plaques at the San Marcos de Apalache Historic State Park and the Fort Gadsden Historic Site offer brief tributes to the "Creek Pocahontas."