The Murray Family Cruises into Their 10th Year Working Together
Two If by Sea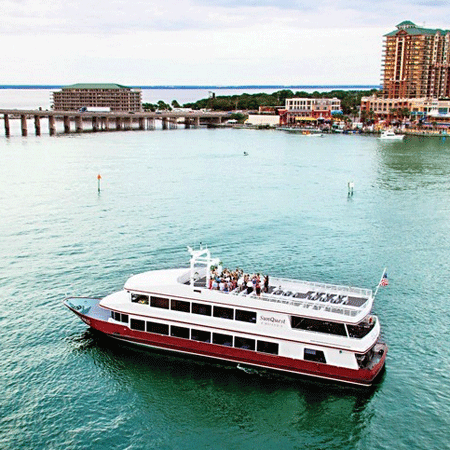 Over the past decade the Solaris Yacht has become the "go to" for those looking for a popular place for a unique dining experience, a festive gathering spot for both local and visiting friends and family, and an award-winning destination wedding venue with a killer view.
When Jim Murray and his son, James, opened SunQuest Cruises in June 2004, they knew much more about being on the water than serving dinner. Jim Murray had been building boats since 1978 and had already constructed 66 yachts similar to the Solaris Yacht they would use for their dinner cruise business. He had not, however, attempted to wine, dine and entertain 150 people, many who would step aboard to celebrate their lives' most significant moments. And neither of them expected that one of this region's worst-ever hurricane seasons would strike during their first months in business.
James had finished college and joined the shipbuilding business and, having watched customers use the yachts they built to entertain guests in other cities, was convinced that his family could succeed with the same kind of business. 
Now in its 10th year, the Solaris Yacht, which is anchored at Baytowne Marina, hosts more than 100 weddings each year, as well as corporate events and public cruises for people celebrating special occasions. What started with just Freeport Shipbuilding Inc. has evolved into a broad-focused hospitality business, encompassing not only the Solaris dinner cruises and events, but also dolphin watching tours on their second boat, the SunVenture I, and a full catering business for events on land and water.
EC sat down with the Murrays (Jim's wife Gail also joined the conversation) to talk about what it means to spend a decade in business with family.
---
EC: How did you go about starting the business together?
Pure 7 Studios
James Murray Jr., affectionately known to friends and family as Shorty, with his mother Gail, and father, Jim, who built the Solaris 10 years ago.
JIM: We weren't totally novices, but we were close. James learned a lot, more than any of us, in a very quick period of time. It's one thing to build yachts. It's something else to operate them.
JAMES: Once I moved from the shipyard it was definitely a learning experience, but the key to it all was hiring the right people — good entertainment, good captains, good waitstaff, good chefs, good event planners — that's what makes the company. I'm not cooking the food, I'm not driving the boat, I'm just managing people, and we have some really good people working here.
EC: What is it like to work with a family member?
JIM: It's great. He does all the work! Actually, I don't really work with him, I work at the shipyard. I know how to build a boat, but I don't know that I could run this business.
JAMES: It's all about respect. I had a lot to learn when I started working for him, but he had a lot of confidence in me and always treated me with respect, that's why it has always worked. We don't work together on a day-to-day basis, but when you have a family business, business is always on your mind. It's part of your lifestyle. It never really stops, but that's not a bad thing.
JIM: We don't sit around on holidays and have a big discussion about business. It's just casual.
GAIL: Holidays are different for us now, though. Mother's Day is a busy day for us. New Year's Eve, we're on this boat. I remember a time when we were first getting started and my oldest sister and mom were helping out by folding napkins. Family always rallies when we need extra hands.
EC: What future plans do you have for the company? 
JAMES: We'd like to grow our catering business, and the SunVenture I is still in its infancy. It has a ton of potential.
JIM: Eventually, I'll retire, but I don't really have a specific plan. We've got great people working for us now, so I could probably put one more person in the office and I wouldn't even have to show up. I might not have to ever retire!