The Last Word: Meet Dexter, and His Father, aka Best Friend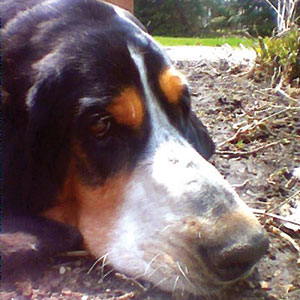 Dexter is the most loving and gentle dog I have ever known. When I am sick, he'll lie by my bed, refusing to leave the room until I get up. He always greets me at the door with a big basset "woof" and a wag of the tail, and helps me start my day with our walk every morning.

He is easily the most popular dog in the neighborhood, where I have been known as "Dexter's Father" since 1999.
Dexter turned 12 this year, and with that birthday came a host of health issues. A basset is expected to live 10 to 12 years, but when your dog's health turns, it always seems to come as a surprise. I guess I always expected my dog to be immune to the ravages of time.
Dexter's problems mounted. First it was a sinus issue, then his hip started to give out. Soon a weird throat noise started. There were visits to the vet, and a barrage of pills. More pills. Last weekend he had so much trouble getting down the stairs I had to carry him. On Tuesday morning he walked out onto the wet grass at 5 a.m., and sat down in the far corner of the yard, something he had never done before. I walked out to bring him in, and he was unresponsive and confused. He had stopped eating the day before. It didn't look good.
He had always been such a proud dog, and now he was reduced to being carried to the car. It was heartbreaking. We drove to the vet and there was a battery of tests to figure out what was going on. A host of ailments included the possibility of nasal cancer, a problem with his esophagus caused by a nerve disorder and arthritis in his back legs. It soon became apparent he was coming to the end. The vet tried some new medicine, but Dexter still wouldn't eat. The vet said that unless we saw something to provide us with light at the end of the tunnel, we would have "some decisions" to make.
I was grief stricken. I thought it was bad before … but this was as final as it could get. My chest hurt, and I wondered how much worse I could feel. I would have to put my beloved dog to sleep tomorrow. The vet asked if my girlfriend and I wanted to visit him, our last time to spend with Dexter prior to "the procedure." I drove over with a mixture of fear at being unable to control my emotions and intense guilt in that I had somehow failed to keep him safe.
We sat in the waiting room and I looked on with envy at the other dog owners leaving with their happy healthy dogs. Finally, we were called back to see Dexter. He walked in on unsteady legs, gave us a wag of his tail and flopped weakly on the blanket. He looked spent. Out of gas. I was so relieved to see him in no obvious pain tears welled in my eyes. I knew we had done the right thing in seeking the medical options, and we had clearly reached the end of the road. It was still painful, but at least I knew he looked ready.
The vet tech told how much she had tried to get him to eat something without any success. Dexter was lying on his side on the blanket staring blankly ahead while we both petted him. My girlfriend reached into her purse where she had put a hot dog in a plastic sandwich bag and asked, "Dexter, do you want a treat?" Dexter lifted his head slightly, and glanced towards the bag. What was this?
The hot dog went quickly. I stood up and saw some soft treats in a jar on the shelf. "Dexter do you want some treats?" The dog stood, and walked with increasing confidence across the room to get the food. He finished the entire jar of soft treats, and then I started him on hard kibble, which he gobbled hungrily. What now? "Dexter, do you want to go for a walk?" Dexter strode confidently towards the door, and I leashed him up to take him outside.
While I walked Dexter outside, my girlfriend fetched the vet to ask him, "Did you see Dexter?" The doctor walked outside and looked on with as much incredulity as I must have had on my face. "Wow. He's doing so much better than before. Why don't you guys take him home and we'll just keep him on this medicine and see what happens?" I asked Dexter, "You want to go home?" His tail wagged as he looked up at me tiredly. This was a rally nobody saw coming. This guy was about 10 hours from the needle. If not for his greed and love of a good turkey hot dog, things would be different for this basset.
So here I sit a few hours later. Dexter is sleeping on the carpet to my left. I opened a bottle of 1998 Pomerol (the year of his birth after all) and typed this. I don't know how much longer I have with him, but just to have this extra day alone is such an unexpected gift.
He's truly the best dog I have ever known.
Dexter died a week later.