The Inspiring Instructors Who Teach Our Children Music & Life Lessons
Music Makers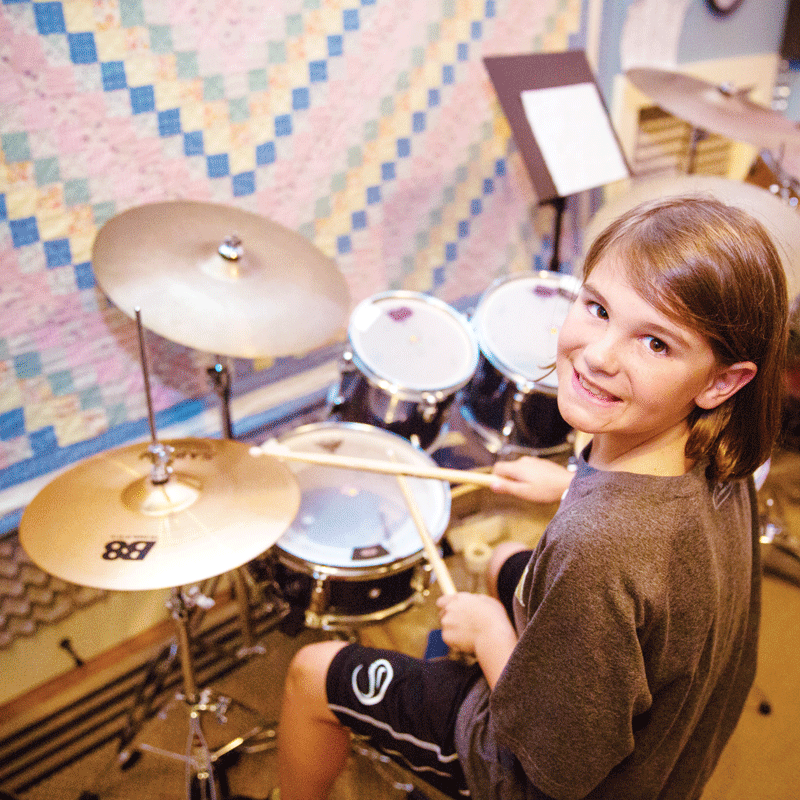 Music is everywhere. There is no beating it, so why not learn something about our "universal language"? Private lessons are available in homes, studios and music stores all along the Emerald Coast, so fulfilling you or your child's dream of making music is just a skip and a beat away.
---
Ray and Lisa Cyr, of Santa Rosa Beach, have owned Studio 237 School of Music for four years. Though they both have been teaching for more than 20 years, owning their own studio is a dream. 
Ray has played the drums his entire life. Lisa has played the piano for most of hers. Together, along with a number of other instructors, Studio 237 offers lessons for drums, piano, violin, clarinet, guitar, voice, bass, banjo, cello, ukulele and even the unique shofar — an instrument traditionally made from the horn of a ram. Collectively, Studio 237 has more than 100 students. With 40 of those students on the piano, it makes the piano the most popular instrument at the studio.
The musical couple encourages students of all ages, and parents as well, to really consider the commitment before jumping into music lessons. Though circumstances can be tough, they are more than willing to work with the student as much as possible to keep their music dream alive. In fact, both said their favorite part of teaching is seeing their students' passion and triumph. "Nothing is more exciting than seeing a student perform a piece of music that they've worked so hard on, and though they might not have played it perfectly, the light on their faces make it all worth it," says Ray. "We teach education for performance, not necessarily entertainment. The entertainment comes naturally, but fundamentals are key." 
MARI DARR~WELCH (VIOLIN)
Jacqueline Ward Images (piano)
Playground Music instructor Liz Aylor (left) gives student Mark Stevens some pointers on violin. Kate (right), 7, with piano teacher/founder of Studio 237 Lisa Cyr.
When it comes to picking an instrument to play, the parents to three musical children agreed to go with what you are drawn to. "If they are still struggling, we encourage and invite potential students to come and sit in various lessons," says Lisa. When asked what is the most affordable instrument to start out on, they both laughed and said, "Well, your voice is free!" 
Sometimes kids want to play an instrument that they can't necessarily play due to age and size limitations, so Lisa recommends that students at least start music theory and learn how to read music. Then, when the child is able to reach or stretch their fingers to play an instrument, they will already be steps ahead. 
The Cyrs believe in a three-month theory and that it takes about that long for something to stick. With flat monthly tuition rates starting at $100 for weekly 30-minute lessons, they try to keep lessons affordable, especially for their students who have to travel to get to the studio. 
Lisa and Ray are tried and true musicians, and while they can play a number of instruments, their favorite to teach is still the piano and drums, respectively. However, the studio is designed to host six lessons at a time, so you don't have to choose which instrument to play — you can learn them all!  
String theory
Liz Aylor teaches strings, (violin, viola, cello and bass) at Playground Music in Fort Walton Beach and has around 45 students. She has played for 50 years and has been teaching for 40 of them. Sinfonina Youth Orchestra (SYO) is a full youth orchestra of about 50 kids who are middle school to high school ages. "Since the local schools don't have string sections, having the youth orchestra is really special to those kids, because it gives them a place, when there didn't used to be one," says Aylor. "The kids would take lessons, play in a room by themselves and then eventually quit because they had nothing to look forward to." 
While the dedicated strings teacher likes to have fun with her students by taking them on trips to perform at Universal Studios, the universal language of music comes first. She has even started the Suzuki method of teaching which taught her the ability to teach kids to play before they can even read. "It's amazing," she says. "Take a look on the wall in Playground Music's showroom, and you will see the tiniest violin you have ever seen." 
Playground Music offers a variety of instruments, including rentals. Aylor, like the Cyrs, also recommends that anyone interested in taking lessons first select a teacher before purchasing, or even renting an instrument. That way, you can ensure you are making the right investment for yourself or child.
Find your voice
Shannon McDonald, Miss Choctawhatchee High School 2014, chose her given instrument of voice. She grew up going to a summer community theater camp in New York owned by her grandparents. While she loved to act, she really loved to sing. "It was just inside me, and it is amazing what lessons have done for me. They have taught me to reach places and notes I never thought I would be able to reach," she says. 
When McDonald started training her voice four years ago, lessons consisted of breathing technique and music theory. Now sessions are rehearsals of full songs, perfecting them for the stage. She will be off to Florida State University in the fall, where she plans on majoring in criminology and musical theater. But she certainly left her mark by winning the talent portion of the Miss Choctawhatchee competition as the 18-year-old performed the popular movie Frozen's hit "Let it Go" by Idina Menzel. She owes it to her voice teacher, Phyllis Hasty.
Hasty has been singing and playing piano since she was five years old. She has also been teaching the art of piano and voice privately since 1993. She teaches in the Seagrove and Bluewater Bay area and currently has 34 students who range in age from 6 to 60. 
"My favorite part of teaching is that every lesson is a unique and different experience. And when the student has their 'Ah Ha!' moment, it's priceless," she tells. Hasty considers herself to be a traditional teacher when it comes to basics. "When a student starts voice lessons, they might not even sing a note until the fifth or sixth lesson. Breathing is very important, and without that you can't sing." Shannon laughed and jumped in, "And don't expect to be perfect. Looking at yourself in the mirror pretending to stretch your vocal cords with your hands might seem and feel silly, but in the end lessons are to grow and I couldn't be happier with where I am and everything I have learned." 
The benefits of music 
There are numerous organizations trying to save youth music programs, including the National Association of Music Merchants (NAMM) whose slogan is "Believe in music." NAMM envisions a world in which the joy of making music is a precious element of daily living for everyone; a world in which every child has a deep desire to learn music and a recognized right to be taught; and in which every adult is a passionate champion and defender of that right. According to NAMM, regardless of socioeconomic status or school district, students who participate in high-quality music programs score 22 percent better on English and 20 percent better on math standardized exams. 
Demetrius Fuller, music and artistic director of Sinfonia Gulf Coast, also is an advocate of starting music at a young age. He says, "Music and the arts in general are critical to a well-rounded education."  Fuller started piano lessons at age 12 and clarinet in band that same year. "I grew up in Okaloosa County, which to this day has one of the best instrumental programs in the United States." 
MARI DARR~WELCH
Connor Moore (right), 14, has taken lessons for two years and hopes to major in music theory; At 59 Mark Stevens (far right) is taking lessons from Liz Aylor just because he wants to.
Even for adults music education can be beneficial for continued learning. From "Empathy, Arts and Social Studies" by R.R. Konrad: "Music enhances the process of learning. The systems it nourishes, which include our integrated sensory, attention, cognitive, emotional and motor capacities, are shown to be the driving forces behind all other learning." Fuller agrees, saying, "In my opinion, age is irrelevant. I believe that the introduction and exposure to music, whether it be chorus/voice, piano or learning to play a musical instrument in band or orchestra, instills an appreciation of the arts and music that remains with you throughout your life." 
Fuller enters his ninth season with Sinfonia Gulf Coast and is redefining the symphony music scene along the Emerald Coast. With the addition of the Sinfonia Youth Orchestra, it is clear that he truly believes in the art of music and its benefits to the community. "Music lessons, learning to play an instrument, playing in groups like band and orchestra, are much more than just learning to play an instrument. All of this teaches discipline, teamwork and offers many more benefits. If we can continue to educate in the arts, it benefits our communities in the long run."  
With all of the music teachers along the Emerald Coast, there are many talented and ready resources to help fulfill yours or your child's inner desire to play the universal language of music. "No matter what country you are in, music will always be read the same," said Hasty, who has taught in countries like Korea and Japan. All of the teachers hold annual public recitals and invite you to come and see the students perform. With music all around us, why not chime in? Even the largest orchestra needs a triangle player.