The Florida Highwaymen
Seeing beautiful colors from inside a gray world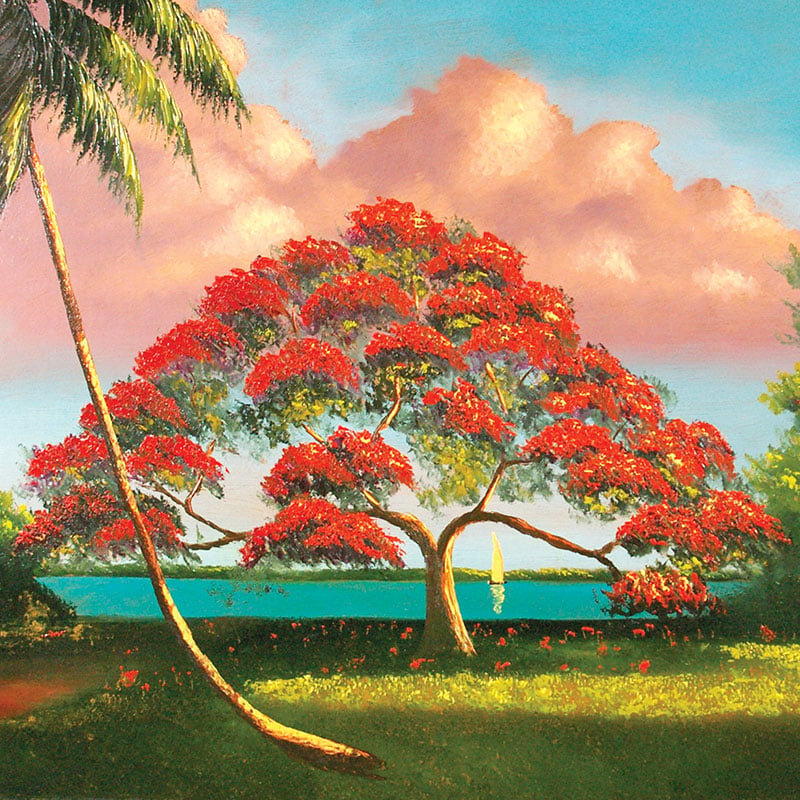 It is the middle of the 1950s near Fort Pierce, 300 miles south of Tallahassee, in a segregated neighborhood called "Blacktown." The African-Americans who live and work here picking oranges or tomatoes can't sit down at a lunch counter or segregated restaurant. They can't go in a "whites only" entrance to a movie theater. They must sit in the rear of buses and stand in line to sip water from "blacks only" fountains.
But in the midst of Jim Crow's repression and the bleak lives that many struggling African-Americans lead, a desire to make something beautiful just won't be held down. Not for Harold Newton and his brothers. Nor for his friends Al Black and Livingston Roberts. Or Willie Reagan or George Buckner. Or for any of the group of 26 men, and one woman, who will come to be known as The Highwaymen. Beauty, particularly Florida's outdoor glories, inspires these individuals to put down what they see on canvas and board in colors nature often hadn't thought of. These friends get together to make art, all right, but just as importantly, not just a little money selling their works along Florida's roadways from the trunks of their cars.
On this particular night, we can imagine the most charismatic of the group getting ready to work. Alfred Hair is in his 20s. Singled out for his talent by the art teacher at his all-black high school, she has arranged for Hair's art lessons with a classically trained painter named A.E. "Bean" Backus, a white landscape artist who loves jazz and people of all colors. Like Harold Newton, another Highwayman prodigy who has found his way to Backus' door, Al Hair's raw talent is evident. But unlike Newton, who follows a more careful method of painting, Hair is in a hurry.
Michelle Hearn and Bruce Graetz, senior curators at the Museum of Florida History in the basement of the R.A. Gray Building in Tallahassee, which houses the permanent exhibition of all 26 Highwaymen paintings, have come to know each of the painters and their idiosyncrasies. Al Hair was in a hurry, they say, because he realized that if he could sell his paintings — lots of them — it was a way out of the dead-end jobs he'd been destined for. Hair's solution was volume.
"Al Hair held what you could call 'painting parties,'" Hearn says. "The music would be blaring, strings of lights stretched across the backyard, barbeque on the grill, beers in hand, and Al and all his friends would have a kind of production line set up. Some cut the cheap building material, Upson board. Others primed it. Some cut up crown molding to hammer into frames. And others washed on background color. Hair himself developed a technique he called 'fast painting,' quickly brushing in grass and sky with a few strokes. In a few hours, 20 or 30 paintings would be ready to stack in cars and head in the four directions for sales spots along Florida's new highways. Sometimes he would make $100 a day."
Indeed, The Highwaymen came together just as 1950s advertising agencies and land salesmen were idealizing Florida's potential for easy retirement, cheap lots and year-round sunny skies. The Highwaymen's florid sunsets and egret-dotted lagoons were just the kind of dreamy landscapes that middle-class or poor families could hang on the wall of a prefab post-war house or a cracker clapboard. All for around $20.
The group expanded. Styles varied, but for most of the late '50s through the '60s and much of the '70s, the palm trees and white sandy beaches allowed the men to be full-time painters. The group itself suffered a setback when Al Hair was murdered in a bar fight in 1970. But by the 1980s, it was abstract art and non-representational subject matter that had taken over in the public's mind. The fickle shift in taste left The Highwaymen as relics of an earlier Florida moment.
Curator Graetz says that in the 1990s an art expert, Jim Fitch, coined the term "The Highwaymen" and provoked a renewed interest in the group and the story of the men who by then had mostly abandoned painting. Though nearly half of the original band of buddy painters had died, with the public's eye on them once more, the others were inspired to paint again. Now the survivors command prices they had never dreamed possible. In 2001, the entire group of 26 Highwaymen was inducted into the Florida Artists Hall of Fame.
---
The collection of Highwaymen art is on permanent exhibition at the Museum of Florida History along with the individual stories of each painter's struggles, sorrows, successes and visions of a Florida that lived vibrantly in their minds.
Where: R.A. Gray Building, 500 S. Bronough St., Tallahassee
Hours: Weekdays, 9 a.m.–4:30 p.m.; Saturday, 10 a.m.–4:30 p.m.