The Father-Son Legacy of Two Passionate, Ambitious Fighter Pilots
The Canterbury Tales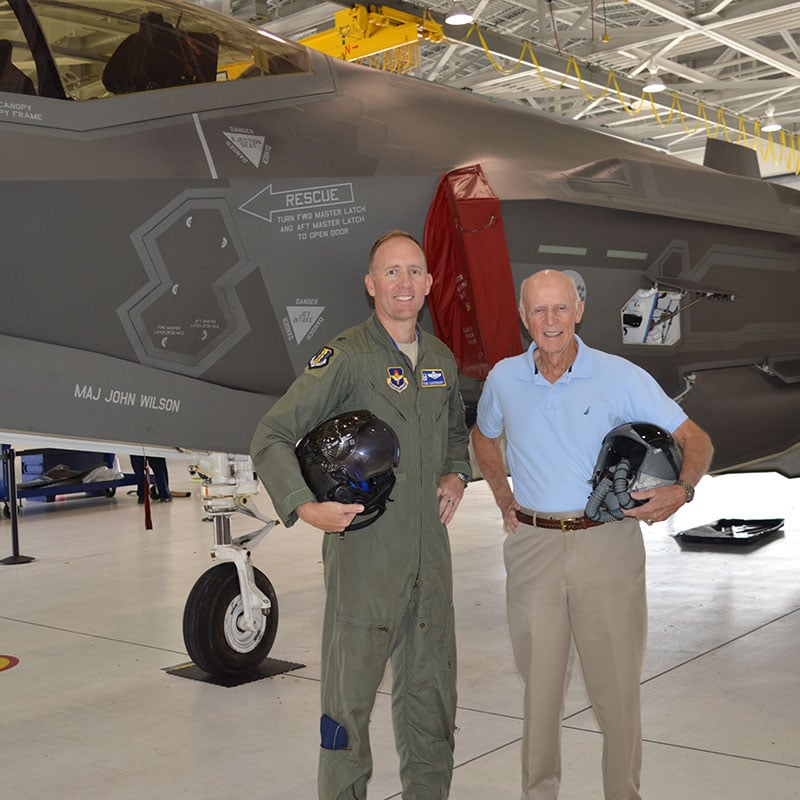 Like many spirited teenage boys, Todd Canterbury totaled the family car, a Chevy Blazer. But unlike most kids his age, a few days later he was where he felt he belonged — soaring in the bright blue sky and breathing a lot easier. He was taking his first flying lesson and would solo soon afterward in his dad's single engine Beechcraft Bonanza. And that would not be the only time his personal life and military career would parallel his father, Major Gen. Henry D. Canterbury.
Earning his wings would be just another way this passionate, self-described "servant" would proudly follow in his father's big and brave footsteps. They both graduated top in their class (his father graduated in 1955, the very first class at the Air Force Academy). They both were hand-selected to fly as a Thunderbird; they both flew in combat, and both served as a wing commander (Todd commands the 33rd Fighter Wing at Eglin Air Force Base, Henry lead the 56th Tactical Fighter Wing). And both Canterbury men launched state-of-the-art aircraft. Henry, who goes by Hank, flew the first F-16 into Florida from the factory in Fort Worth into MacDill Air Force Base in 1978, and today his son oversees the operations and training for the F-35, the most capable, and sometimes controversial, aircraft operated out of the 33rd Fighter Wing at Eglin Air Force Base. 
Like his father, Col. Todd "Tales" Canterbury, now 43, would take off in more ways than one and soar like a bright diamond in the sky soon enough. To fully appreciate the super sonic story, you have to understand where it all began … and like most worthwhile dreams, it began with a little optimistic "blue sky" …
"I wanted to be a fighter pilot all of my life," Major Gen. Henry Canterbury, who is 76, retired and living in Arizona, says matter of factly, his blue eyes dancing at the mere mention of his life's passion, only pastime and favorite subject. On his first day on the Air Force Academy campus in Colorado in 1955, a Thunderbird soared overhead, and that was it — the young cadet born in Huntsville, Ala., propelled himself onto the path of a successful and sometimes harrowing career as a highly trained U.S. Air Force fighter pilot. He logged more than 5,000 hours flying F-100s, F-105s, F-4s, F-16s, F-15s and A-10s; served in Korea, Vietnam and completed 90 combat ready missions out of Thailand; and performed in more than 230 Thunderbird airshows to become a respected and decorated major general. 
Courtesy the Canterbury family
Like father, like son
the Canterbury men
pictured with two things they love: their fast cars and Thunderbirds.
Todd Canterbury was born in 1970 in Wiesbaden, Germany, when his dad was stationed at Spangdahlem Air Base in West Germany. His first childhood memory is the ceremony surrounding his father flying the F4 into Homestead Air Force Base in Florida, where his dad was then stationed. 
Like his father, once the subject is raised, Todd lights up at the mere mention of flying. "Flying to me is an incredible challenge, and there is a sense of accomplishment after you've flown a successful mission," Todd says. "I love the ability to control things, to make the machine perform the way I want it to. It's kind of an ultimate sense of freedom and at the same time an ultimate challenge." Todd, who lives on Eglin Air Force Base, has logged 3,900 hours, including 650 in combat. ("He's young. He's still a kid. He'll catch up," his dad teases.) 
Ribbing aside — and there is much of that between them — there is a deep mutual respect that perhaps only comes from a relationship between two men who really understand one another. Hank is beyond proud of his son and is quick to point out what Todd is too modest to. "The F-35 is far and away greater than anything I had the opportunity to fly, even though I was flying top-of-the-line fighters at the time," Hank said. "It's almost difficult for the mind to comprehend the huge advances in technology that have been brought to the warfighter. This airplane encapsulates all those capabilities." And it should, considering when everything is factored (depending on how many end up being produced) one F-35 is reported to cost anywhere from $50 million to $110 million.
Though Hank says fighter pilots "feel invincible," machines are not. Flying in formation at 500 mph only 150 feet above the ground is no easy feat. Todd was in the prestigious number five position (the man who is always inverted) for two years in a row, which is rare. In all, he flew as a Thunderbird for four years and was on the team in 2003 when one of his fellow pilots ejected and the plane crashed after performing a maneuver called the diamond pass. "I witnessed the crash firsthand," he said. "Though I wouldn't wish it on anyone, it was a good experience to be a part of which influenced my leadership style and flying discipline the rest of my career." 
Like the F-35, he is focused and results driven. "I only have two years, so I can't just sit back and rest on my laurels," he says. "I've got to come in with a vision of where I want to take the 33rd Fighter Wing and execute that, because my time in command is precious."
Though both agree a good leader requires having "high standards and low tolerance" for those who don't pass muster, Hank defers to his son on this point. "He's a perfectionist and so am I, but he's more tolerant than I am. He starts out with a more mature attitude than I did … and he handles matters with the fluid flexibility and preciseness of executive skill." 
COURTESY THE CANTERBURY FAMILY
Both pilots agree that operating any aircraft successfully is due to one thing: team training. "To train everyone so the pilot can get into that airplane and do that mission it's capable of takes a huge investment of time and experience," Todd says.
Todd says he developed his assertiveness and independence while moving around the country in his military family, but he didn't realize how much he valued certain qualities until he lived on campus as an undergraduate at Arizona State University (ASU). After a few theft incidents, he was convinced the military was where he belonged. "The incredible integrity, trust and confidence in folks — those doing the mission around you, sometimes for very low pay, and serving our nation, that's what I grew up with," he says. 
After earning a degree from Arizona State University in aeronautical engineering technology, he looked into Air Force ROTC and found what he was missing. "It was the caliber of person who wants to serve this nation — they seem to be cut from a different cloth, and that's who I wanted to associate with," he says. 
Once he made the decision to enter the military, there was no stopping his dream. "I knew I wanted to be the best fighter pilot in the Air Force." And if his distinguished career and current standing is any testament, just like his dad, this mission was accomplished. 
Many things change, some stay the same. In the case of those with flying in their blood, like the Canterbury men, they just want to be airborne. Hank spends his retirement as a certified flight instructor with Bonanza Pilot Training — a small company that provides weekend-long immersion training sessions to experienced pilots around the country. Any free time Todd has is spent testing out his new Bonanza emblazoned with the Thunderbird insignia: an upside down five.
 "We don't golf, we spend our weekends working on and flying airplanes," Hank says. "I don't intend to stop until I can't get up on the wing," he says sharing a knowing glance with his son, who simply nods and smiles.