The Faces of Grand Boulevard
Three business owners talk about what makes the Town Center special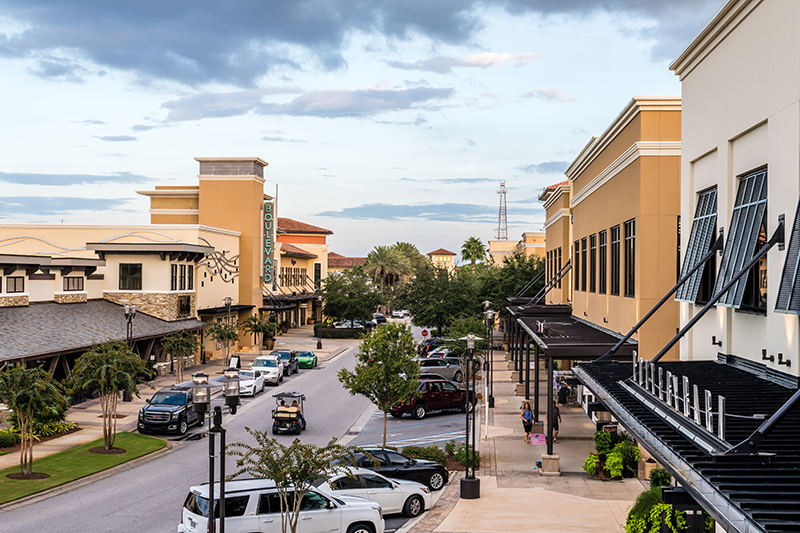 Grand Boulevard is home to a mixture of locally owned and nationally known businesses. That blend attracts locals and visitors, and what keeps them coming back are the people who own and manage the businesses. In the profiles below, we get to know three of the faces of Grand Boulevard businesses.
Adrianne Brackett, Owner of Pure Collective Salon
As soon as Adrianne Brackett determined that she needed to open a second salon to accommodate all of her customers, she knew Grand Boulevard would be the location. Over 17 years ago, Brackett opened her first salon, Pure & Couture, in Destin on the Emerald Coast Parkway. In May 2022, she opened Pure Collective Salon.
"We knew a large amount of our clientele were already shopping at and doing business in Grand Boulevard, so it was the right fit for us to expand and offer an even more elevated experience," Brackett said.
Like her first salon, Pure Collective offers cuts, colors and extensions with additional aesthetic offerings including facials, massages and waxing. Both salons focus on continued education, so stylists can reach their full creative potential and offer the latest products and services to clients.
"We are a company that's very involved with our clients which in turn means we are involved with our community," Brackett said. "Grand Boulevard matches our passion for community, and I greatly value that."
---
Cari DeGregorio, Owner of Rose & Co.
Cari DeGregorio has owned retail businesses throughout the Emerald Coast for 28 years, and she's finally found a true sense of home at Grand Boulevard. She holds degrees in design and fine arts, and works in event design, florals and retail concepts.
DeGregorio dreamed of opening a European-style flower market and gift experience. In 2021, Grand Boulevard presented her with a prime location and ideal conditions to do so. Rose & Co. is a destination store. It is located near Publix, making it easy for customers to pop in for a gift or floral arrangement as part of their weekly routine.
"I've truly found the best landlords in Grand Boulevard," DeGregorio said. "They are accommodating to my needs and are the biggest cheerleaders for my business."
DeGregorio enjoys coming to work every day, building relationships with neighboring tenants and investing in her team. She is especially grateful for her customers.
"It's deeply rewarding to share my happy place with others and to hear them say that my store has become their happy place, too," she said.
---
Clint Viehman, Proprietor of Cantina Laredo
Clint Viehman has been with Grand Boulevard from the start. He has been with Cantina Laredo for the last 16 years, and prior he was with the Hard Rock Cafe in Orlando, Key West and Destin.
Cantina Laredo is a large, well-known Mexican restaurant chain based out of Texas that made its way to Florida.
Grand Boulevard ended up being the ideal spot for the restaurant's location as it appealed to the already established community while attracting waves of new clientele.
"It's been energizing and exciting to watch Grand Boulevard grow significantly every year," Viehman said. "The synergy is remarkable here because each tenant is just a call away when you're in need. We refer customers to one another's businesses, and we give back to our community. It truly is a town center."
Cantina Laredo is known for its modern take on Mexican cuisine featuring fresh ingredients, house-made sauces and margaritas concocted with freshly squeezed limes. Viehman takes pride in providing consistently good food and service.
"We try to personalize every connection we make because it's all about building relationships and lasting impressions in the service industry," Viehman said.
---