Locally Owned Businesses Line Grand Boulevard
Entrepreneurs find glad to find a place where they are embraced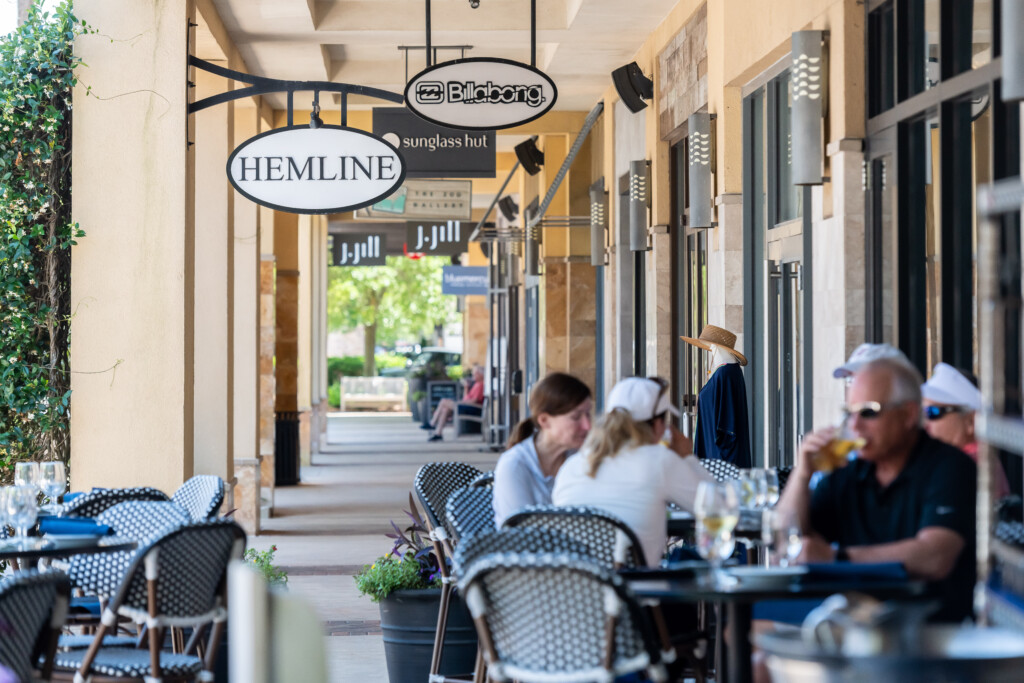 Grand Boulevard, in Miramar Beach, is a strong proponent of shopping local.
"We have a great mix of first-to-market national brands and locally owned businesses headed by dynamic entrepreneurs," said Stacey Brady, marketing and communications director at Grand Boulevard.
At Grand Boulevard, nearly 20 locally owned stores open their doors each day and welcome visitors into the spaces they've dedicated their time, hearts, talent and savings to.
The Zoo Gallery is one of the oldest locally owned brands in Northwest Florida. Since 1979, it has appealed to artists and art lovers. Chris and Roxie Wilson stock their gallery with designs and original works from all over the world and place a special emphasis on Florida-based artists. The store is filled with beautiful, framed paintings, eclectic furniture, handmade pottery, fine hand-assembled clothing and jewelry and more.
"The Zoo Gallery is a great example of how Grand Boulevard nurtures the entrepreneurial spirit of incredibly talented business owners who have become a staple in the community," Brady said.
Vin'tij Food & Wine is another business with a lengthy history. For 23 years, Todd Reber has maintained a reputation for exemplary customer service and creatively curated menus. Diners enjoy seasonally inspired dishes paired with high-quality wines in an art-filled atmosphere that makes for the ultimately sensory experience.
"Vin'tij pays attention to detail, which is one thing you'll find that's consistent with each of the Grand Boulevard entrepreneurs; they are committed to attention to detail, which makes all the difference," Brady said.
Chef Emeril Lagasse has been a household name for decades. His Emeril's Coastal restaurant excels at serving fresh catches from the Gulf of Mexico. Guests delight in seeing Emeril and his team prepare delicious dishes while enjoying an upscale coastal environment ideal for dinner, drinks and the popular Sunday jazz brunch.
Billabong is another household name with local ties. Locally owned and operated, Billabong has found its niche in Grand Boulevard, offering all things surf and swim. The store is passionate about supporting the local community with surf camps, surf sponsorships, beach cleanups and more.
Another local store dedicated to embracing a beach vibe is Sunset Shoes & Lifestyles. Sunset Shoes opened its flagship location in Grand Boulevard and has three additional locations throughout the Emerald Coast. Known for selling some of the most popular shoe brands such as Reef, Chaco, TEVAS, Hoka, Dolce Vita and Birkenstock, the store also sells clothing and accessories.
The Jewel is a new iteration of well-loved Destin Jewelers, owned by Lisa Peters. Peters has created a beautifully eclectic jewelry store complete with custom art by Ashley Longshore. Throughout the year, internationally renowned jewelry makers are featured at trunk shows and gatherings.
Hemline, is a high-fashion boutique owned by fashion savvy entrepreneur Dominique Fetzer. Originally opened in New Orleans, Fetzer and her family spent so much time at their beach home on the coast that she decided to open a location in Grand Boulevard.
Inspired by her surroundings and her family, Karoline Kellogg opened La Luna children's boutique, which is one of the newest shops in Grand Boulevard. The store specializes in organic, non-toxic dye clothing and accessories and provides a safe space for children to play while parents shop.
Located right next door is recently opened Rose & Co, a European influenced immersive floral and gift experience. Owner Cari DeGregorio offers florals and gifts that cannot be found elsewhere in the region. They originate from locations including New York, California, France and Hawaii. Shoppers arrange custom blooms or peruse a treasure trove of unique gifts.
Talented entrepreneur Adrianne Brackett has opened her second full-service salon, Pure Collective Salon, in Grand Boulevard. She opened her first salon, Pure & Couture, over 17 years ago in Destin. The client-focused salon specializes in colors, cuts, extensions, facials, makeup application and more.
Another business that selected Grand Boulevard for its second location is Black Bear Bread Co., a Parisian style café and bakery that has gained a cult-like following that cannot get enough of its pastries and coffee. Chef Phil McDonald and restaurateur Dave Rauschkolb have created a true neighborhood bakery filled with warm pastries and warm service.
Similarly, Everkrisp owners Brandan and Ashley McMahon filled a niche by serving food that's made fast but is always fresh. With ingredients from local farms, Everkrisp serves healthy salads, sandwiches, wraps, grain bowls and more.
Grand Boulevard is a place where entrepreneurs can thrive, flourish and count on the community and visitors alike to become supporters of their stores.
"I think not only locals, but also visitors, are very interested in locally owned shops," Brady said. "One of the most fun parts of taking a vacation is discovering a local gallery or boutique, a place you wouldn't find in your hometown, and getting to take a memorable piece of a place home with you."