The District Feeds Pensacola's Appetite for Sophisticated Dining
Located in a 19th-century building on the former site of Spanish and British forts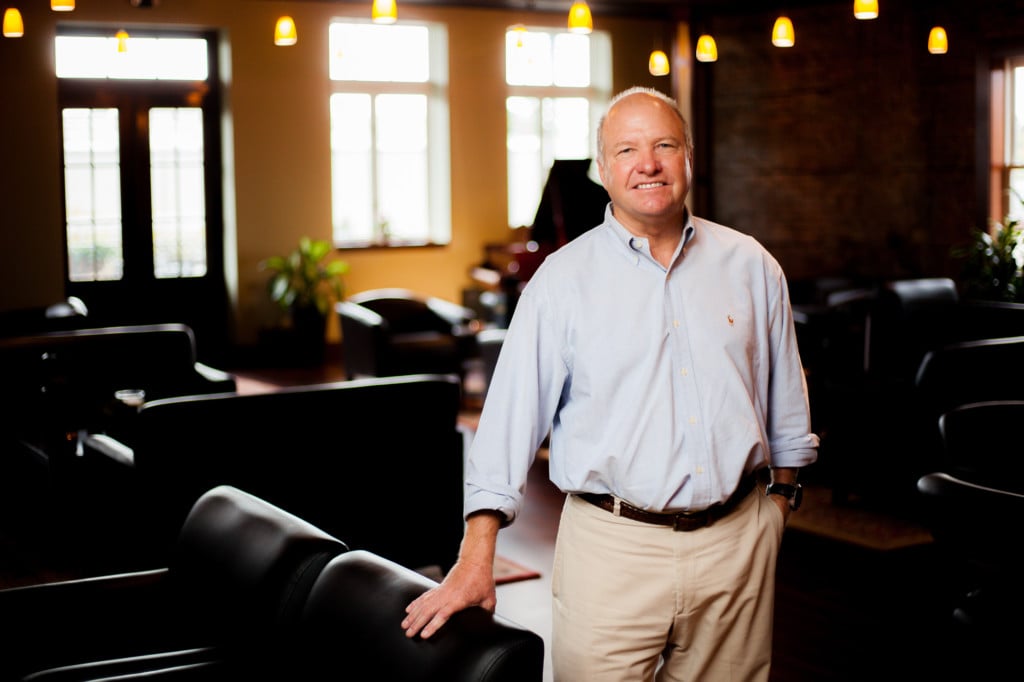 After several years of planning, yearlong construction and an investment in the neighborhood of $3.75 million, The District — Seville Steak & Seafood opened its doors in downtown Pensacola last summer.
The opening provided a double celebration for the Mitchell family, whose Seville Quarter complex directly across the street was marking its 51st anniversary.
"It's really impressive," Jack Williams, Seville Quarter's general manager, said about the new restaurant. "I think we've assembled a terrific management team including the chef. We've been a long time working on that place, and having it accent what we have here at Seville Quarter will be beneficial for both sides of the street."
Wilmer Mitchell, Williams's stepfather, was Bob Snow's lawyer in 1967 when Snow opened Rosie O'Grady's in what had been an empty tobacco warehouse on East Government Street.
After decades of expansion, Mitchell took over ownership of Seville Quarter in 1988. Eight members of his family are currently involved with operating its eight combined venues, which they refer to as the "Seville Entertainment District."
Once the Mitchells came up with the idea for The District — Seville Steak & Seafood, it didn't take them long to reach out for an old friend to run the new operation.
Pensacola native Gil Carmichael rose from doorman in the 1970s to become general manager of Seville Quarter in the 1980s.
"We've tried to preserve the historical nature of the building and its beauty," Carmichael said of the restaurant informally known as The District, "but we've also added a very contemporary feel in some of the design features and the lighting."
Carmichael's wife Kathy and her parents, Bob and Jeannie Goodwin, were key staff members during his days at Seville Quarter.
"We're back to our roots, and I love it," Kathy Carmichael said. "The District is something that Pensacola really needs, and I can't think of a better person to run it."
Gil Carmichael summarized it as "a very good fit" and added, "Wilmer and I think on the same wavelength, and he's been phenomenally supportive. This has been a dream of ours for a long time. The synergy is good, and the reaction has been overwhelmingly positive. We're going to be here for the long haul."
Executive Chef Josh Warner has used his 20-plus years of experience to develop a menu that features 45 items, plus side dishes and add-ons.
Without hesitation, Warner said that his dry-aged beef dishes are at the top of a list of specialties.
"That dry-aging chamber is what sets us apart," Warner said. "I researched hundreds of menus from across the country and around the world to develop what we are doing."
And the response?
"Overwhelmingly positive," Warner said. "I hear it when I go out and talk to tables every night. That's what we're here for and that's why I got into this business."
At this writing, Warner said that eventually, he would add daily specials, "so we can do whatever we want to do."
Several weeks after opening, Carmichael said his biggest surprise was the response to the 112 items on the wine list. It was compiled by two certified sommeliers.
"It's significantly above what we had projected," he said. "The Pensacola dining market in the past 10 years has become very sophisticated. We've watched the market grow, and we believe we're a part of that."
There is piano music nightly in the upstairs lounge, and customers can walk out on the balcony if they wish. Carmichael said there are plans to expand the musical offerings with more players. He also said that when it comes to attire, customers are free to be "completely casual."
"That doesn't mean beach attire, but we have people in shirts and shorts, all the way to suit and tie. We want people to feel comfortable, whether they're locals or visitors."