A New Dawn for Sunset Shoes
Father-daughter duo prepares to open new flagship store at Grand Boulevard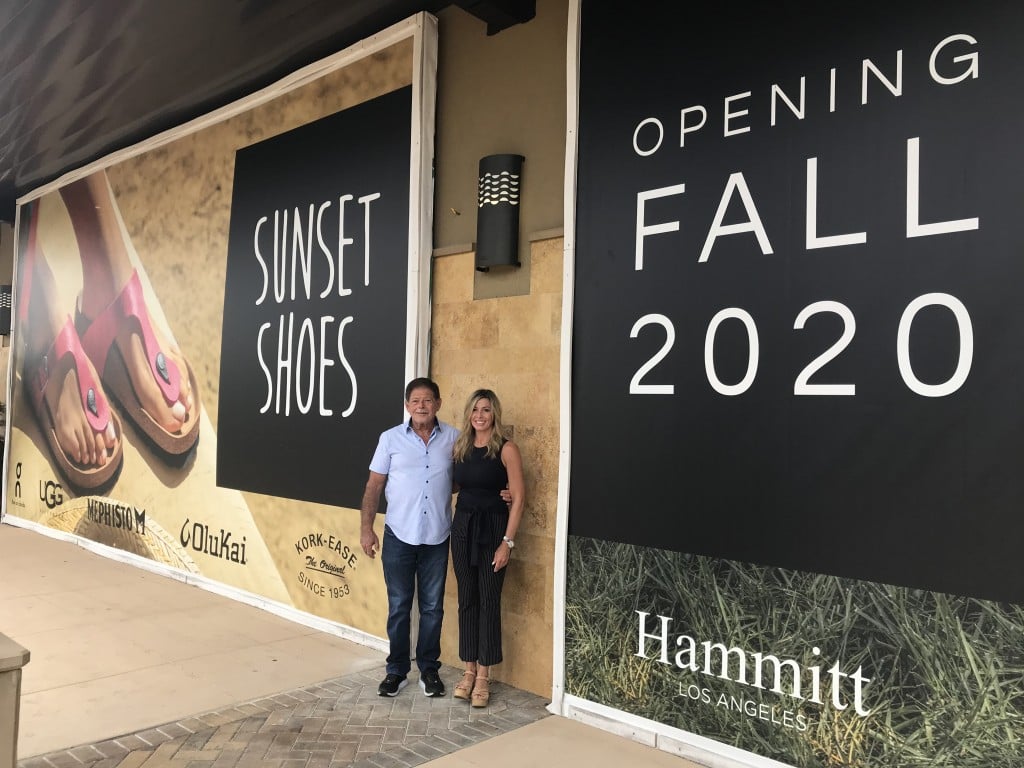 Nearly 25 years ago, Eddy and Mary Hardy opened their first Sunset Shoes store, pledging to offer customers highly attentive customer service including shoe fittings and expert advice.
Today, after opening six locations and winning over thousands of loyal customers, they are about to open a new flagship store at Grand Boulevard, just down the street from the original store.
"I'm a little bit old-fashioned about business," Eddy Hardy said. "We are a full-service shoe and lifestyle store. A lot of businesses have gotten away from that philosophy, but our customers appreciate it. They want quality."
Beginning in 1997, Hardy introduced brands such as Birkenstock, Naot and Mephisto to Northwest Florida. His Euro Comfort shoe store has grown to include beach and resort-style merchandise. There, customers shop for everything from swimsuits and sunglasses to handbags and the perfect dress for a special occasion in addition to high-end and trendy shoes. 
Hardy, along with his daughter and business partner, Joy Hardy, continue to bring first-to-market brands to Northwest Florida. Sunset Shoes carries hundreds of shoe, clothing and accessory labels including ON Cloud, Chaco, Hammitt, FLY London, Patagonia, Olukai, Hey Dude and UGG. 
Born in Pensacola and raised in Cottonwood, Alabama, Eddy Hardy began selling shoes as a high school student in Dothan, Alabama. After working for national shoe brands in Detroit, Ohio and Miami, Hardy went to work with his brother and later opened his own store in Selma in 1971. He opened his second and third stores in Demopolis and Ozark.
He closed his Alabama stores in the 1970s, moved to Panama City, opened Eddy Hardy Shoes, bought the original Bootery store and opened a Buster Brown store by the end of the decade. 
Hardy left the shoe business for more than 10 years before discovering Euro Comfort shoes in the mid-1990s and opening Nu Shoes in Panama City Beach. Naot and Birkenstock were among his first comfort shoe lines.
"I always wanted to get to Destin and Shoe Salon was getting ready to move from the Market Shops," Hardy said. "We opened Sunset Shoes in that space in 1997, carrying ladies and men shoes. We had a Birkenstock focus on one side of the store and multiple lines on other side, all European comfort shoes. We were the first to do comfort shoes in a big way."
Joy Hardy came home from college in 1997 and began working with her father. With a natural instinct for merchandising and store operations, she was soon helping her father with every aspect of Sunset Shoes.
"I was born and raised in a shoe store," she recalled. "I was always up at the Bootery and my mother's Buster Brown store as a kid. It's in my blood."
Mary Hardy heads up their Panama City location, and can be found there six days a week.
Within five years, Sunset Shoes was a hit. Hardy carried shoes for the entire family and, before long, he was doing $100,000 annually in catalog sales, alone. 
"Our timing helped us a lot," he said. "We were the only game in town for Birkenstocks. They accounted for about 60 percent of our total business and they are back to being our number one seller." 
Joy Hardy said the new flagship store at Grand Boulevard will provide more space for merchandising, adding new lines and expanding current ones. She says the energy of Grand Boulevard, with its many restaurants and a busy events calendar creates a feeling of freshness.
The Hardys have never relaxed their commitment to personalized customer service.
"We still listen to our customers and make selections based on their input," Joy Hardy said. "A lot of people have gotten away from full-service stores, but it's at our core. The thing that is most satisfying is when our customers come in to the store and have a great experience."
The new flagship Sunset Shoes store is set to open in November, before Thanksgiving.