The Chautauqua School
Here, barriers lie down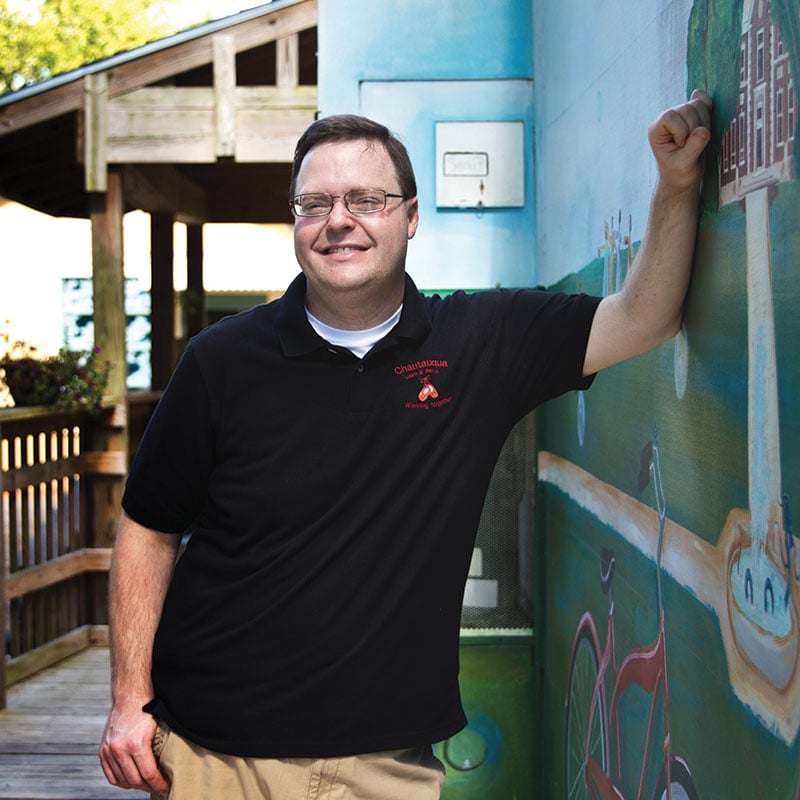 As Mary Beth Nutt neared the end of her career at AT&T, change was accelerating, the workforce was shrinking and her responsibilities were growing. She retired at the first opportunity — and then promptly resumed working.
She wanted to give back to a woman, Cynthia McCauley, under whose wing her son, Ryan, had made progress she would not have thought possible. So it was that she went to work as a VISTA program volunteer at the Chautauqua Learn and Serve Charter School for young adults with "disabilities" —   or, as Nutt would have it, "special abilities." McCauley founded the school 11 years ago and has served as its director since the day on which its charter was approved by the Bay County School District.
Nutt has two children, a daughter who lives in Tallahassee, and Ryan, 33, who lives with her. Their IQs are separated by 72 points.
"I have children at both extremes," Nutt said.
Ryan, who aged out of public education 12 years ago, hangs out at Chautauqua three days a week and works Fridays and Saturdays at a movie house as an usher. McCauley worked with him when she was a teacher in the Exceptional Student Education program at Bay High School, located just a 7-iron away from Chautauqua. 
"I cannot tell you how much Cynthia has changed Ryan's outlook on life," Nutt said. "She taught him to feel good about himself and to be joyful."
And Ryan has gotten to know Cynthia well.
"Ryan has the ability to read people," Nutt said, "and he can tell what Cynthia's mood is when the rest of us may not have a clue. He picks up on the slightest behavioral cues that the rest don't detect."
Indeed, his prescience about people extends to strangers.
On one occasion, he was a member of a Chautauqua delegation that distributed holiday gift baskets to businesses, including a bank, that had supported the school with contributions.
Ryan carried a basket to the bank's teller line where he was tantalized by a tray of cookies intended for customers.
"Would you like one?" a teller asked Ryan with a nod toward the tray.
"I am on a diet, but I will take one and give it to someone back at school," Ryan said while carefully selecting a frosted snowman.
Presently, it was time for the delegation to depart.
"Make good decisions," Ryan admonished the teller whose fellow employees then roared with laughter. The teller had a reputation as a party girl.
"Cynthia has given Ryan the gift of confidence," Nutt said. "He interacts with people in ways that never would have occurred absent her influence on him. Now, every day with Ryan is an adventure — in a good way."
John Russo
Chautauqua School founder Cynthia McCauley
After completing her VISTA service, Nutt became a full-time employee of the school. She has now been there for seven years.
Misty Fowler is a charter employee of the charter school who, like the boss, migrated from Bay High School to Chautauqua. Heather Hay is a 10-year employee of the charter school. Both hope never to have to leave.
"This is a wonderful work environment," Hay said, briefly setting aside a student's individual education plan. "It is gratifying to see the growth in our students and how they give back to the community."
Indeed, Chautauqua students help maintain the Bay High cafeteria, deliver meals to homebound seniors and train young and old to use the Bay County's public transit system.
"Saint McCauley is one of a kind — generous, kind and inspirational," Hay said. "She is a big part of the reason that I love my job."
For Fowler, there is "no better place on earth."
"Where else would you go if you wanted to work for a school whose students have been to all seven continents?" Fowler asked rhetorically. "They have hosted a Nobel Peace Prize winner. Leaders of foreign countries contact us wanting to discover how we do things here."
Chautauqua, above all else, is a place where accomplishments, many of them improbable, happen as a function of a sense of possibility, where everyone has a seat on the bus, the plane, the train. 
Just ask Ryan. He'll tell you.
---
SPECTATING NOT ALLOWED
Cynthia McCauley introduces people to the school she founded, the Chautauqua Learn and Serve Charter School, not by telling them about it, but by immersing them in it. So it was that during my first visit there, I was dispatched to retrieve Brandon who had been discouraged from coming to school by the grandmother and great-grandmother for whom he cared as head of the household — despite being a teenager with autism. Once back on campus, I joined a knot of students and staff assembled along a fence line, where they were trying to corral a forlorn looking cat. The group included a student, Ian, who studied the animal with what appeared to be a trained eye, then announced, "That's a stub-tail cat." Those were the first words he ever was heard to speak at the school and they would be enough for staff members to build on in making the kind of incremental progress that the school recognizes and celebrates.  
— Steve Bornhoft