The Back Roads of Memory
Reminisces About the Search for His First Car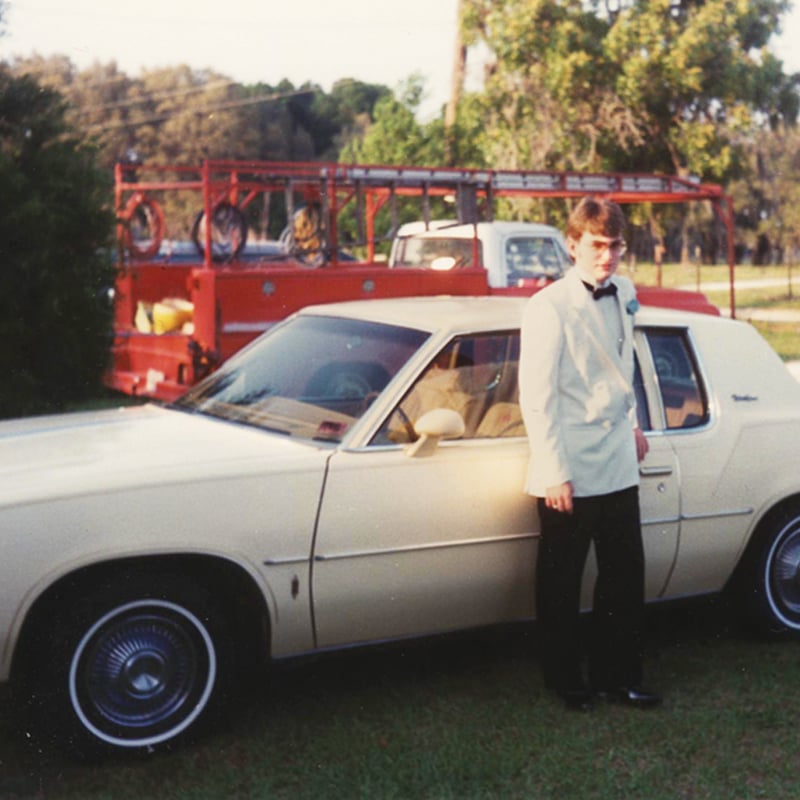 In early 1987 I was 16 and got my license to drive. What could top the electric sense of freedom that comes with having an operator's license? Owning my First Car, of course.
In the Central Florida farming and cattle communities where I grew up, most teenage boys worked tending cattle and crops — either for Future Farmers of America or for their dads. The vehicle of choice was a pickup truck — customized, modified and perfect for hauling hay, feed and the occasional "Farrah-haired," blue-jeaned girlfriend.
My older brothers' tastes in vehicles were as different as night and day. The middle brother (the buttoned-down Beta Club president) had a VW, and my oldest brother (the FFA member) had a flatbed 1965 Chevy pickup. If memory serves, both were financed in some part by me and my savings account, which thanks to my part-time job starting at age 11, was stocked with cash.
As I entered teen-hood, I realized I wanted a car to set me apart from my truck-owning friends. And besides, according to my grandfather, you could carry hay and feed just as good with a car as a truck (I hadn't planned on carrying anything but the Farrah-haired, blue-jeaned girlfriend … whenever she came along).
Early on in the car-hunting process, I hankered for a classic 1965 Mustang. My dad dismissed it as not being "practical" enough, always harping about getting a car with four doors, so I could carry more people around in the event of the occasional wedding or funeral.
My dad humored me and looked over a couple Mustangs, but something always defeated the dream. Sometimes it was a mechanical problem; mostly it was a money problem. So I revamped my wish list.
While wondering about the next thing, I fantasized about buying and completely renovating my uncle's classic Dodge Charger — putting on new chrome mag wheels, painting it glossy black and putting flames on the hood. Talk about a pipe dream — my uncle still has that rust bucket.
My next dream car was a 1978 Chrysler Cordoba. Not quite as flashy as a Mustang, but sleek, powerful-looking and cool. I was accustomed to driving big Chrysler products; the family car at the time was a 1972 Plymouth Fury Custom Suburban station wagon with a 400 under the hood and enough room to carry a tuba and half the brass section from the Wildwood High School Wildcat Marching Band (it could also carry three rolls of barbed wire, several bags of F-R-M chicken feed and a yearling calf, but that's another story).
One cold and windy January day in 1987, my dad and I were touring a used car lot in Ocala. A Cordoba had attracted my attention, but it turned out a little bit more used than I wanted. But next to it was a clean little yellow, two-door 1978 Oldsmobile Cutlass Supreme.
An Olds wasn't quite what I had in mind as far as a sporty first car, but there was something appealing about the modest Cutlass. It was tight — when I sat behind the wheel and closed the door; the noise from the howling wind disappeared completely. The amenities consisted of a plain but comfortable split-bench seat, an AM-FM radio and a V6 engine. On the test drive, both my dad and I were greatly impressed by the performance. The engine hummed, the radio worked fine and the steering was, well, you could thread the eye of a needle with it. It was that good. It wasn't quick or flashy, but it was just sporty enough. A low-key, unpretentious kind of sporty. Eighteen-hundred dollars later, she was mine.
I was 16 going on 17, down to my last few months of high school, graduating with honors, working a part-time job, looking forward to going to college and now owning my first car … I was on top of the world. The only thing that would have made it absolutely perfect would have been the existence of a cute, bubbly girlfriend to share the experience. But, a lass? There was none.
I forget how many miles I racked up on that car. I drove it at least 40 miles a day for three years, commuting to and from community college; then it carried me through two years at the University of Florida, a few trips to Sarasota visiting relatives and at least one wedding (but no funerals). I drove it even though it developed a leak in the rear floorboard, which allowed water to seep in (in the bitterly cold and wet winter of 1989 it had rained so much that 2 inches of solid ice formed).
By the time I sold the old Olds in 1995, I was satisfied that I had wrung every bit of mileage out of it. Today it's probably rusting away in some junkyard somewhere. But it's still riding the back roads of my memory.