The Art of Uncorking
The right bouquet, the right palette and, voilà, a masterpiece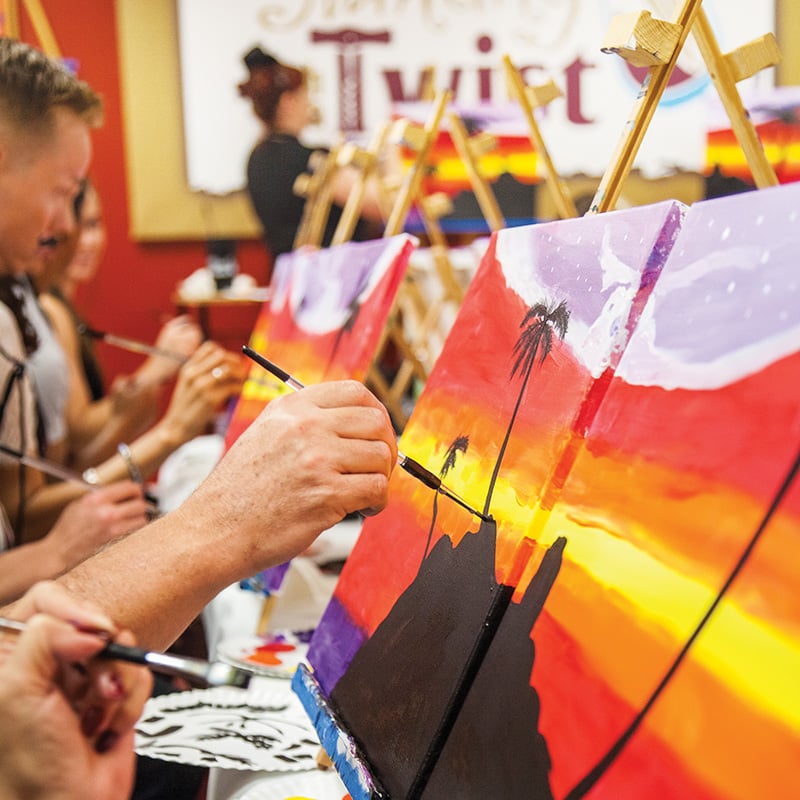 Not everyone is born with a natural ability to paint, and picking up a paintbrush can seem as foreign as oh, say, playing the violin. But when you take out the intimidation factor by combining good friends with a splash of wine and then add a little lesson in art, creativity is unleashed and personal masterpieces happen.
Giving people space to relax, mingle with others and feed off the shared sense of excited nervousness that comes from learning something new has given rise to venues including Painting with a Twist. Here, painting classes become social events where wine isn't just a color on the palette — it's actually part of the lesson plan.
Wine has a way of loosening things up a bit, and who doesn't love the chance to spend a night out with friends? But there's more to the equation than simply adding a splash of vino. The instructors, themselves, must possess a certain amount of flair and be able to decant energy complimentary to the occasion.
It takes a ready embrace of seeing art as a fun way to express creativity rather than a serious matter to be approached with the air of a strict technician, and the instructors at these wine-fueled paint-fests do just that.
Chase Yakaboski
Instructor Pixie, of Painting with a Twist
"The talented artists who lead the lessons are entertaining and engaging, and they enjoy what they're doing. Really, that's all part of the magic," says Jenny Muller, the owner of the Pensacola location of Painting with a Twist, a company that now has more than 300 franchise locations throughout the country. 
During each class session, the instructor at a wine-and-paint studio guides their hopeful students through simple techniques that will result in their very own unique creation. That's a special thing in this age of digitized images that can be manipulated with the click of a mouse. It's a tactile experience, a refreshingly real way to reconnect with the present and look at things with a fresh perspective.
More than just a simple lesson in paint, students are offered something truly worthy of toasting: a work of art created by their very own hand — shaky or steady as it might be — and the perfect way to make a lasting memory. 
---
Uncork Your Creativity!
There are great wine and paint studios all over the Emerald Coast, from Pensacola to Panama City Beach and everywhere in between. Here's just a sample of a few of the options near you!