Tatiana Wilmot of Dip Swimwear Shares The Newest Cover-Up Trends
Overalls are making a comeback...at the beach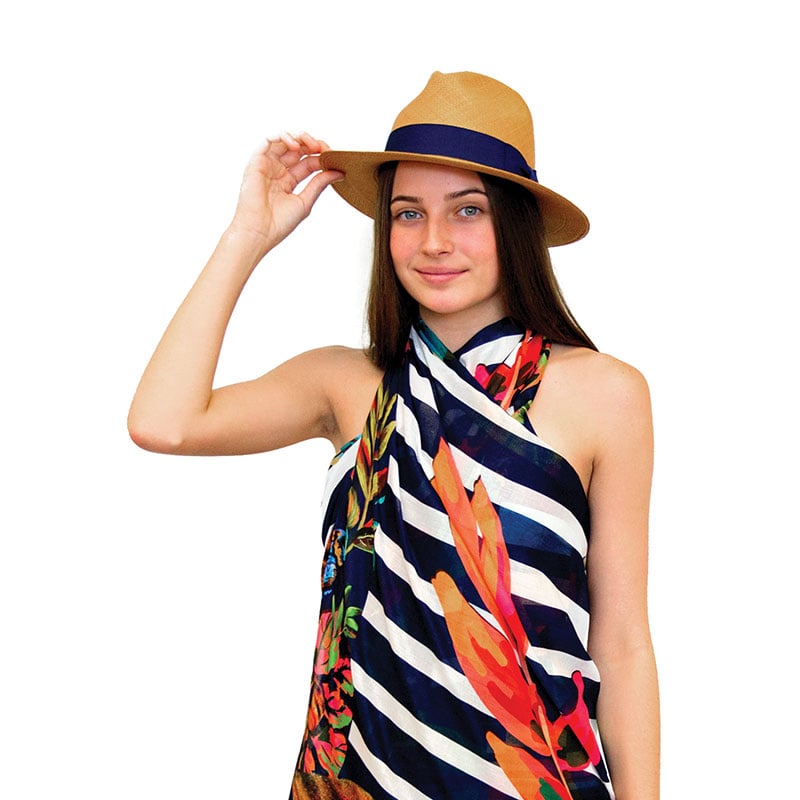 What you layer over your swimsuit speaks volumes about your sense of style, and like other trends, the world of beach cover-ups is ever-changing. Last year saw the emergence of the kimono, and, according to Tatiana Wilmot, owner of Dip Swimwear in Miramar Beach, these colorful, billowy pieces are still going strong.
"It's easy to wear with a bathing suit to the beach or the pool because you can just throw it on and go," says the seaside-chic fashionista. "You can also wear your kimono out shopping after a day at the beach because it pairs great with a pair of shorts and a tank."
Versatility is something you should look for when purchasing a durable cover-up. Like kimonos, breathable tunics are an easy transition from a day in the sun to a night out when thrown over your go- to leggings or skinny jeans. This classic look happens to be a bestseller at Dip and can do no wrong.
The latest trend in 2018, however, might make you rub your eyes to make sure you're reading this right …"Overalls!" Wilmot shares. "I know it sounds weird, but I saw it a lot at market for next year. They're making them in French Terry, cotton gauze and other lightweight fabrics. Some lines have even updated the standard style by making the leg a jogger, or a palazzo-style leg for a beach/lunch look."
As for what cover-up fabrics are best, Wilmot attributes that to personal preference. Crocheted pieces are stylish and breezy, but others prefer the modesty of a resilient cotton. After a day at sea with her daughter, you'll likely find Wilmot tossing on a soft, cotton sarong.
"Sarongs, I think, are the easiest cover-up to pack and use for more than just the beach," she explains. "You can wear them as a top, dress or skirt and with a couple of wraps and a knot- you're ready to go. I really think it's a must-have for any beach girl."
Speaking of packing, you're going to want a tasteful tote to haul around all of your gear. Wilmot's rule of thumb when it comes to bags? The bigger the better.
"My favorite is our large red tote with a zip top," Wilmot describes. "It's great because the handles have a soft suede liner and it has a full zipper. This makes a huge difference if you have small children because you don't have to worry about everything falling out of the bag if you drop it."
Hats and sunglasses are other essentials that often get left behind when sun worshipers rush to get out the door. 30A's Gaëlle Le Go carries a line of Panama hats as part of her Haute Hand Crafted Accessories brand that are the cherry on top of an ensemble. Woven in Ecuador, they're shipped to the Emerald Coast and made available at Dip and other local boutiques. Slide on a pair of sleek, sharp sunglasses by Le Specs, and you're ready to conquer both land and sea.
"When heading to the beach, the most important thing to remember is to wear what makes you feel comfortable and great," advises Wilmot. "There are so many different styles and looks that you can create, but your comfort is the most important thing. So, when you go out to buy a cover-up, try on styles that you haven't thought of before. You never know what you've been missing out on."