Tall Ships America Challenge Comes to the Port of Pensacola
Get ready for some maritime majesty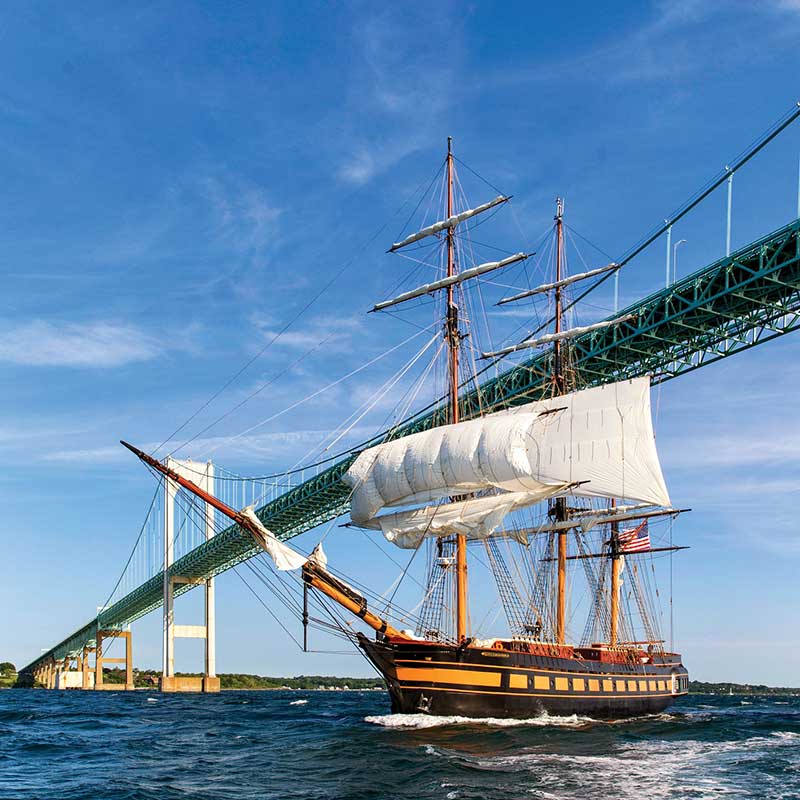 Though our emerald waters are accustomed to the hefty wakes of luxury yachts, commercial fishing boats and pirate ship replicas that tourists adore, an elite fleet of colossal, historic vessels will make waves like no other.
Weighing hundreds of tons and boasting sail areas of 12,000+ feet, these resplendent arks are a force to be reckoned with …
But we just call them tall ships. (Think of those wooden ships in a bottle that you may have had on your coffee table in the '80s.)
If you've ever dreamed of seeing tall ships at full scale, your chance is here April 12–15, as the Tall Ships America Challenge makes a stop at the Port of Pensacola for the first time ever.
Based in Newport, Rhode Island, Tall Ships America was founded in 1973 by Barclay Warburton III, a mariner who sought to excite in North America interest in the type of ship races he experienced whilst sailing the seas of Europe.
Apparently, there was such an overwhelming sense of passion and pride at the international event that Warburton was confident he could inspire Americans to rediscover the art of sailing.
Forty-five years later, tall ships are still speeding through our native oceans for an annual challenge, but the organization has since then cruised into other roles.
"As a nonprofit group, we primarily work to promote sail training in North America," explains Tall Ships Challenge Manager Erin Short. "Particularly with youth, where we issue grants and scholarships for those who are seeking a professional sailing education. We're also advocates for tall ships used in the government, so we work very closely with the Coast Guard and other regulatory agencies to help maintain the safety standards of each vessel."
Short's specialty among the crew lies in organizing the Tall Ships Challenge Series, which rotates each year from the Atlantic and Pacific coasts to the Great Lakes. This marks her 12th year as manager and the first year in which the series has dipped into the Gulf of Mexico.
In doing so, Short says, "Tall ships and their programming will be promoted to a much larger audience, and different communities will be brought together to witness history."
Historical in the sense that this is a returning voyage for the fleet's flagship, the Elissa.
Constructed in 1877 Scotland, Elissa, a three-masted vessel, transported various cargo around the world until the year 1886. She logged two visits to Galveston, Texas, and then set sail for Pensacola.
The 205-foot-long ship's home port is Galveston, where the race will commence. From there, Elissa and five other tall ships will travel to New Orleans and then to Pensacola.
Among the ranks are The Lynx, Oliver
Hazard Perry, Oosterschelde, Picton Castle and When and If, hailing from both national and international ports.
"These ships all have incredible stories," Short shares. "Picton Castle is completing her eighth circumnavigation. Oosterschelde launched in 1917 in the Netherlands as a freight ship. One of my favorites is about the When and If, which was commissioned by General S. Patton during World War II. He said when the war was over and if he lived through it, he and his wife would sail her around the world."
Unfortunately, the general did not survive, but the When and If schooner perseveres to this day in Key West, taking passengers out for sunset cruises and private charters. While docked in Pensacola, visitors will have the opportunity to skim through the bay on her and on the Lynx for day sails.
The remaining four will remain moored at Plaza de Luna in Downtown Pensacola, where visitors are free to climb aboard and explore their hulls during the festival portion of the event.
This is a huge attraction of the Tall Ships Challenge Race Series, as up to 50,000 people are expected to gather for the weekend.
"We couldn't be more excited for what's in store," says Capt. Sterling Gilliam Jr., director of the National Naval Aviation Museum (which, if you haven't visited, charges no admission for its spectacular exhibits andoffers insight into the magnificent transport that shaped our nation).
"Pensacola is one of the oldest civilizations in the country that has a strong maritime history, so we felt it was only natural we honor that and host Tall Ships," says Gilliam, serving as chairman of the Tall Ships Pensacola Committee.
"We'll have a parade of ships as they arrive on Thursday, followed by a welcome reception for the captains that evening. Friday, VIP viewings, and then the festival is open to the public for the rest of the weekend."
While there will be educational deck tours and private receptions aboard the stationed tall ships, Gilliam adds there will be a party on the pier with live music, tasty concessions and various vendors.
As for the actual race, that only happens between ports, where each vessel scuds to the next destination. The prize?
"Bragging rights," Short laughs. "No, we do give out awards, and the crew takes it very seriously! There's an on-the-water time, but because all these ships operate on different rigs, we do have a handicap system, called the time of corrections factor, to even it all out. It's really a way for them to show off their skills."
Luckily for ordinary landlubbers, dreams of shouting "anchors aweigh!" are not unattainable, as the crews of these ships are always on the lookout for new deckhands.
"The ships carry a mix between the professional crew, guest passengers and trainees between each leg," Short explains. "If you come to the event in Pensacola and fall in love with the tall ships, you could sail to New Orleans with them that Monday. If you need to get your affairs in order, you can always check their schedules online and hop aboard whenever."
According to Gilliam, falling in love with these magnificent vessels is made easy by the city scenery.
"It will be quite a spectacular sight at Plaza de Luna, where you're looking out toward Pensacola Beach, Fort Pickens and the Three-Mile Bridge with these massive, massive ships in front of it all … it really gives you a sense of our rich heritage."