Taking the Leap
30A's Mike Ragsdale Lives to Take on a Challenge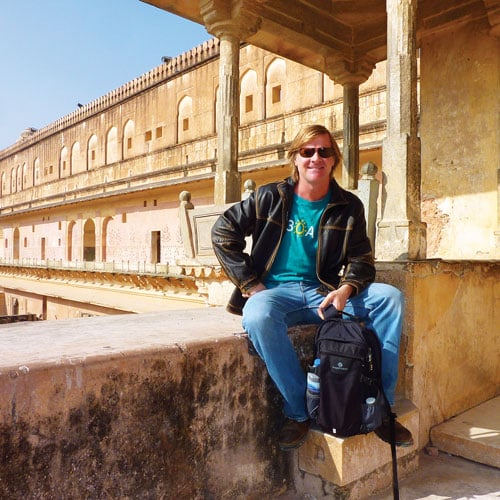 "Sometimes you just have to take the leap, and build your wings on the way down." — Kobi Yamada
30A entrepreneur Mike Ragsdale embraces change. The self-described "repeat offender" opportunist and creative promoter relishes a challenge. He has tested himself with geographic, professional and personal changes that would overwhelm the standard resume format.
Ragsdale is not one to sit on the sidelines. The 40-something husband and father of four prides himself on acting when he recognizes or envisions a challenge. "It's like jumping off the high dive," he says. "The quicker you can make it up the ladder, the better. If your heart tells you to do something, do something to commit. Post it on Facebook. Quit your job. Act on it."
OPPOSITE PAGE: Mike Ragsdale rests on a massive stone wall reminiscent of the Great Wall of China that encircles the mountain range around the Nahargarh Fort in Jaipur, India also known as "The Pink City." LEFT: Ragsdale makes friends with 17th generation hoteliers who turned their family's 15th century palace into the region's only hotel in the remote village of Tordi, India. The family proudly toured Ragsdale around the town and region in their jeep, purchased at auction after the Afghan Civil War.
Known locally for successful projects such as Digital Graffitti in Alys Beach, 30A.com, SouthWalton.com and Town Wizard, Ragsdale, his wife Angela and two of his children recently took a significant leap into the unknown when the family packed up and set off for an eight-month trip around the globe. They left South Walton in September 2011, with the goal of experiencing life in other countries. The notion was to eschew the more typical tour of tourist hotspots to instead visit lesser-known places in Eastern Europe, the Middle East and Asia.
Kids in school, several fledgling businesses and multiple personal commitments did not dissuade Ragsdale from taking on a months-long international jaunt. Two years ago, the family had done something of a test drive with a month-long journey through Cambodia, Myanmar and China. To make the commitment to action, the couple purchased airline tickets, giving themselves a year to figure out the logistics.
EC caught up with them in the Czech Republic via Skype, a few days from spending Christmas in Prague and moving on to Turkey. The family's travel strategy is to settle in for a period of weeks in a centrally located home-away-from-home, then make shorter trips from that base. They travel without being typical tourists, taking in what it is like to actually live day-to-day in a different geography.
Schooling for Holly, 12, and Carlton, 15, while on the road was another challenge. "Home schooling was another jump off the high dive," Ragsdale says. The Ohana Institute in Rosemary Beach was a huge help. All students are encouraged to work at their own pace. The Ragsdale kids use Skype and email to interact with their teachers regularly. "What they see and experience are incorporated into their learning process," Mike Ragsdale explains. "For example, last week they visited Auschwitz, and it was a living classroom for them."
The round-the-world trip is certainly not Ragsdale's first jump off the high dive. He spent most of his life in and around Birmingham, Ala., achieving entrepreneurial success in businesses as diverse as online consulting, fitness and the restaurant industry. "My wife and I were always dreaming about doing something radically different," Ragsdale says. "The kids said, 'Give it up. You talk but never do anything.' We decided it was time to wake up, do something or quietly resolve to be happy there."
The Ragsdales drew a latitude line across the U.S. on a map, staying south of Birmingham because they did not want to shiver through life in a colder climate. They considered California, Texas, Louisiana, Mississippi, and quite liked Savannah, Ga. "About that time, a friend who knew we were looking to move told us about his home that was for sale in Santa Rosa Beach," he says. "We came to look at it, fell in love and in about 60 days we'd moved."
It was September 2006, and the spirited couple absolutely knew they had found their forever home along 30A. "I think there is a certain type of person who is willing to 'give it all up' to just be near the water," Ragsdale says. "My story is absolutely no different."
Ragsdale quickly became something of a local activist, promoting all things 30A. From Digital Graffitti, an unconventional computer-generated outdoor art festival in Alys Beach, among Ragsdale's earliest 30A endeavors, through the successful development of 30A.com, SouthWalton.com and beyond, the entrepreneur's mission has been to effectively communicate the 30A way of life.
Celebrating the unique and authentic sense of place found in South Walton is of paramount importance, he believes. The Internet and its tools are the media for his creative communication. "Much of the 30A audience is out of the area," he says. "We are keeping people in touch with a place they love. It's a privilege. I'm just in love with the 30A brand. I am in love with it as a place and with the opportunity that still exists for our area. I'm just excited to be at the table and to be able to help contribute. It's just an honor."
Ragsdale's most recent business venture is Town Wizard, a web-based guide that gives users street-level local knowledge and local color. "After 30A took off, people asked if I had thought about taking on other places," he says.
Partnering with Jeff Armstrong of Seagrove Beach, he used the tools developed for 30A to create a universal local guide business plan to provide that all-important authentic sense of place. The business quickly grew as he partnered with Darren Nelson in Destin, and Steve Salzinger and Bhavan Shah in New York. "Many people who visit a place want to know the local flavor, the local sense," Ragsdale says. "So Town Wizard empowers a true local entrepreneur to help provide that authenticity. It's almost like a business in a box."
First launched two summers ago, Town Wizard is now in more than 150 different markets around the world, although mostly in the U.S. At the time of our interview, they had just partnered with a large company in The Netherlands, and a Town Wizard rollout in Denmark was under way.
Town Wizard goes where government or tax-funded promotional organizations can't, Ragsdale believes. "Yes, we have great organizations to promote the area, but we [Town Wizard] have great partnerships," Ragsdale says. "They have a job, but we can drill down deeper. They can't promote an individual business. At the publishing level, we can really get down and introduce you to those local businesses. You need to have both [kinds of organizations]. I think it's wonderful when we work together."
Although the current worldwide journey feeds Ragsdale's creative energy — he thinks of starting a Town Wizard project in every spot he visits — the traveler still misses his 30A home. "I miss my boat, my YOLO board, the beach bars," he says. "With Facebook and Skype, it's almost shamefully easy to keep in touch with people back there. But I miss the place."
The inevitable question is, what's next? Ragsdale still has an eye out for a challenge, somewhere in front of him. He remains ready to jump in, with no regrets for what is past, recognizing that the actions he takes today will be tomorrow's great memories.