Take Me Out to the Ballgame
Blue Wahoos shine in Pensacola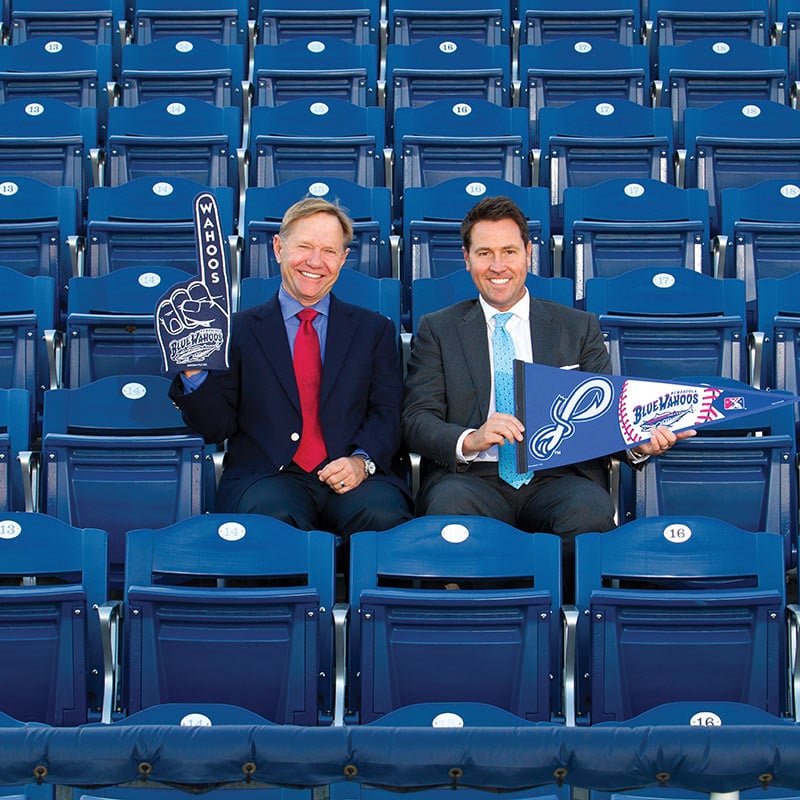 Walking onto the field at Pensacola Bayfront Stadium, it's easy to imagine yourself standing on the pitcher's mound, hurling a fastball low and inside for strike three to beat your rival, then basking in the cheers from the stands, which seat 5,038 baseball lovers.
It goes without saying, the fans that fill the seats at the waterfront stadium in Vince J. Whibbs Sr. Community Maritime Park are passionate about America's Pastime. The attendance numbers can certainly back that up.
"Our mission and vision is to improve the quality of life for the people in Pensacola and to make Pensacola the greatest place to live in the world," said Maryjane Gardner, media and public relations manager for the team. "There's nothing in there about baseball. We want to make sure, when somebody comes here, whether it's their first game or 100th, they have a great time and feel welcome from the time they leave their car until they get to their seat."
For those who have yet to catch a game at the home of the Pensacola Blue Wahoos, you are truly missing out on an experience like no other. No matter where you sit in the stadium, the views are incredible, especially out past the outfield walls, where there are gorgeous views of the Inner Harbor Channel and the Pensacola Bay Bridge.
The Blue Wahoos, founded in 1959 as the Charleston White Sox, have been playing ball in Pensacola since the 2012 season. They are the Double-A affiliate of Major League Baseball's Cincinnati Reds and play in the South Division of the Southern League, a 10-team league that is home to the Biloxi Shuckers, Birmingham Barons, Chattanooga Lookouts, Jackson Generals, Jacksonville Suns, Mississippi Braves, Mobile BayBears, Montgomery Biscuits and Tennessee Smokies.
Double-A baseball is the second highest level of play, just behind Triple-A and MLB. From a baseball standpoint, the Cincinnati Reds organization controls and oversees all on-the-field aspects of the Blue Wahoos team, such as signing and trading players and hiring the management and coaches. Gardner likes to say they are responsible for what happens from the seats up.
Since their founding, the now Blue Wahoos have donned quite a few monikers, whether fans called them the White Sox, Astros or Mudcats, which was their most recent name from 1991 to 2011.
Local businessman and entrepreneur Quint Studer and his wife, Rishy, along with two-time Master's Champion Bubba Watson, who is a native of Bagdad, Florida, are part of the Blue Wahoos ownership group. Studer, who grew up listening to baseball on the radio and going to games in Chicago, never imagined owning a baseball team, but that's exactly what happened in 2002 when he purchased the Pensacola Pelicans, an independent baseball team which now plays in the American Association. Studer purchased the current franchise in 2010.
"After Hurricane Ivan, we started this long, long journey to get a stadium built downtown, which wasn't complete until 2012," Studer says. "It was a very long pregnancy."
But now that the Wahoos call Pensacola home, the community, as a whole, has benefitted through various partnerships and the jolt of energy the new stadium and players have brought to the downtown area.
"Baseball has always been a really good cultural melting pot for the community," Studer said. "The Blue Wahoos have really become a great brand for this community, because it has Pensacola in front of it. It's really put Pensacola on the map."
And it doesn't hurt to have Watson aboard for the journey. Studer said he's not sure Watson would call Pensacola home if it weren't for his investment into the Blue Wahoos.
"But it's more than that," Studer said. "He's bought into a candy store, bought into a Chevy dealer and just bought into an apartment complex.
"Seeing him and his wife Angie involved in downtown and all the philanthropy they do is great," Studer added.
Watson is more than just an investor though; he's involved in the team and regularly brings ideas to the table and sorts through budgets. He even attended baseball's Winter Meetings in 2016.
Studer said he was amazed to see how star-struck some of his colleagues were by Watson's presence.
"Will Lingo, the publisher of Baseball America, says, 'I sat next to a two-time Master's champion today,' and that's what Bubba brought to our team," he said.
Not only have the Wahoos seen success off the field, they've seen a great number of their players make a name for themselves on the Major League level, such as the Cincinnati Red's Billy Hamilton, who holds the Minor League Baseball record for stolen bases in a season with 155, and the New York Yankees' Didi Gregorius, who replaced the retiring Derek Jeter at shortstop in the Bronx.
There are big things ahead for the Blue Wahoos, as Pensacola is set to host the Southern League All-Star game, which will be held in June.
"We have to maximize this exposure," Studer said. "We don't know if this will ever happen again."
---
To learn more about the Pensacola Blue Wahoos or to purchase tickets, visit bluewahoos.com.