Take a Whole New Look at Underwater Diving
Test the waters with this easy, underwater diving adventure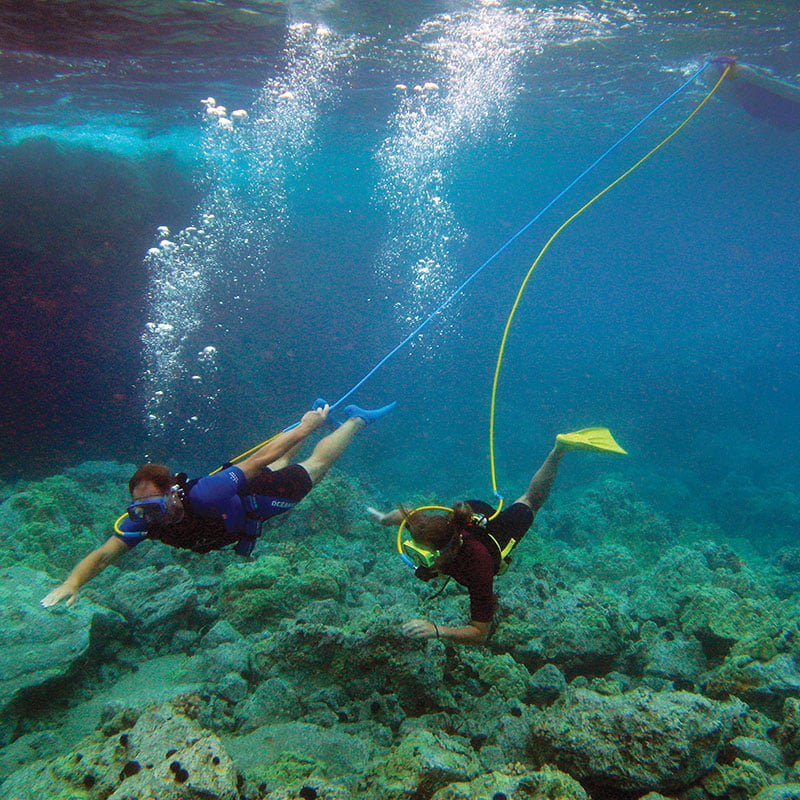 With natural and artificial wrecks, reefs and dive sites buzzing with exotic sea life in the Gulf of Mexico, the Emerald Coast is making a splash as a diving hot spot.
If you are not a certified scuba diver but want to channel your inner Jacques Cousteau in an underwater diving adventure, give snuba a try. Destin Snorkel — owned and operated from the Destin Harbor by certified divers Val and Laura Costley — is the only outfit on the Northwest Florida Gulf coast to offer this relatively new water sport, which combines the technology of diving with the freedom of snorkeling. 
Snuba diving does not involve the bulky equipment, intensive training and certification associated with scuba diving, making it great option for an impromptu vacation day adventure. "Think of it as a cross between snorkeling and scuba diving," says Laura. 
You are tethered with a 20-foot airline, which is connected to a scuba tank mounted on a raft floating on the surface. With guides overseeing your dive you can safely plunge down to a depth of 20 feet — considered the "life zone."
The Costleys take dive groups to the Destin jetties, which is "swimming with life." Here, you're sure to spot plenty of tropical marine life that you just cannot see by snorkeling the surface, like wily wrasse, bright colored tang, puffer fish, toadfish, spadefish and plenty of sea creatures such as sea anemones and sea urchins. And, of course, scuttling on the bottom you'll likely spot the likes of blue crab, stone crab and hermit crabs, too. 
After signing a waiver and watching a 30-minute orientation video, you board the Snuba Runner, and once at the site you take turns diving in with a guide. The excursion lasts a couple hours with the actual dive lasting from 20 to 30 minutes. 
"It's a dive experience," says Val, who is a certified rescue diver and Destin Snorkel guide, "so you're able to experience what it's like to breathe through the regulator, but you don't have the tank on the back. You can take that next diving step and get the training, and we handle the rest." 
It's also an easy and safe way to "test the waters" of the sport of diving. "It's a great way for certified divers who have a friend or spouse to try it out," Val says. "A lot of parents are certified, but their kids aren't. This gives them a chance to get a feel for it without a big investment or time or money." 
Snuba is way for novice divers to experience what it's like to breathe through a regulator — which can feel counter-intuitive at first. "Most people have a tendency to not breathe when they get in the water. That's what you want not to do," Val says. He advises to try snuba a couple times, get the feel of it and relax. "Once you forget about breathing, it becomes a natural thing; you open up and you start enjoying it."
Spadefish
After experiencing snuba on a trip to Mexico, the Costleys added it to their list of water sport offerings in 2010. Their efforts have helped to propel interest in the sport, and the industry has taken notice. In March, Snuba International named Destin Snorkel International Tour Operator of the Year for snuba.
In the spring Destin Snorkel has trips once a week, but during peak summer tourist season, they offer two excursions a day. The Costleys welcome anyone at least 8 years old, who is in good health and has basic swimming skills to try this underwater adventure. 
The cost is $86 for adults and $65 for children (ages 8–12). It includes the guided excursion and complimentary sodas and water. It's a good idea to make reservations a couple of days in advance either by phone or online at destinsnorkel.com. You can relive your Bucket List moment with a keepsake custom DVD or 3D-video of your adventure shot by a professional underwater photographer for around $20. 
The Costleys both say the only thing you need to bring before ticking this item off your Bucket List is "a sense of adventure."