Take A Walk Down Nostalgia's Lane This Holiday Season
We asked members of our community to share some of their holiday memories.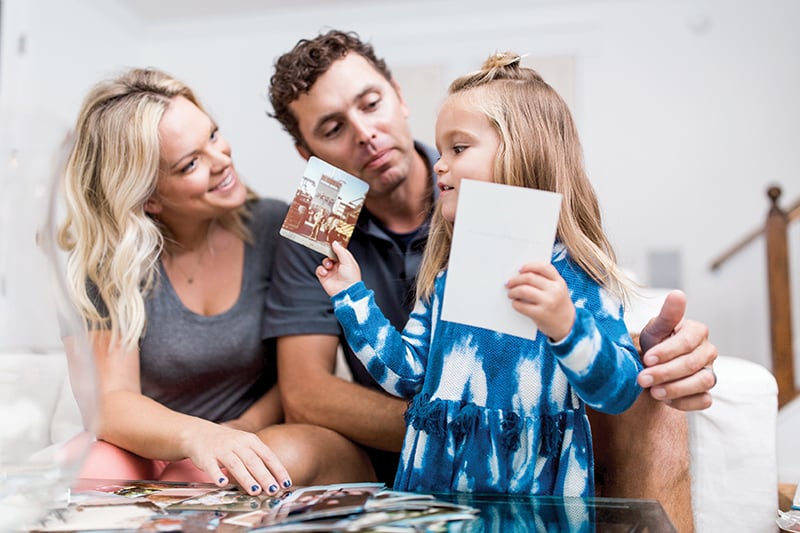 The air outside is (a smidge) cooler, college football is winding down, and the holiday season is on the horizon. That got us to thinking — what's your favorite holiday?
You know, the one that turns you to mush inside. The one you secretly long for when you're feeling blue or just straight-up tired of adulting.
We posed that question to several folks along the Emerald Coast, and while the responses were varied, the common threads were food (and lots of it), family, friends and fun.
Read on to see if you can relate.
Michaelanne Lauderdale
Co-owner of Salt Air 30A, Seacrest
"For me, I have so many holiday stories, but my favorite is the last holiday we ever got to spend with my dad. He was in hospice or close to it at that time. And he loved Thanksgiving! I had never cared about it all that much, but it was his favorite holiday. And my parents are divorced — and we all spent that holiday together! My mom and my stepdad came over, and my sisters and all the brothers-in-law were there, and he taught them how to smoke the turkey! And it was just such a special holiday. It was one of those times that was just so special and big. He died two weeks later. That kind of changed Thanksgiving for me since then. It makes me feel close to my dad. It's not sad at all. I love it so much!"
Nathan Boyles
Okaloosa County Commissioner, District 3
"Winter holidays, specifically Thanksgiving and Christmas, have always included time around 'the smoker' at my grandparents' house in Milligan (the first seat of Okaloosa County). The smoker is a homebuilt affair constructed by my grandfather and uncle. My grandfather is a tinkerer, a trait I seem to have inherited. However, I have the benefit of the collective and iterative wisdom of the internet when I undertake some ill-advised project. I am not sure exactly when the smoker was constructed, but I am certain it was before the internet age, and there weren't any mail-order plans involved. While I was not a witness, I am told that the rough-cut cypress body of the smoker erupted in flames upon the maiden lighting and that modifications had to be made to reduce the risk of future engulfment. The brick firebox was built with scrounged brick — none of them firebrick — and has long ago ceased to be held together by anything other than gravity and a few metal pipes driven into the ground to arrest the outward lean of the walls. At this point, I'm not really sure what holds the rest of the contraption together, but there it stands ready to perform its biannual duties. "Despite the humble appearance, I am confident in my conclusion that no manufactured alternative has ever crossed the threshold of a home improvement store that can hold a candle to Pa's smoker. A bit of pecan wood and patience will produce heaps of smoked mullet — you hang them by tail — a bushel of beef jerky and a pile of pork chops. Perhaps even more delicious are the enjoyable hours spent congregating around the firebox with family as the old smoker does its work."
Hector Solis
Panama City Beach City Councilman, Ward 4
"The holiday I reflect on most is my family's Thanksgiving celebrations. It was really a time where as many of us as possible got together. Sometimes that group would be as many as 40 or 50 people. It was such an enjoyment — and the great food didn't hurt any. This was in Harker Heights, Texas, near Killeen. It was centered around my mom because we all wanted to be near her. Our Thanksgivings typically started in the morning because everyone would start cooking early. And we really tried to wait until everyone got there to eat. It was really important to us. … I don't know if I had a favorite dish, but I can tell you I was the king of the mashed potatoes! My secret was a whole lot of butter."
Ricky Steele
Artist, Ricky Steele Designs, Panama City
"I'm a Christmas guy! It's the season of giving. People seem to be happy, and more people come home so you get to see a lot of old friends. From a Christian perspective, it's a good time for fellowship. That's just our tradition — having people stopping by the house to eat. My wife is a fabulous cook. She makes a great red velvet cake and a key lime cake, and she does this Oreo cream cake. All three of those combined is just phenomenal! I have a great wife, and she still makes it like I'm a kid. We've got two stockings — one for her and one for me. She makes it a lot of fun. And all of my kids are grown, but I have 11 grandkids and two great grandkids … and of the ones who live in town … everyone seems to flock to our house!"
Martha D. Saunders
President of the University of West Florida, Pensacola
"Hands down, Thanksgiving is my favorite holiday because the star of the show is food. I can relate to the late columnist Erma Bombeck who said, 'I come from a family where gravy is considered a beverage.' Our Thanksgiving feasts are lovingly made from recipes handed down from generation to generation. We still enjoy Aunt Clara's sweet potato casserole with its liberal infusion of sherry (some of which actually ends up in the casserole), Katherine Belle's grape and cranberry salad (that's fresh cranberries, mind you), Aunt Jewell's 14-day pickles, and Christine's pecan pie, which no one seems to ever be able to replicate because Christine didn't believe in writing down her recipes. My mother's dressing was always most requested, and now I do the honors. Every dish conjures up memories. The memories trigger family stories we never tire of telling, because, like the food, they get better every year."
Jean Pierre N'Dione
Owner of Five Sisters Restaurant, Pensacola, and general manager of The Fish House and Atlas Oyster House, Pensacola
"Christmas is definitely my favorite. … I was born in Senegal, but I grew up in France. … On Christmas Eve, it's a big deal, and all of our family gets together. It's cooking and eating, and of course, going to midnight Mass. Then all of the kids go to bed, and you wake up to all the presents. And the day is just family again. Everyone comes to the house, and it's eating from 1 or 2 p.m. until, oh, 10 p.m. The dish I really enjoyed was a duck that my mother made. I just remember that she would prepare it for a couple of days, get it marinated and then put it in the oven and by the time it came out of the oven, the whole house would smell so good!"
Brent Lane
Co-host of the "Cat Pak Morning Show" on Cat Country 98.7 FM, Pensacola
"It's always been Christmas. We start putting up Christmas decorations on Thanksgiving. Our kids are accustomed to it. Everybody knows that Dad goes to the storage unit and picks up all the Christmas stuff. And usually the day after Thanksgiving, we make that house become the Griswolds'. … We used to go all the way with the yard work — everything from lights in the trees to the blowups, but then my daughters got into high school and they were a little too cool for the blowups! So we scaled it back, and now I am the maestro of the laser art. Not only do we make the house come alive, we light the trees up like nobody's business! I'm pretty sure it's not a safe zone if you're flying over the house! … For whatever reason, Christmas has just always made me feel warm and fuzzy. It smells like pine trees, and there's always that soft glow of the Christmas lights. I've had so many happy memories around a Christmas tree. It's not so much about the presents — it's about family and what the day is for."
Nicole Stacey
Director of communications and marketing, Visit Pensacola, Inc., Pensacola
"I love Halloween. My mom would do these great homemade costumes. I remember I was Catwoman, and I had this black leotard and black tights and cut-out gloves. My mom even made these black shoe covers, and there were the whiskers — it was a big to-do! And Catwoman was this strong, independent woman. She was her own superhero, and that just intrigued me, even as a little girl. We would do all the trick-or-treating we could do … and take the neighborhood by storm. I still love Halloween. I go all-in!"
John Holdnak
President of Gulf Coast State College, Panama City
"Thanksgiving has always been a big holiday in my family. No matter where we were, geographically or in phases of life, that was the one holiday we always tried to get back together for. Those holidays often ended up with a huge amalgamation of family and friends enjoying each other's company and really getting into the spirit of the season. My mom always made everything from scratch, and just the memory of her cooking still makes me feel warm and happy.
"However, there was one particular dinner that will always remain my fondest holiday memory. My brothers and I were older at that one, and had families of our own, but the whole clan had still managed to get back together again at the family homestead. As we sat down for a true Southern feast, the adults were at the 'adults' table and the kids were at the 'kids' table. I remember that, after grace was said, my mom suggested a toast would be in order. As we all turned to my father and raised our glasses, my 4-year-old nephew, Ricky, raised his glass of juice as well. Beating his grandfather to the punch, he blurted out in a high, clear voice, 'Happy Thanksgettings Day, everybody!' Right on the heels of that stage-stealer, his older sister, Morgan, blurted out with the dripping sarcasm and disdain only a preteen can really pull off, 'Oh Ricky, it's not Thanksgettings Day, it's Thanksgivings Day. Thanksgettings day isn't until next month!' "Mom and Dad have been gone for a while now, the family homestead is just a faint memory, and our children are now having children, but that particular family tradition still lives on. And, as we gather again every November to share thanks and break bread, the youngest present has the responsibility to remind us that Thanksgettings Day will be upon us soon enough."