Take a Step into the Past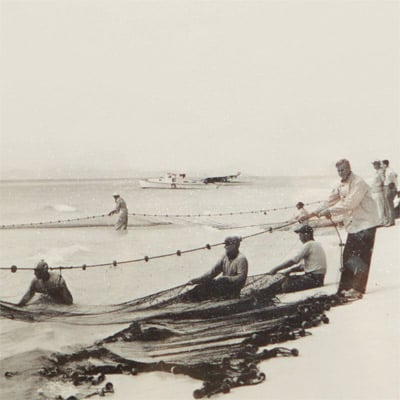 Hand-crafted fishing lures and rods, yellowed crinkly newspaper clippings, glossy monochromatic photos and over 75 life-size fish mounts of every specimen and color — enter Destin History & Fishing Museum.
Prior to the 1930s, the area of land known as East Pass (now called Destin) was practically unsettled. That was, until its namesake Captain Leonard Destin (1813–1884) and his wife Martha McCullum Destin (1835–1896) arrived in the area in the late 1830s and established a large fishing industry that gave work to young men. Many of these men became Destin's first settlers, 16 founding families that still occupy the area today. Thus, began Destin's humble history — one so nostalgic that the Destin Fishing Museum was built during the 1980s in the plaza near current-day McGuire's Irish Pub.
Today, the new Destin History & Fishing Museum is located at 108 Stahlman Ave. in the old Destin Library. However, its rebirthing wasn't an easy task.
Jean Melvin, both the current and original museum director, worked for years planning exhibits, tracking down artifacts, finding donations and completing legal paperwork to make her dream of sharing Destin's past a reality. "With about $2,000, an army of volunteers and calling in every favor ever owed, the Destin History & Fishing Museum started to take shape," Melvin says.
Like a living scrapbook, a tour of vintage tableau vignettes, historic memorabilia and photo montages throughout the Destin History & Fishing Museum treat visitors of all ages to the story of The World's Luckiest Fishing Village from days gone by up to today.
After its official opening in 2005, the museum now averages about 8,500 visitors annually and serves as a "home for exhibits that profile Destin's unique history and heritage," as described by Kathy Marler Blue, associate museum director for five years. 
And that's just what the museum does — it teaches every person who walks in the door a snippet (or two) they never knew about Destin's roots. 
"People's reactions are typically that from the outside it looks so small, but when they come in and have the experience of an individualized tour, they are usually blown away by the amount of history that we have within these walls," Blue says. "And sometimes the people that are the most surprised are the locals."
Intended for learners of all ages, the museum offers special and private tours as well as kid-friendly activities like scavenger hunts. "We can accommodate anybody for anything," Blue says. Visitors can also take a peek inside Destin's first post office, located adjacent to the museum, which serviced the area until 1951.
"We have artifacts, vintage photographs and stories of a people that were hard working, God-fearing, community-minded, salt-of-the-Earth type people," Blue says. "It's their stories and their lives and the work that they did that created the base of the community we have today."
With hopeful plans to expand the building this fall, the museum aims to add exhibits that are more interactive and eventually, self-guided audio tours with headsets. Despite these plans, Blue says the museum still offers locals a sense of appreciation for everything that exists in Destin today. 
"Every person that enjoys what Destin has to offer now, whether it's a recreational boat or whether they wet a line, they're a part of a heritage that started a long time ago," Blue says.
And as long as the museum stands firmly rooted, that heritage won't be forgotten anytime soon.
---
For more information, hours, pricing for admission and membership and ways to volunteer, history buffs can visit the museum's website at destinhistoryandfishingmuseum.org, check their quarterly newsletters, or call (850) 837-6611.