Take A Note From Sailors This Season
Get naughty and nautical with your fashion this spring.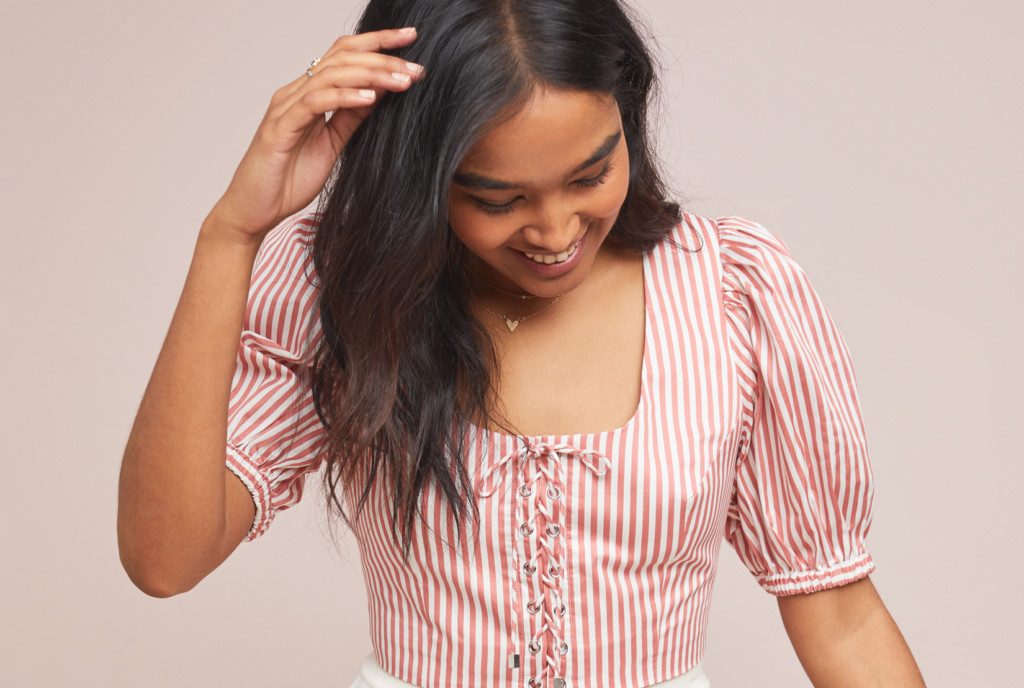 From the tender caress of her gentle breeze to the salty-sweet kisses she leaves in her wake, open sea seduces many a sailor and siren with her eternal mystique.
We on the Emerald Coast are united in this tumultuous affair, having sold our souls long ago to witness the Gulf of Mexico's every ebb and flow. And, while the sea is the subject of countless odes, the foundation of many of our livelihoods and the place we call home, it's true, too, that she's flirted her way into our wardrobes.
"I feel that nautical fashion will forever be a timeless trend because of the classic styles associated with it," says Diane McLaughlin, owner of the Lee Tracy fashion boutique in Pensacola. "Clean, crisp stripes, whites, navy and reds — nothing says 'coastal' better. It keeps us feeling youthful, as we remember sporting the sailor outfits in which our mothers used to dress us."
For Rebecca Margarites, owner of Whitewash Boutique in Miramar Beach, McLaughlin's remark echoes what she knows to be the style's origins. She said that naval fashion made its way from ship to street in 1846, when Queen Victoria ordered a sailor suit for her son.
"It really didn't become a mainstay until 1917 when Coco Chanel launched her nautical collection," Margarites explains. "Contemporary designers like Ralph Lauren continue to be influenced by this cross-generational, iconic style."
Today, sailor-chic has evolved from traditional, Breton tops, into chunky fisherman sweaters and oversized outerwear. Next time you catch an angler down on the docks, rocking a weathered mug and an offal scent, you can thank him for mainstreaming your cute, new cable-knit.
"For us on the Gulf, it's an absolute staple for any woman's wardrobe," McLaughlin said of cozy jumpers. "I've seen hoodie styles paired with the classic boyfriend jean for a more casual look, but you can always dress them up with a pair of slacks and a duster coat for a classier ensemble. Either way, you can't really go wrong."
For Margarites, it's important that Whitewash Boutique supplies thick knits and swing sweaters with detail, such as button-embellished front pockets, lace-up sleeves and plenty of ruching for added sophistication. But, if you're going to go the extra mile with your top, she advises to keep the rest of your look simple. "Pair it with denim, tall boots and stick with winter-friendly colors, like cream and navy."
That's not to say you can't experiment with pops of color and patterns elsewhere. We wouldn't be covering our bases if we didn't acknowledge the iconic blazer, which, according to McLaughlin, has dropped anchor among the racks once more.
"Animal print, classic denim, black, opened, buttoned, belted — you name it, it's in," she said.
You'll want to put your thick knits aside and rely upon a form-fitting button-up or boat-neck top beneath to accentuate your figure. But, McLaughlin says, don't shy away from that classic, horizontal stripe.
"I've often heard many women that I've worked with over the years say, 'Oh, I could NEVER wear horizontal stripes, are you kidding me? They make me look huge!'" McLaughlin laughed. "I, myself, am a bigger gal, and I can rock a stripe with the best of them."
The secret is in the fabric you select. Look for material that drapes and doesn't cling, and introduce a long-chained necklace or silk scarf to play off the stripe's dimensions.
I can't get enough of silk scarves, and Margarites shares in my fondness for the versatile accessory.
"A great way to pull a look together is by coordinating the colors in a scarf with your top and jacket," she said. "It's the secret to decorating yourself! If you're wearing a cream-and-navy striped top with a navy jacket, throw on a scarf that is cream with navy anchors to create some contrast. Mixing a stripe and print against a solid creates interest and a more coordinated style."
Just don't go pairing that scarf with anchor earrings and charm bracelets. There's a fine line between smooth sailing and going overboard when navigating this style, so to avoid looking like Popeye or Jack Sparrow. Remember less is more.
"Layer on a gold necklace with pearl detail, a stack of chunky gold bracelets or a pair of pearl earrings to show off your pirate booty," Margarites encourages. "Trending gold-trimmed, natural stones and tassel necklaces add flair and tie back into your theme."