Sundog Books
Independent bookstore succeeds even as chains are passing from view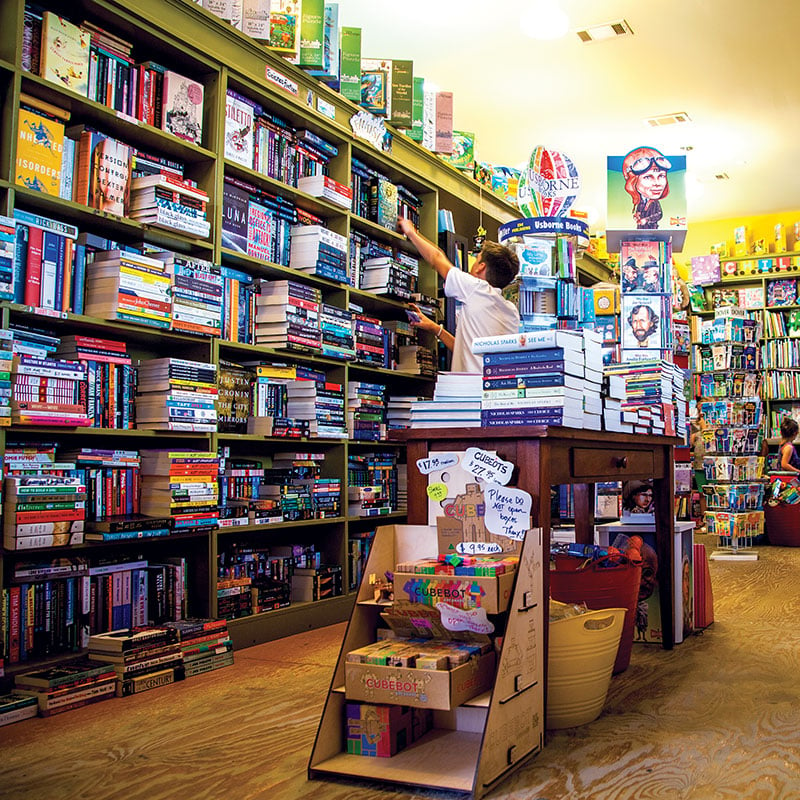 When it comes to meeting entertainment needs, the American public is hooked on instant gratification — and access to books is no exception. The rise in popularity of eBooks and digital libraries has caused many chain bookstores to fail, but the success of independent booksellers remains untouched, proving that convenience isn't everything.
For Sundog Books owners Bob and Linda White, it's the indie experience that has helped their business persevere in spite of digital-library and chain-bookstore competition. 
Nestled in Central Square in the coastal community of Seaside, Florida, Sundog Books has been open since 1986. Linda reminisces about the decision that she and Bob made to open the bookstore: "We both loved books. We had good friends who had successful bookstores in Mississippi, and we wanted to do something at the beach besides a restaurant."
Although Sundog specializes in fiction, the bookshelves contain an eclectic collection of literary genres.
The collection has evolved over the years. "There's a lot more non-fiction now," Linda says. "We have books on architecture, which is a great big part of the store, and style. Cooking books, too — they're always great."
To expand upon their selection, Bob White and his staff members garner inspiration from the weekly Review of Books in the New York Times. The employees of Sundog are huge contributors to the stocking process — the store features an entire section of books dedicated to staff recommendations. The members of the Sundog family, five full-time employees and 10 part-time, have diverse interests that keep subject matter varied.
You'll also find an assortment of gifts among the books, including witty cards, unique toys and T-shirts. A quick trip up the stairs to the second story of the building puts you in Central Square Records, a store founded by the Whites, but now owned by close friends Jenny and Tom King. Customers often float between the book and vinyl collections.
The pastel building that houses both stores resembles the beach homes that permeate the area, complete with a front porch that serves as a frequent hosting site for book signings.
Chase Yakaboski
Sundog Books owners Bob and Linda White
"If your book has been published, you can call us and make arrangements. The author sits out on the porch and signs books. A lot of people that aren't well-known get to do it, and they really enjoy that. We're still kind of out of the way for publishers to send us big names, but we get some because they like the area," Linda says.
According to the Whites, it's the area and the sense of community in Seaside that has allowed their business to flourish. 
Sundog Books' loyal following has only grown in the past 30 years. "It's not just locals. It's people who vacation here. They always come in and get a stack to last them," say Linda.
Patrons receive a Sundog bookmark with each purchase — a tangible reminder of where you obtained the book you spent hours reading under the sun that one summer. 
As for the Sundog name, Bob White got it from Martin Scorsese's "The Deer Hunter." "Sundogs are circular rainbows on each side of the sun in a winter's sky," Linda explains. "It has to be cloudy to see them, but if you start looking, you'll see them."
Fortunately, it doesn't have to be winter to discover one of Seaside's greatest treasures. Sundog Books is, in fact, that splash of color in a shrouded landscape of commercial booksellers and digital giants.