Suds 'n' Cinema Project Aims to Restore Lost Culture
Memory of a high school tradition turned into the redevelopment of a local theatre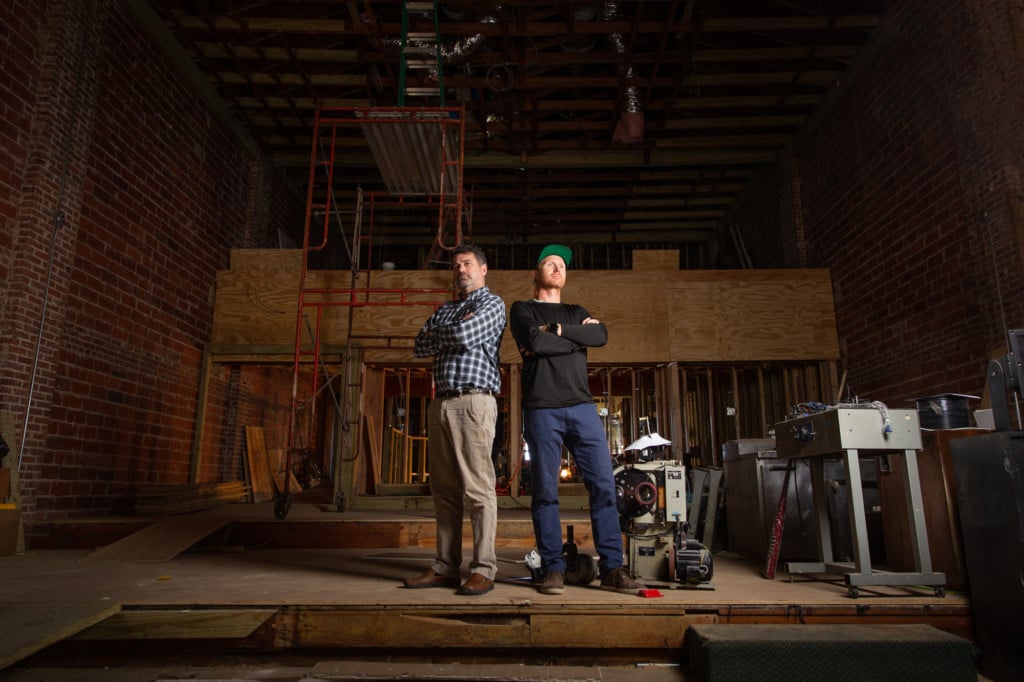 The now defunct Cinema Plus in Fort Walton Beach has been stripped to the basics — trusses, beams and joists. Where once there was a silver screen, there is but a barren brick wall.
But for NBI Property Group broker and downtown Fort Walton Beach developer Jayme Nabors, that wall, impervious for decades to termites, mildew and rot, represents former glory.
And, along with the theater's new tenant, Steve Caldarelli, it's a showy past that he intends to restore.
Originally dubbed the Tringas Theater upon its completion in the 1940s, the business was renamed Suds 'n' Cinema by new ownership two decades later.
Caldarelli and his closest Choctawhatchee High School friends made a habit of going to the show at Suds in the '80s. The first film they took in there was "Rocky Horror Picture Show," and, said Caldarelli, "it became tradition for us to meet up there ever since."
As fate would have it, those same friends — Rodney Walker Jr. and Tony Giordano — will co-own and manage the theater with Caldarelli.
Their first order of business: dropping Cinema Plus and reverting to the old name.
"We knew we wanted to call it Suds 'n' Cinema," Caldarelli says. "It's something we always dreamed of."
On weekends, they plan to bring back the "Rocky" series, show "Star Wars" films whenever one of its anniversaries rolls around and feature other cult classics.
Otherwise, the trio will honor the theater's decades-old custom of showing second-run flicks, twice a day, at $5 per admission.
Such nostalgia, Caldarelli said, will also manifest itself in the venue's atmosphere. "When I first met with Jayme and pitched him my vision, we were both on board with wanting to evoke a 1950s-style, retro experience."
"This building has been in deferred maintenance for the last 60 to 70 years," Nabors said. "It was structurally and aesthetically compromised, but we were excited when we tore everything down and found that vintage, exposed brick. We're going to leave it there to preserve the building's history, as well as incorporate other design elements for a classic, movie-going experience."
Caldarelli and Nabors are collaborating with Fort Walton Beach-based architect Jason D. Floyd, who is bringing an art-deco approach to both interior and exterior motifs.
They shared with me a rendering of Suds 'n' Cinema as viewed from U.S. 98, featuring an 18-foot, vertical sign reading "CINEMA," in 18-inch, LED-bulbed channel lettering. Blue and green neon beams will wrap around the structure's brand-new awning and accent a 28-foot long marquee. Frosted glass windows will be backlit to emit a warm, inviting glow.
The lobby will bring to mind an old-school American diner, complete with black-and-white checkerboard flooring, soda fountain barstools and red countertops. Inside, larger parties will lounge in cozy, booth-style seating, while others enjoy the show from standard dining tables.
"In the building's second story, we'll have private, enclosed booths," says Caldarelli. "One of them will be called the Marilyn room and decked out with Marilyn Monroe memorabilia. The other two will be the Bogart and Elvis rooms."
Of course, the experience wouldn't be complete without some suds and grub.
Caldarelli's plans for his opening weekend (projected at this writing for March) included waitresses serving beer, wine and sodas in poodle skirts — a uniform Caldarelli hopes to make permanent or at least for special occasions.
As for food, theatergoers can expect sausage dogs, pizza, paninis and quesadillas in addition to traditional theater fare.
Too, the roomy venue will be available for rent by private parties. It's Caldarelli's hope that Suds 'n' Cinema will serve as an anchor tenant for downtown Fort Walton Beach and generate traffic that will benefit the development's other stores.
"When people leave the theater, maybe they'll decide to grab a drink next door at Coaster's or The Boardroom," Caldarelli said.
In 2018, downtown Fort Walton welcomed several new restaurants, a recording/visual production studio that doubles as a café, a renovated skate shop, an axe-throwing hangout and more. Nabors, who began investing in downtown Fort Walton Beach in 2004, believes Suds 'n' Cinema to be an important step forward.
"By renovating the theater, I feel like we're bringing back some of the culture that's been lost here over the years," says Nabors. "And you can preserve history in a nice way while still being adaptive to the times.
"We've got a huge renovation coming to the Landing (the park behind downtown Fort Walton Beach), a new, waterfront restaurant in development, and, now, the theater. We're hoping it builds momentum and encourages more people to contribute to the growth of our area."