Stuffing (or is it dressing?)
In the bird or in the dish, it's delish!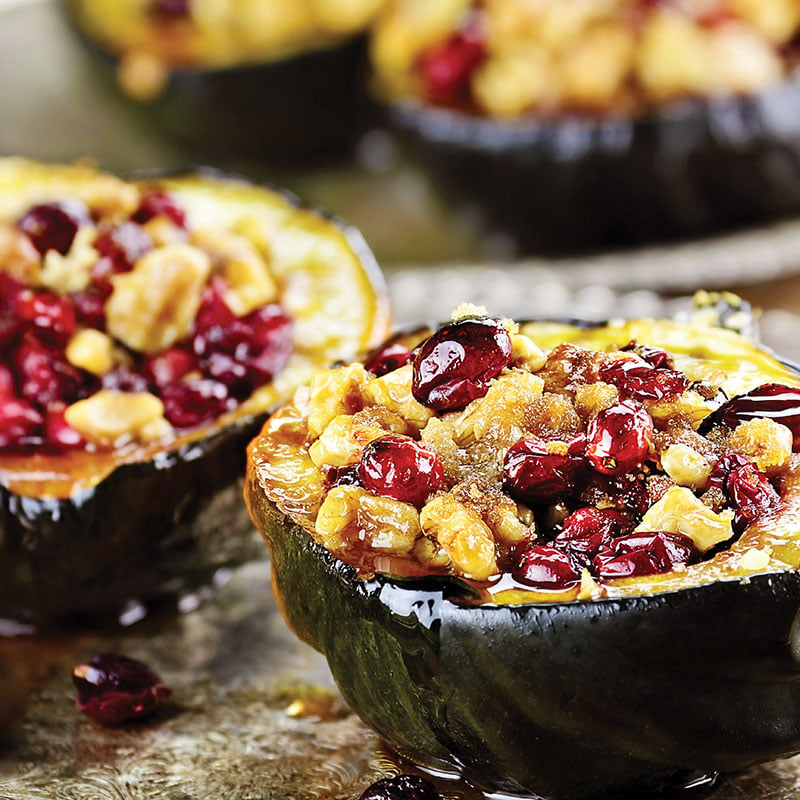 First, allow me to set the stage (or table, as it were) with a couple of Thanksgiving Day dinner jokes. Fair warning: They're groan-worthy. But they teach a valuable lesson … and they might just entertain your younger houseguests.
Q: What happened to the turkey when he got in a fight?
A: He got the stuffing knocked out of him.
Q: Why did the cranberries turn red?
A: Because they could see the cornbread dressing.
The valuable lesson: Stuffing is cooked inside of a bird; dressing is cooked outside of it.
Chef Alton Brown said, "Stuffing is evil. Stuffing adds mass, so it slows the cooking. That's evil because the longer the bird cooks, the drier it will be. … If you really love stuffing, wait until the turkey comes out of the oven, add some of the pan drippings to the stuffing and bake it in a dish. That's called dressing, and that's not evil — stuffing is, though."
Stuffing … dressing … no matter what you call it, it's an essential part of any holiday meal. Which means it can easily become "same-old, same-old." Why not shake things up a bit and try a few new ingredients this year?
---
Sweet-and-Savory
This take on the traditional white-bread stuffing is delicious. If you're looking for a unique dish to serve with your turkey dinner, you can prepare this dressing without the white bread cubes and bake it in acorn squash "bowls" (halve the squash; remove the seeds).
Ingredients
Ground sausage (mild or maple-flavored)
Chopped yellow (sweet) onion
Dried fruits: Craisins, golden raisins, apricots, prunes
Fresh fruits: apples, pears
Nuts (chopped and toasted): pecans, walnuts, almonds
Spices: rosemary, sage
Shredded parmesan cheese (use only with acorn squash)
The Nor'easter
Pay tribute to the East Coast Pilgrims (and use better-than-East-Coast oysters from Apalachicola Bay) with this seafood-lover's dressing. Don't put this one in the bird; the oysters may affect the taste of the turkey. This dressing is delicious made with a mixture of white bread and cornbread, or you can use just white bread or just cornbread.
Ingredients
Apalachicola Bay oysters
Chopped vegetables: celery, yellow (sweet) onion
Spices: sage, thyme, Old Bay
Cajun Cornbread
If you're ready to add a little kick to a sometimes-bland dish, look no further. This stuffing uses fresh ingredients that you might more expect in your favorite jambalaya recipe. Serve with a sprinkling of shredded cheddar cheese, and your guests will beg for more.
Ingredients
Andouille sausage
Chopped vegetables: green and red peppers, yellow (sweet) onion, celery, garlic
Spices: chili powder, cayenne pepper, black pepper, thyme, ground mustard, celery salt, garlic salt
---
'I'm gluten-free.'
When your dinner guest tells you he or she is "gluten-free," that means that the white bread in your old-fashioned stuffing recipe is a no-go. Does that mean you have to give up on making stuffing altogether? Nope. Try rice in place of bread. It's like a gourmet pilaf.
Stuffins
It's all the rage: stuffing made in muffin tins. Add a couple of beaten eggs and a splash of milk to your mixture — just make it moist — and bake. Is it a muffin? Is it stuffing? Is it quiche? You decide. And then you eat 'em.