Storm Ushers in New Wave of Creativity
Richly Inspired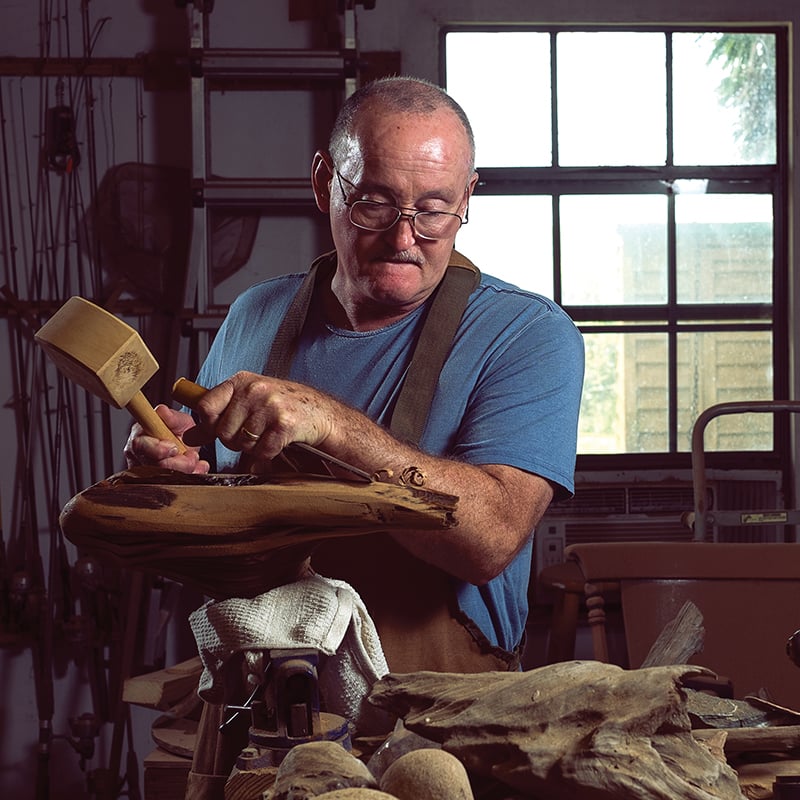 It's not everyone who can take disaster and loss and find ways to be inspired by them. It takes an open heart and an open mind to be able to see beauty in the midst of destruction, to adopt a new outlook and find life there, to experience hope when others might feel only despair.
It takes creative vision and a certain amount of faith, and for Lonnie Rich, those were the only tools he had left after a lifetime of work in the art industry — both as a trained artist and as an educator with an impressive resumé — was reduced to rubble by Hurricane Ivan in 2005.
But reinvention was hardly a new concept for Rich, a son of Tennessee who spent much of his adulthood in Alabama. He'd taught thousands of budding artists and served as the director of galleries, worked in the commercial market and amassed thousands of hours of study learning the ways of classical art. But like any true creative, he longed to spend his days expressing himself and always dreamed that he would one day be able to dedicate his time to nothing but the workings of his own hands and imagination.
Those dreams did come true, and for a number of years after the former Alabama resident moved to Holley Navarre, Rich lived out his vision. 
But when Ivan's hungry winds consumed the studio and gallery he had established on the first floor of his East Bay home, he realized that there was a new path to be taken. And so he began the search for a new voice, and that new voice was awakened by something quite unlike anything he had studied and practiced as a classic artist — stones and wood untouched by anything but the elements. In them, he found beauty. In them, he saw movement and life.
Rich's sense of visualization is apparent in each of his sculptures, all of which are distinctly unique simply for the fact that his materials have been shaped through natural processes, manipulated by weather and elements to create their colors, their textures and their character. The pits and the holes, the irregularities and the deformities, the smooth and the clean — all work together and translate into beauty.
Rich finds his greatest muse simply by opening his mind's eye.
"I find inspiration in many sources," Rich says. "Sometimes it's something that I see in nature — the sway of limbs and grass in the wind, a single blossom, the movement of clouds or the way an animal or a person moves in space," he explains. "The tangible, real world is so rich with things to inspire expression, but I also find that to be true of dreams, whether those dreams come in wakefulness or in sleep."
Whatever his source of creativity, Rich's pieces are undeniably magnificent, each of them a stunning representation of energy and life. And an artist who could have seen loss as a limitation instead found limitlessness.
---
For more information on Lonnie Rich and his studio located at 6889 Santa Clara Drive in Navarre, call (850) 936-8431 or visit artistoneastbay.com.