Stories from the Heart
Inspiring Stories of People Helping People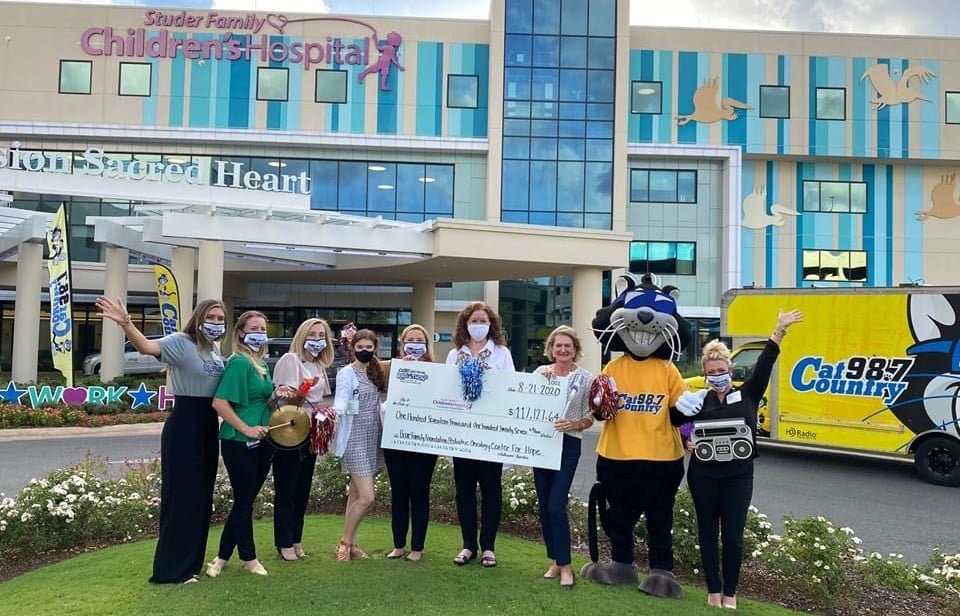 The life-changing care Ascension Sacred Heart provides has touched the hearts of many who strive to ensure that this incredible mission of care continues for future generations. Ascension Sacred Heart Foundation is proud to be a partner in this endeavor. Please enjoy these "Stories from the Heart."
A Message from Carol Carlin
At this time of year, we reflect on a very special birthday. "Glory to God in the highest and peace on earth among people of goodwill." These words were sung by angels at the birth of Jesus Christ. I can't help but think about, and be grateful for, the goodwill of people in our community, so many that give of their resources and themselves to help us sustain Ascension Sacred Heart's charitable mission.

Our Stories from the Heart celebrate several leaders who are champions of goodwill. One such person is Chris Rutledge, Executive Officer/President of Gulf Winds Credit Union. He established a fund to help the Ascension Sacred Heart medical staff respond safely to the challenge of COVID-19. His efforts resulted in a contribution of $65,000 to purchase personal protective equipment (PPE) for our first responders and caregivers.

Also featured is the story of 16-year-old Halene O'Connell who battled COVID-19 throughout the summer. Recovered from the immediate crisis, her recuperation and therapy continue today as her family shares simple advice: wear a mask.

Marking a year as President of Ascension Sacred Heart, Dawn Rudolph reflects on servant leadership, philanthropy and how the goodwill of our donors impacts the healthcare we provide. A strong supporter of Ascension Sacred Heart Foundation, she looks forward to new initiatives in pediatric neuroscience, cardiology and oncology that will be made possible by charitable giving.

And lastly, be sure to read about the Second Annual Cat Country 98.7 Cares for Kids Radiothon. People of goodwill throughout the area contributed $117,628 to help construct the Bear Family Foundation Pediatric Oncology Center for Hope at the Studer Family Children's Hospital.

Wishing you a joyous holiday season and blessings in the coming New Year,

Carol Carlin
President, Ascension Sacred Heart Foundation
People Helping People
Chris Rutledge has served as the Executive Officer/President of Gulf Winds Credit Union since 2002. Over the years, as he watched the community grow, he used his leadership skills to grow Gulf Winds, from $200 million and 29,000 members to over $780 million and 70,000 members currently.
Chris and his team knew that with the advent of COVID-19, they had to do something to help their community during such a challenging time. They established a donation fund, deciding its best use was the protection of first responders and caregivers on the front lines. Realizing the medical community was involved in difficult and demanding work, the concern was for their safety.
As a result, Gulf Winds Credit Union donated $65,000 to Ascension Sacred Heart in Pensacola to assist the hospital in purchasing personal protective equipment (PPE) for its staff. It was a gift that benefited hundreds of associates and patients.
Chris confesses that he has been a fan of Ascension Sacred Heart for quite some time. Besides the fact that he was a patient there as a child, the hospital has taken care of his family, his wife and his parents. In addition, Children's Miracle Network hospitals (such as the Studer Family Children's Hospital) have always been the traditional charity of choice for credit unions.
For years, Chris gave Gulf Winds' employees the option of donating $1 per week, earning them the right to wear jeans to work on a certain day of the week. That donation went to Children's Miracle Network at Sacred Heart, and the credit union's commitment has grown from there. They are an annual sponsor of Sacred Heart's Radiothon and the Cordova Mall Ball, and they donate to groups that assist Sacred, such as the Ronald McDonald House.
He describes the Studer Family Children's Hospital as an asset for the entire region, saying, "It gives all of us so much confidence and peace of mind to have this level of advanced care right here in our community." Previously, if parents knew the birth of their child would be challenging, they traveled to Birmingham or Gainesville for care, which often meant family separation and financial hardship.
The Gulf Coast has a special place in Chris' heart as it is his home. "I just love this area — for the beaches, the weather, but most important for the friendliness of the people in this community," he says. The family moved to Pensacola when he was quite young after his father accepted a teaching position in accounting at the University of West Florida.
His parents met while attending Auburn University, both graduating after working their way through. His dad, there on the GI Bill, was the only member of his family to obtain a college education.
Chris also met his wife at Auburn, so it is understandable that the whole family strongly supports the university — and its football team, of course. But he was avidly devoted to Auburn even while growing up. When the time to pursue higher education grew near, Chris jokes, "It wasn't, 'Where are you going to college?' It was, 'When are you going to Auburn?' "
However, when he graduated from the university with a B.S. in Accounting, work was hard to find unfortunately: It was 1990, and the country was in the midst of a severe recession. But as destiny would have it, Chris found a job as an examiner for credit unions, only to discover that its environment was a natural fit for him.
He had always been good with numbers, a core function for that type of work, but he discovered something far more important. He explains, "The credit union philosophy of 'people helping people' was a financial and social mission that really fit my values. I've been in this industry now for 30- plus years, and I've never looked back. I couldn't be more blessed."
Chris believes that it was his parents' upbringing and experiences that instilled a strong work ethic in him. He and his three siblings were always told that education was the key to success. He confesses to being a "driven person," and credits his caring and compassionate wife, a registered nurse, with adding balance to his life. Together, they have raised two sons, one currently pursuing a master's degree, and the other working towards his bachelor's.
Chris is guiding Gulf Winds toward helping the community get through the next phase of the COVID-19 crisis: financial recovery. By maximizing programs for better loan rates, lower fees and higher savings rates, the credit union is in a good position to help its members get back on their feet economically.
He sees Ascension Sacred Heart's set of values as being similar to those of Gulf Winds, with both organizations also being in a growth phase. "The challenge is keeping those values strong as we grow. It has to be a constant focus." He hopes that Sacred Heart continues on its current path of becoming the regional care center for the Gulf Coast, just as Gulf Winds is working to expand and serve more people along the coast "in the way we know we can — with heart."
---
Heartfelt Leadership
Dawn Rudolph, President of Ascension Sacred Heart Pensacola, is passionate about her vocation.
Working in hospital administration and with healthcare teams is her calling, all she has ever embraced. With a degree in education, Dawn's intention was teaching, but a future in servant leadership intervened. Her first job out of college was a management role in the registration office at St. Joseph Medical Center in Fort Wayne, Indiana. Two decades later, she returned there via a corporate acquisition to serve as its Chief Executive Officer.
She joined the ministry of Ascension Tennessee in 2010 and found herself deeply gratified to return to the faith-based approach of providing care, drawn to the "Catholicity" that advocates for the underserved, particularly the poor and vulnerable.
At this point in her 30-year healthcare career, Dawn is "incredibly pleased to be a part of Ascension Sacred Heart. This is such an amazing organization. I am humbled by the faith and art of the medical teams taking care of our patients every day." She finds the culture to be closely aligned with her leadership style, and she appreciates the community's support of the hospital's commitment to the health and well-being of all.
Philanthropy is vital to Ascension Sacred Heart's mission — and Dawn believes the institution is worthy of that support for several reasons. First is the "time, talent and treasure of the leadership team," which includes physicians. They are always looking for ways to elevate the health of the community and make it accessible so that people don't have to travel out of the area for sub-specialty care. But such programs are expensive and require new capital, as does the latest technology.
Secondly, the dollars that come from philanthropy are used in long-term investments, which build foundational programs that keep Ascension Sacred Heart at the forefront of regional healthcare. Continual investing keeps the institution moving forward — so that it will thrive for yet another century.
With philanthropic giving comes the necessity for accountability. Dawn believes, "We need to be good stewards because our stakeholders, our 'corporate wealth,' really is the community." When donors invest through Ascension Sacred Heart Foundation, there is a commitment to be accountable, to give back by showing that their dollars are being leveraged into something that produces better outcomes for the community. A great example of this is the Studer Family Children's Hospital at Ascension Sacred Heart. Looking to the future, Dawn's hope is that the same sort of dedication and community partnership that built the hospital will focus on critical children's specialties, such as neuroscience, cardiology and oncology.
---
Life After Covid-19
What is life after COVID-19 like? For a Milton teen, it's a long journey from the coma she was in in the Studer Family Children's Hospital at Ascension Sacred Heart. Now recovering at home, Halene O'Connell, 16, is fighting the after-effects of
the virus.
In late June, Halene awoke with a fever and cough. When she began having trouble breathing, she was rushed to the hospital and tested positive for COVID-19. On June 28, she was placed in a medically induced coma in the Pediatric ICU and required a ventilator to breathe. Only her mother, Carrie, was allowed to be with her and never left her side. Miraculously, Carrie never tested positive for the virus, but her husband did and has recovered from it.
Halene was discharged after 21 days in the hospital, and her mom shared an update on Aug. 18. "All of her blood work looks good, and she is improving every day," said Carrie. "She was so weak, she had to learn to walk again, feed herself again, and at first, she couldn't even hold a cell phone."
Halene is doing exercises every day to regain her strength so that she has more stamina when she returns to Milton High School. Halene's heart was affected, too. She was taking blood-thinning shots and steroids for two weeks and is just recently getting a rapid heartbeat back to almost normal. "I gave her an Apple watch so she can monitor if she's moving around too much," said Carrie.
In addition, Carrie says it could take up to six months for Halene's lungs to heal after a bout with pneumonia while she was in the hospital. As far as long-term outlook goes, the family is trying to stay cautiously optimistic, but Halene's mom wonders if there will be scarring on her daughter's lungs for the rest of her life.
"It was like her life stopped for a month and, because of the coma and the sedation, she doesn't remember much," said Carrie. "She is really looking forward to getting back to school this month and seeing her friends."
The family has a message for adults and kids alike: Wear a mask.
---

Cat Country Cares for Kids Radiothon
A total of $117,628 was raised to help sick and injured babies and children during the second annual Cat Country 98.7 Cares for Kids Radiothon on Aug. 21. All funds raised will support the construction of the Bear Family Foundation Pediatric Oncology Center for Hope, the region's only pediatric oncology center, at the Studer Family Children's Hospital at Ascension Sacred Heart. The center is scheduled to open in the spring of 2021.
Participating radio stations included Cat Country 98.7, Newsradio 92.3, ESPN Pensacola 99.1, and Pensacola Playlist 94.5. Throughout the event, listeners heard stories of bravery and inspiration from children and families who have benefited from the care and expertise of the hospital's highly trained physicians and staff. In addition to pledges from individuals, many businesses called in to make pledges and challenged other businesses to make donations, as well.
---

Walmart & Sam's Club
During the Help Kids Live Better Campaign through Children's Miracle Network Hospitals, Walmart and Sam's Club's associates along the Gulf Coast helped raise $219,388 benefitting Studer Family Children's Hospital. Although associates were battling the effects of COVID-19 during the campaign, they did not let that stop them from making a difference in the lives of children and families that we serve. We are so proud to partner with Walmart and Sam's Club, and we are forever grateful for all they do to support their community year-round.
---
About the Ascension Sacred Heart Foundation
Since 1915, Ascension Sacred Heart has been at the heart of healing for Northwest Florida and South Alabama. Like our founders, the Daughters of Charity, Ascension Sacred Heart is dedicated to providing quality, compassionate healthcare to the citizens of our regions, regardless of their ability to pay. This steadfast commitment to our community could not have been achieved without the support and generosity of the thousands of individuals, businesses and organizations that have donated to Ascension Sacred Heart Foundation. Through this charitable giving, Ascension Sacred Heart Foundation has been able to provide millions of dollars of free and low-cost healthcare to the poor, uninsured, under-insured and low-income families. With the help of generous donors, we are proud to partner in Ascension Sacred Heart's mission of care along the Gulf Coast.