Stinky's Makes the Ultimate Bloody Mary
This isn't your average cocktail. Here's how to make it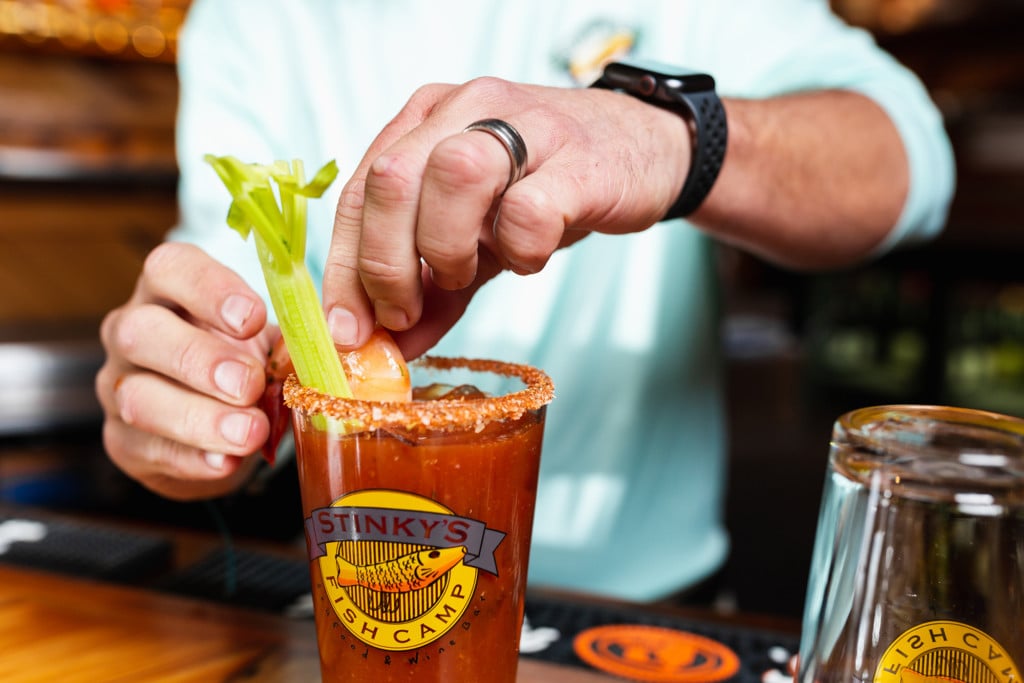 Missy Lannie smiles after making a signature cocktail — the Ultimate Bloody Mary — at Stinky's Fish Camp on Highway 30A in Walton County.
"I like to tell people, 'If I had a dollar for every time someone told me it's a meal in itself, I could retire,'" Lannie said. "It is ordered all throughout the day. I wonder sometimes if it really has been a meal for some. It has definitely gained a reputation along 30A."
During peak season, Lannie estimated she makes "between 30 and 50 a day."
"On a Sunday brunch, forget about it," she added with a chuckle.
Lannie grew up in Memphis, and she's been living in Santa Rosa Beach and working at Stinky's for the past seven years. So, what brought her here?
"Have you seen what's across the street?" she replied, referring to the Gulf of Mexico. "I was coming here for years before I moved."
Meeting the demand for an extraordinary Bloody Mary requires preparation.
"We like to set ourselves up for success," Lannie said, "so especially on Sundays, we have everything set out and ready to go. It's fun building them — they're a little piece of art in a glass."
Are people surprised by the creation?
"They are," Lannie said. "It's not uncommon to sell one, and when it's carried out to the dining room, people see it and ask, 'What's that drink?' Once one goes out, usually several more follow."
Her favorite part of this unique cocktail?
"Well, the shrimp, of course," Lannie replied with a trademark smile. "I think it's one of the things that makes it stand out a little bit more. The pickled green beans and okra are really good, too. I really like the green beans. They've just got a nice spice to them."
Chef Jim Richard, a native of Lafayette, Louisiana, is the founder of Stinky's Fish Camp. It's his family recipe for the Bloody Mary mix that helps to make it "Ultimate." And he helped come up with the company motto: "With a name like Stinky's, it better be good."
Ultimate Bloody Mary
In a pint glass that has the rim salted with seafood seasoning, combine:
2½ ounces Svedka Vodka
Stinky's House Bloody Mary Mix
Garnish with:
1 "healthy piece" of celery
1 poached shrimp
1 pickled green bean
1 piece of pickled okra
1 wedge of lemon
1 wedge of lime
Several queen pimento olives
Stinky's House Bloody Mary Mix
From a Richard Family recipe:
Tomatoes, smoked
Onion
Chipotle peppers
Cucumber
Horseradish
Garlic
Lea & Perrins Worcestershire Sauce
Green Tabasco Sauce
Crystal Hot Sauce
Salt and sugar
Black pepper
Uncle Duke's Geaux Jus
Pickling liquid
Fresh lemon and lime juice (Amounts of each are a family secret, and the family name is pronounced "Ri-shard.")