Stand up Paddleboarding is Making It's Mark on the Emerald Coast
Boards aren't just for standing anymore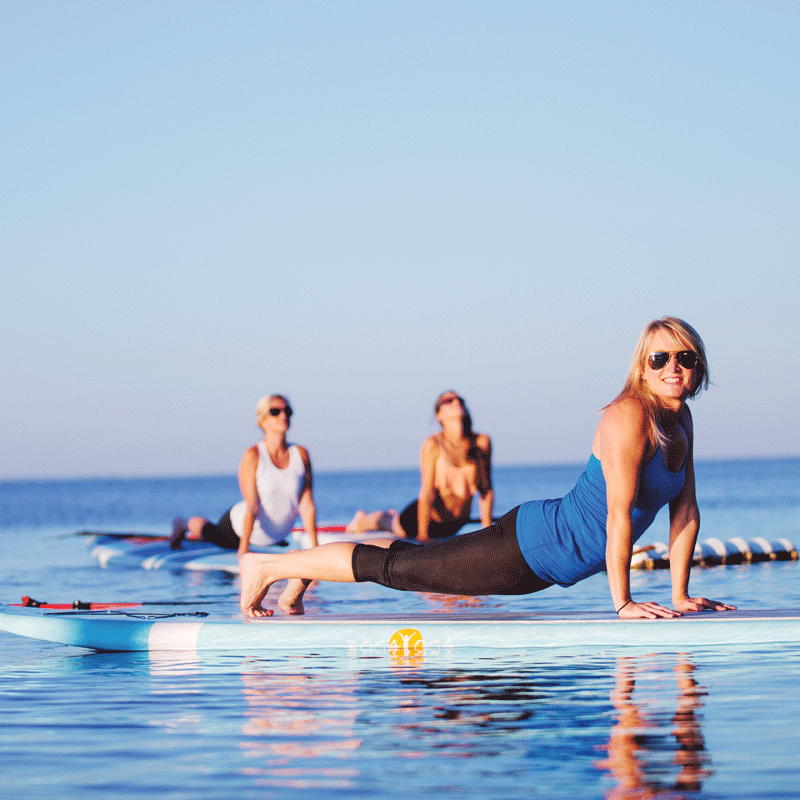 Bored with your current workout? Just standing around? Try standing on a board and taking your workout to the next level. Stand up Paddleboarding (SUP) has already made its presence known along the Emerald Coast, and now it is accelerating its popularity by incorporating yoga and Pilates. Who knew that doing something as fun as SUP could be such a great workout too? Burn calories and build strength with this new trend.
"SUP Yoga isn't as hard as it looks," says Patricia Dittrick of Aqua Life Fitness in Navarre. "All levels are welcome, even if you have never tried yoga or stand up paddleboarding. However, we do offer yoga in our studio, as well as an Intro to SUP class if clients need to feel more comfortable."
Dittrick, 51, trained in yoga and paddleboarding for more than two years before starting to teach last season. She now owns her own studio offering various yoga classes as well as SUP yoga and Sunset SUP, which is a slower, tranquil SUP yoga class offered at sunset when the waters are calm.
Pure 7 Studios
A backbend on SurfSet board provides a deep stretch and balance challenge.
The former surfer gal turned yogi teaches SUP yoga and Sunset SUP alongside instructor Cara Gaddy on Navarre Beach, and they both believe that the key to a successful SUP yoga experience is an open and free mind. "If you can't relax, then you can't enjoy your surroundings and you might be more liable to fall in," Dittrick says.
Aqua Life Fitness SUP Yoga classes are about 60 minutes long and include guided yoga instruction, as well as a board and paddle if needed. Before you show up, Dittrick recommends bringing the following: form fitting comfortable clothes, towel, sunscreen, water and, most importantly, a great attitude. Her best advice: "Don't be afraid to get wet!"
Fitness Guru Lisa Turpin, 45, of Get Up Stand Up (GUSU) Paddleboards' Studio E in Destin, has been teaching SUP Pilates for three years. She has a degree in sports and fitness management and has been practicing Pilates for 14 years. "Don't be nervous. The best thing about Pilates, especially SUP Pilates, is that every motion can be modified for your fitness level," she says. "Anyone can do it!"
Classes are offered at the Legendary Yacht Club in Destin, and all you have to do is show up. Boards and paddles are provided if needed. All Turpin asks is that you show up ready for anything.
Pure 7 Studios
Dhyana is a meditation pose for all levels intended to help with "self inquiry." (below) Yoga guru Rhonda Comparin works her abdominals and hip flexors while doing the Paripurna Navasana (par-ee-POOR-nah Nah-VAHS-anna) or the Full Boat yoga pose.
Not quite ready to hit the water? SurfSET is a new trendy workout inspired by surfing. Yet you never have to even think about water. SurfSET is offered inside at Studio E and incorporates a module essentially made of a surfboard strapped to a platform, with three exercise balls in the middle to simulate the feeling of being on a surfboard in the water. Turpin is also certified in SurfSET and has been teaching it since its release about a year ago. "The best thing about SurfSET is that you can upgrade any Pilates or yoga workout by using it. It is also great for beginners."
Including this writer, who put her sea legs to the test during a recent SurfSET class at Studio E with instructor Nicole Larson, who has been practicing and teaching SurfSET since its release. I hadn't been on a board in months, let alone been in the gym, and I didn't once fall off! I took the advice of Lisa and dove in headfirst, ready for anything. While the class was challenging, along with help from Nicole and a few modifications by the end of class I was hanging ten and feeling the burn! If you are one of those people who don't necessarily like the gym, like myself, I highly recommend giving this new trend a try!
So no matter where your fitness level is, or whether you are eight or 80, you can take a "stand" against boring workouts this season by hopping on board the SUP yoga, Pilates and SurfSet exercise wave craze.