Square Footage is Taking a Back Seat to Quality, Functionality, Charm and Character When it Comes to Home Buying
The less-is-more philosophy has come to the family home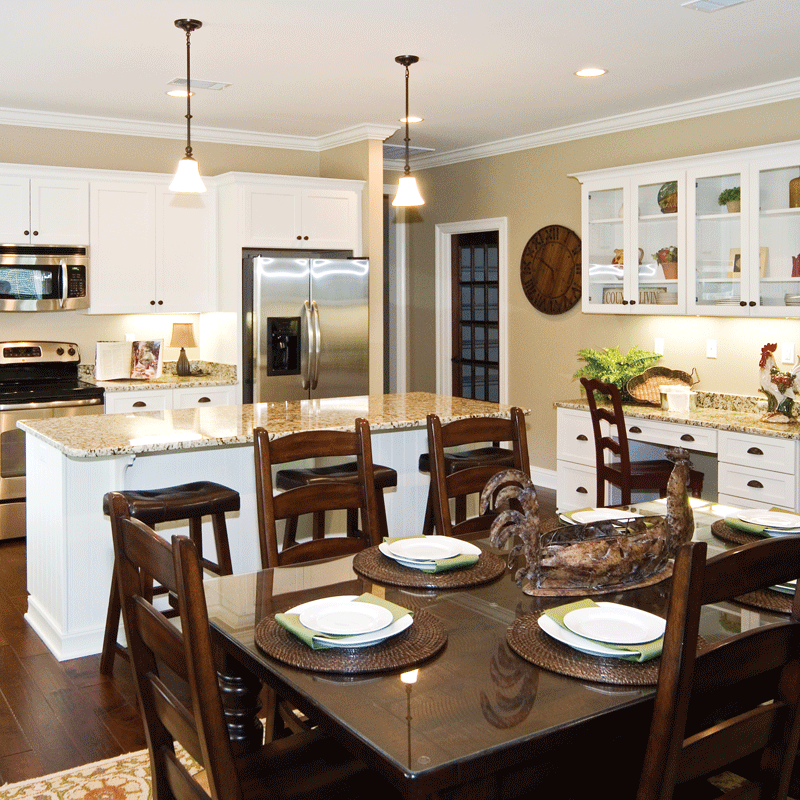 Courtesy Wise Homes/Troy Ward
This Hart III model home in the Hill Creek Farms neighborhood in Baker, Florida, cleverly and efficiently utilizes all available space with an "open concept" that connects the kitchen and dining areas with a built-in office nook.
After years of building ever-bigger houses, we're looking for new values, say Emerald Coast builders and designers. We're more interested in reconnecting with family and friends in deeper ways than in show-off houses, and the result is a trend towards smaller, smarter homes.
"What we all want is a life of quality," explains Randy Wise, a Niceville builder. "This is nothing new, of course, but the way we think about it and attempt to achieve it has changed. There has been a backlash against conspicuous consumption, and we're seeing a new understanding that true luxury is comfort, solace and connection. So we're paring down, simplifying and editing.
"In construction, this translates into homes that are significantly different from the ones we built just a few years ago. Homebuyers no longer think of a house in terms of resale, so now they turn their backs on the formal dining room, living room and two-story foyer they used to find necessary to appeal to the next owners. They just want what they need for their own family."
Realtor Dwight Atchley agrees. "It's no longer desirable to own the biggest, grandest home on the block," he says. "In fact, buyers might well run the other way."
"For the first time in my memory, the formal dining room has become a flex room," adds Wise. "That's builder-speak for a multi-purpose room. It can be a home office, a library, a downstairs bedroom. Also, the downstairs powder room is now becoming a full bath, so with the flex room you now have a first floor master suite, very desirable today. With assisted living costs sky high, aging parents move in with their children. The added benefit is that these grandparents can help care for their grandchildren. That's the way it used to be. It worked. And it makes sense today, too."
The new smaller home also emphasizes outdoor living spaces like never before, says Wise, and attic spaces are super-insulated to provide good storage. 
Wise grants that today's small house often isn't less costly than the bigger one, but buyers, he says, accept that as long as they're spending their money on high-quality design and features, including those that cut utility costs.
"The point is that when you build smaller, you can spend money on higher-quality materials and features," he summarizes. 
Editing Elegantly
Designers Joey La Salle and Cassidy Pickens find the new trend towards downsizing "satisfying and exciting."
"There comes a point when that large and grand home filled with possessions exhausts you," says La Salle, like Pickens an associate of Lovelace Interiors in Destin and Santa Rosa Beach. "You don't even see those possessions anymore. So you decide to get off the treadmill of acquisition and go for a smaller home. That means getting rid of a lot of furnishings, and as a designer, I must admit that I enjoy helping clients edit elegantly and creating spaces where you can really see beautiful, high-quality materials and prized collections."
Pickens explains that even when a client relocates to the Emerald Coast from another state, she gets involved in the editing process. 
"The clients send us photos of their belongings," she tells. "And we help them decide what to keep and what to donate or sell. Often, some of their furniture needs a lighter look to fit their new coastal home, so refinishing and re-upholstery are in order. Of course, we also help them with the interior finishes in the new home, choose whatever new pieces we feel would make it more livable and place the furniture, collections and so forth. Right now, we're helping a couple down-size from a 7,000 square foot home in Oklahoma to 2,500 square feet here."
Universal design is often part of the new smaller homes, say both designers, even for younger, active homeowners. They plan for the future and want to stay in their homes. So elevators or one-floor living layouts and wider doors become part of the downsizing process.
Sometimes Less is More
Is it traumatic for homeowners to downsize? Dwight Atchley and his wife, Carol, moved from a 2,300-square-foot home on a lake to an 1,800-square-foot cottage in Hammock Bay and are happy with the decision.
"The old house was well located on a lake, but it had a very large lot as well as a pool," he tells. "I am semi-retired, and we were tired of all the upkeep. We wanted to be free to travel and have more time for ourselves. That's precisely what we've achieved moving to our new community."
Most people in Christy Scally's shoes would feel disadvantaged after moving from a 5,000-square-foot home with a seven-car garage to a 1,700-square-foot townhouse. But she is not. A divorced mother of two teenagers and one 10-year-old, she says that, on the contrary, she feels liberated.
"Here, there's no yard work, no maintenance issues, easy access in and out, and dramatically less overhead and waste," she says. "I sold everything in the previous house, just held an estate sale. I literally started from scratch when we moved to the town house here in Santa Rosa Beach. Did I feel sad to let go of my things? Not at all. I have never really been attached to material things. I think your value as a person is more important. Look, I'm not arguing with other people's attachments to private planes, yachts and other tokens of the multi-millionaire life. It just doesn't matter to me."
What does matter to Scally is the fact that her kids have adjusted well, that she and they enjoy their new simpler life and that she loves her work as president of Nokuse Education at the E.O. Wilson Biophilia Center, Miramar Beach.
Small Is The New Big
For decades, architects have objected to the big-house obsession, and then one of them, Sarah Susanka, wrote "The Not So Big House," a book urging homeowners not to fall for the "castle urge." The book became a big hit and is credited with launching the nationwide trend towards sensibly sized housing.
"The book hit the mark," says Wise. "People were fed up with all that wasted space, rolling their eyes at gift-wrapping and wine-tasting rooms."
"Susanka also plays up sustainable design," he continues, "and that's another important housing trend. Of course, building a smaller home that'll last a long time is, in itself, a 'green factor,' but in addition, today's home buyers are enormously attracted to reclaimed materials, water conservation features and more efficient heat pumps and windows."
The author lives as she preaches. She built a 2,200-square foot Cape Cod on a country-looking lot close to the airport, the grocery store and a pretty lake. "What more could one want?" she asks in her next book, "Not So Big Remodeling."