Soul Food is The Stuff of Heartfelt Gatherings
For many, soul food is synonymous with family and fellowship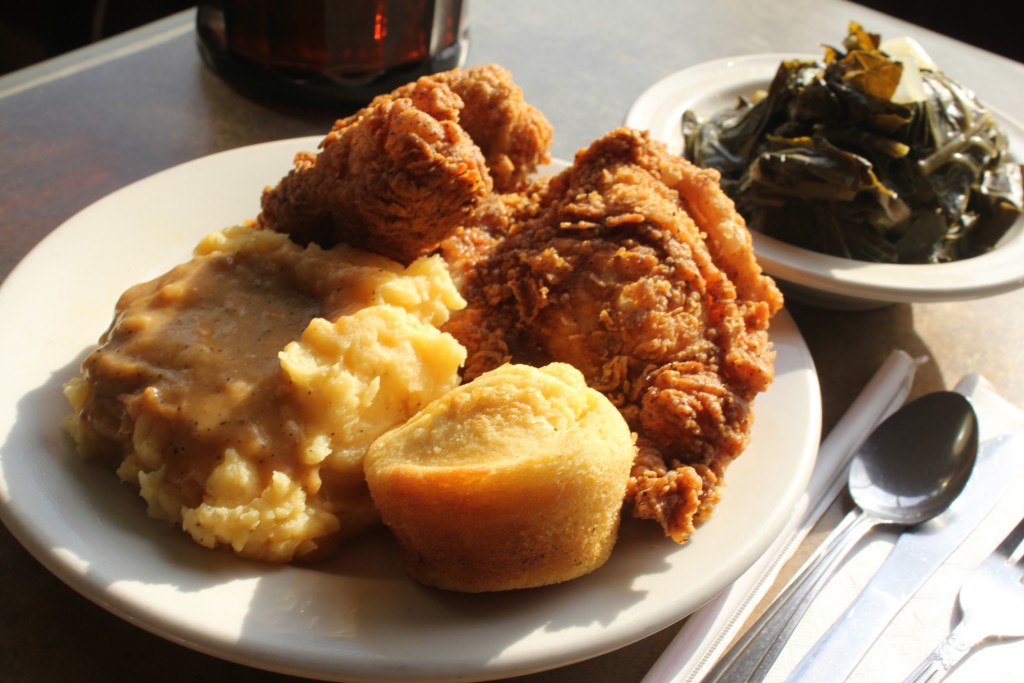 When it comes to soul food, you've got to have that fried chicken, collard greens, mac 'n' cheese and cornbread.
That's just for starters.
Stop at The Bistro Southern Cafeteria in Panama City, and you'll also find gravy-smothered pork chops, green beans swimming in pot liquor, oxtail and fruit cobblers, all made from the heart.
For Erick Rogers, who co-owns the Bistro with Cassandra Simpson, soul food is a language punctuated by secret herbs and traditional techniques enlivened by passion.
It is a connection to his grandmother, who was taught the art of combining different types of cured meat with certain vegetables to create magic.
"Soul food is something embedded in my spirit that I didn't even know was there until I started cooking," Rogers said. "I went out and did everything I wanted to do with my life, but I felt this craving inside me. I started cooking and realized I was connecting people to their mothers, to their grandmothers, and that passion inspired me to get more creative."
Rogers said he commutes from Dothan, Alabama, to his kitchen at 2900 E. 5th St. every day to prepare the Bistro's curated weekly menu of Southern favorites. Though not your standard fare, dishes such as rabbit, BBQ pig feet and stewed chitlins sell fast.
"If anyone has a special request, we try to honor it and cook it for them so they, too, can experience that tradition of their past," said Rogers, who has hosted notables including comedian Rickey Smiley, the Real Housewives of Atlanta and American gospel singer Dorothy Norwood. "Maybe your grandmother taught you to make an apple pie. Every time you make that pie, for the rest of your life, you're going to feel something special. That connection is what I try to create."
Rachel Johnson understands connections. For her, soul food is synonymous with family and fellowship.
"Eleven years ago, I started selling soul food plates from my home to create extra income for my family," said Johnson, owner of RJ's Tasty Plates in Pensacola. "Soul food was cooked in my home growing up, and I still cook it for Sunday dinner and the holidays for my family."
Soul food has a rich history immersed in the African-American culture.
A style of cooking "now associated with comfort and decadence, was born out of struggle and survival," Vanessa Hayford wrote in an article titled "Humble History of Soul Food" for the website Black Foodie.
"Soul food originated in the mid-1960s," Johnson said. "For us, it is an expression of our Southern comfort style — well-done dishes cooked with seasonings and spices that are pleasant to taste."
RJ's Tasty Plates, parked at 1825 W. Fairfield Drive, is a state-certified small business restaurant on wheels. It is open Tuesday–Saturday and caters to events big and small. Johnson said popular dishes include crispy fried chicken, hog maw, potato salad and baked seafood macaroni and cheese.
For her, soul food is for everybody.
"It's an opportunity to eat home-cooked, whether you have a busy schedule, don't have experience in the kitchen or simply enjoy it."
Meatloaf

(from The Bistro Southern Cafeteria)
2 lbs. hamburger meat

2 eggs (beaten)

¾ cup whole milk

1 pack Lipton onion soup mix

2 teaspoons salt

1 teaspoon black pepper

¼ teaspoon garlic powder

3 slices, bread of choice
Sauce:
4 cups ketchup

4 tablespoons sugar

2 teaspoons steak sauce (such as A.1.)
Preheat oven to 325 degrees.
In a large bowl, combine the beef, eggs, onion soup mix, milk and bread.
Season with salt and pepper, form into loaf and set aside. In a separate pot, combine ketchup, sugar and steak sauce.
Warm over medium heat until incorporated, and pour mixture over loaf.
Bake for 90 minutes or until meat has reached an internal temperature of 160 degrees.
Seafood Macaroni and Cheese

(from RJ's Tasty Plates)
1 box elbow noodles

2 lbs shrimp

2 lbs crab meat (or imitation crab)

2 lbs smoked sausage

2 lbs shredded cheese of choice

1 jar of Ragu creamy three-cheese sauce

vegetable seasoning blend (such as Pictsweet farms)

3 large eggs
Preheat oven to 350 degrees.
Cook noodles according to package and combine with creamy three-scheese sauce. Sauté vegetable seasoning blend, shrimp, crab and sausage. Salt to taste, and reserve some of the mix for topping.
Meanwhile, mix together eggs, noodles and meat mixture.
Spread an even layer of mixture onto the bottom of a 3-quart pan and top with shredded cheese. Repeat twice. Top layer with reserved meat and three pinches of shredded cheese.
Bake 45 minutes. Let cool 10 minutes before serving.