So You Think You Can Dance?
Dance Studios Bring a Different Kind of Fluid Motion to the Emerald Coast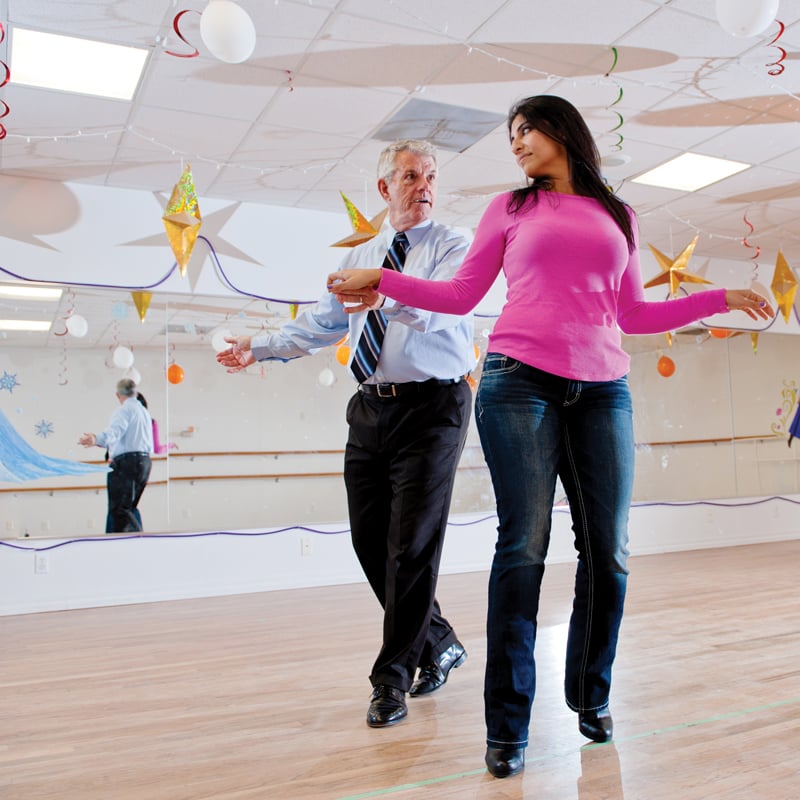 When the Emerald Coast comes to mind, most images involve the sway of waves crashing and sand squishing between the toes. But for the dancers of the area, a different sort of fluidity takes center stage.
Kimalee Piedad spent most of her life living in the Emerald Coast, but as a young girl, her daily activities bored her. The 9-year-old child pleaded with her mother to find her something to do, and within days, a dancer was born. Now a professional dancer and instructor at Fred Astaire Dance Studio in Fort Walton Beach, Piedad swings her time away teaching lessons and improving on her own abilities.
"I always knew that I was going to be a dancer," Piedad said.
MARI DARR~WELCH
Before hitting the dance floor, instructor Guy Patrick breaks down each different dance combination for students step by step.
The Fred Astaire studio has allowed Piedad to grow as a dancer and an instructor. More than 10 years ago, the owner of the studio called Piedad and had her audition with another instructor, and soon after, Piedad joined the Fred Astaire family. She is now able to continue her professional career with instruction from the manager of the studio as well as share her love of dance with others through instruction of her own. At the studio, a number of classes are offered for any age and experience level, with the option of private instruction or group lessons. Ballroom, jazz, ballet and workout classes are all offered.
But the studio does something for the public that most studios don't. Every Thursday at 7:45 p.m., it hosts a 45-minute guest party in which it allows the public to sample the instruction of the dances the studio offers.
You don't have to be young to start dancing. Guy Patrick, the owner and instructor of Step by Step Ballroom, started dancing in 2002 and was instructing by 2003. Known as the engineer turned dancer, Patrick taught on Eglin Air Force Base, but when he realized that a number a civilians hustled over to take his class, he moved his classes outside of the base.
Now Patrick offers a variety of ballroom classes for any age or experience level, including waltz, foxtrot, tango, rumba, cha-cha, salsa, swing, hustle and nightclub two-step.
Patrick said that dancing, for most people, is a learned skill, so if you are new to dance, don't expect to be able to learn a routine in a week.
"There is so much work to it," said Maria Middleton, a dancer and former instructor at Dance Elite in Destin. Middleton explains to new dancers in each of her classes that you have to have fun and not think about it too much, and she has never had a student say he or she hated class and never wanted to come back.
Dance instruction along the Emerald Coast isn't new, particularly ballet. Noreen Toppell opened the Ballet Conservatory in Niceville more than 20 years ago. Though various dance trends have come and gone over the years, Toppell says those interested in dancing well look to established studios for classes in order to learn good technique properly. 
And with two new dance studios popping up in Destin alone, interest in this art form seems to be growing. At press time dance and fitness instructor Lorraine Christen of Destin was in the throes of realizing her dream to open a new kids-focused dance studio called Rise Dance Center. The studio located in Plantation Commons plaza will offer a range of year-round dance instruction for children from ballet to hip-hop along with dance-based fitness classes and workshops for adults.
Classes offered specifically for adults have always been very important to Angela Nall, the owner and instructor for A Dance Studio in Niceville. 
"It's a great outlet for any age or ability," Nall said.
Nall believes in lifelong dancing, and with 30 years of teaching experience, she is always striving to improve her own dancing ability. Dance is a passion to her, and that led her to open A Dance Studio in 1981. Nall offers everything including ballroom dances, ballet, tap and many more. But she doesn't just teach adults. Nall has a class for every age and experience level in her studio.
Every dance studio is different. Each studio charges something different ranging from $50 to $150 per month. They all have instructors who believe different things about dance, but they all have certain similar elements.
Each instructor believes that anyone can dance. It doesn't matter if you are old, young, tall, short, a natural or have two left feet. You can dance.
"If you can walk, you can dance," Piedad said.
Each instructor believes dance has hundreds of benefits. The Fred Astaire Dance Studio's website lists numerous benefits. Dance can improve confidence and give dancers the ability to enjoy themselves in social settings. It provides the opportunity to meet new people. Dance also gives dancers the chance to express their feelings in a safe and beautiful way. It can help with relaxation and fun, and dance's biggest benefit is health. Dance can improve the cardiovascular system, tone muscles, burn calories, improve flexibility and balance. To Piedad, dance is hundreds of benefits all put into one art form.
"You're exercising without knowing it," she said.
When taking a class as a beginner, it's good to go in with an open mind. This is not a reality television show or a dance competition. You will not learn a routine and have it ready to perform for an audience in a week. The only way that can happen is if you work on it every day from sunup till sundown. Just have fun with it. Middleton said that as long as you are having fun, no instructor will think you are doing poorly.
"Don't take yourself too seriously," Nall added.
Each studio regards dance as a sacred art that should be nurtured in each individual who walks through their door. The beauty of dance can only be interpreted by the individual, but these studios attempt to share their visions with the world to help those of us who don't know much about it see the wondrous effort that goes into the art form.
"There are no words for it," Middleton said.
---
So You Think You Want to Take Dance Lessons?
Ballet Conservatory 
Ballet, pointe, tap, jazz, modern, hip-hop, contemporary/lyrical
4677 E. Highway 20
Niceville/Bluewater Bay
(850) 897-2933
Destin School of Music & Dance
Ballet, pointe, tap, jazz, modern, hip-hop, contemporary/lyrical
4010 Commons Drive West, behind Walmart and OfficeMax
(850) 837-1133
Fred Astaire Dance Studio
Private and group dance lessons, wedding dancing
11 Yacht Club Drive
Fort Walton Beach
(850) 244-4480
Ask about their free dance lesson.
Step by Step Ballroom 
Private and group lessons in waltz, foxtrot, tango, rumba, cha-cha, salsa, swing, hustle and nightclub two-step
A Dance Studio
1047 E. John Sims Parkway
Niceville
(850) 200-7348
The Studio
Ballet, jazz, hip-hop dance classes
27 Quincy Circle, Seaside
(850) 238-7378