Small Businesses Making A Big Impact
Mom-and-Pop Shops are at the Heart of the Emerald Coast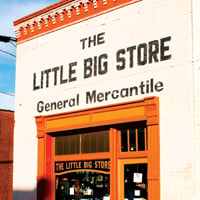 Much of the small-town charm of the Emerald Coast comes from the many memorable "mom-and-pop" shops that dot our coastline. Most of them are one-of-a-kind, independent stores owned and operated by local families who have lovingly nurtured their businesses over many years, some for generations. EC Magazine ventured to Destin, Fort Walton Beach and DeFuniak Springs to talk shop with three quaint places that "cash in" on novel concepts that they "hand deliver" with personality plus.
The Art of Retail
Baxter, Chris and Roxie Wilson at The Zoo Gallery shop in Grayton Beach, one of three locations the family has owned and operated since it became one of the first retail businesses on the Emerald Coast in 1975. Photo Scott Holstein
Her artistic eye and his business sense pair perfectly for The Zoo Gallery's husband and wife business partners Roxie and Chris Wilson. Add in a 38-year marriage, two artistic children (Baxter, 28, and Raven, 25), a shared passion to support American artists and you have a successful retail "love" story.
In 1979, the Auburn University grads began ratcheting down their high school teaching careers (she art; he P.E.) in order to rev up their retail dream by traveling to market trade shows, where they solicited advice from fellow retailers and vendors to get started. After two years, they hired a couple of part-time employees, and after five years they were able to quit their jobs and work in their store full time. The early days for the Emerald Coast's first retail shop were trial and error, but thanks to Roxie's "eye" for finding novel things and merchandising them in creative displays and Chris' sales savvy, there wasn't a whole lot of the latter. Still, they had plenty to learn.
"We opened at the end of August in downtown Fort Walton Beach. We had two weeks of business and sat there all winter, so that tells you how much we knew," Roxie says while shifting some of the colorful bangle bracelets on her slender wrist.
Originally tucked in the back of Fort Walton Beach's Fountain Square, the shop has migrated east and expanded into three locations: the main location, a stand-alone shop across the street from the Red Bar in Grayton Beach; a large retail space within Grand Boulevard at Sandestin in Miramar Beach; and a discounted outlet store/frame shop on Airport Road in Destin which also servers as the office headquarters.
The address has changed over the years, but the retail experience is still a bit of a treasure hunt. The inviting, colorful shops feature an eclectic array of offbeat greeting cards, novel gifts, funky jewelry, zany Zoo T-shirts, lots of original art, artistic home décor, and one-of-a-kind furniture pieces created exclusively for the gallery by artists located all over the country. In recent years, the shop has added clothing. But one thing that hasn't changed over the years is the shop's distinctive persona. "The Zoo Gallery is Roxie, it really is," Chris beams.
Roxie, a mixed water media artist, had to temper her passion in order to make a go of her business. "I found out real quick, if I just had a fine art or fine craft gallery, I wouldn't have made it. I wanted the store to be artistic but still needed to make a living," she says. "I may absolutely love a hand-blown glass piece, but now I have to ask, 'Will it retail?'"
After 34 years, the husband-wife team still are excited to travel to Atlanta, Baltimore, Philadelphia, Los Angeles and New York to reconnect with their longtime artist friends while hunting for the next season's treasures. "Keeping things fresh and new is key," Chris says.
Another is understanding how to do business in a seasonal tourist town. "You only sell four months out of the year, so you really have to buy smart," Roxie says. Chris chimes in with a laugh, "Yeah, we're like squirrels putting up nuts for the winter."
Leading the "band wagon" of Emerald Coast retailers is something the Wilsons have done well for nearly four decades. "Finding interesting art by great artists, promoting it, making it hot. That's what we're good at, and then everyone else gets on it," Roxie explains.
Remember the Sorrelli craze? A Pennsylvania artist founded the company in 1983 and The Zoo Gallery shops carried the colorful Swarovski heirloom jewelry in all of their ads 10 years before it became a hot trend. "When it got popular, demand increased and they started making it in China, then everyone started selling it like Tupperware salesmen, and that's not what we do," Chris says. "Our 'gold' is having something no one else has got."
Neon was another first the Wilson's brought to their downtown Fort Walton Beach store windows in the early 1980s. "We had different animals in different neon colors in every window," Chris recalls. Soon, liquor stores were aglow with neon signs, and so the Wilsons stopped.
"We had the cutting edge on a lot of different things," Chris says, nodding his wavy-haired head and looking at Roxie.
"Yeah, we are 'old school' cool, that's what we are," Roxie says smiling back at her husband.
Remaining on the cutting edge means lots of hours in the store. But being hands on is one key to the Wilson's success. "We work our stores. We take up the slack. We've never lived above our means," Roxie says. Still, the Wilsons can't imagine doing anything else. "The Zoo Gallery is a dream come true, and I love it to death," Roxie says.
As they enter their 60s, Roxie and Chris are happy that the shop will remain a family affair. Their son, Baxter, an art major, has come aboard full-time. With a refreshed website, active Facebook page and maybe even a computerized inventory system, The Zoo Gallery is a whole new "animal" and the Wilsons couldn't be more pleased. "He is young, has energy and strong technical skills, and is really going to get our name out there," Roxie says.
Coke Is It and More at Buccaneer
Oscar Ring pictured with his son, Jeff, in front of the 20-foot Coca-Cola bottle that has become a popular photo backdrop for their family-owned collectible and antique business, the Buccaneer Gift Shop. Photo Scott Holstein
You know the familiar ad slogan: "Coke adds life." For the Ring family who owns and operates Buccaneer Gift Shop in Fort Walton Beach, it's been at the center of their life and how they've made their living for 41 years.
As his son tells it, Oscar Ring, 72, "was always collecting, wheeling, dealing and 'picking,' even when he was in the U.S. Navy." Oscar and his wife, Anna Lee Ring, began collecting Coke memorabilia for their son, Jeff, when he was young. That just made Jeff thirsty for more. At just 7 years old, in addition to sweeping the shop floors with his sister, Cheryl, he began collecting glass Coke bottles and bottle caps. "It's how you bought stuff as a kid. They had value," he recalls.
The loquacious, sandy-haired Fort Walton Beach native, now 51, recalls scraping together $3.95 and what seemed like thousands of bottle caps to send in for a toy car that would normally cost $14. As he grew so did his fascination with collectible memorabilia, especially Coke machines. "I started rebuilding and restoring them. I enjoy working on anything with age to it," he says.
The Ring family owns one of the first Coke machines ever produced, a 1937 Mills 47-A. Only 500 were ever made, and today it sells for $15,000 restored, a worth that Ring points out is based a 1999 price guide. "They were green and red with chrome. Look how pretty," he says, pointing to a photo in a collector's catalogue. "Hitting one of these is like hitting the lottery."
Coke machines — such as the Cavalier 102 (a Coke machine that has a front door on both sides of it), recently sold for $21,000 — are the pricier items found in the eclectic curio shop that carries memorabilia of all kinds dating back to the 1800s. Though they sell most of the more expensive items to local and regional restaurants and developers, there is something for nearly every budget, including an old box of wooden rulers each priced at $1.99 and inscribed with a Coke logo on one side and the saying, "Do Unto Others As You'd Have Done to You."
"I pick up a lot of stuff like this from closing stores and plants, because you can sell it for a reasonable price and people like that," Ring says.
According to this collector, age isn't everything. "Sometimes an item features an anniversary or commemorates something. It's all about how many were made," Ring explains.
Though his shop has thousands of keepsakes on the shelves, Ring remembers a day not long ago when "picking" was plentiful. "Stuff is getting really hard to find, our contacts are disappearing, it's really drying up. TV shows like 'The Pickers' are making it popular with everyone, and it's making the prices go up," he says, shaking his head in disappointment.
That might make the free little facts Ring slips to Buccaneer customers even more valuable. As we eyed an old soda bottle with a stopper on it he explained that the first bottles were made with rubber stopper tops connected with a wire. When you pulled out the top it made a popping sound, hence "soda pop." While admiring an old, Biedenharn soda bottle, the shopkeeper explained that the Biedenharn Candy Company used its profits from Coca-Cola sales to launch Delta Airlines. As for the first bottles of Coca-Cola to hit the area, he pauses to think, and then says, "I'm pretty sure it's 1899. I used to know everything cold. I would study catalogues all the time. It was all in here (he tapped his temple), and now, it takes longer," he says.
In the 1980s the entrepreneurial family proudly ran three booming antique and collectible downtown businesses: Pelican's Pouch, the Coral Reef and the Buccaneer. In the late 1990s they combined the shops. "It's kind of unusual. I didn't think it would work, but it did and it did better than I thought it would," Ring says.
If you don't know the shop, it's easy to find. There is a 7-foot Coke bottle in the front of the store and one that towers nearly 20 feet high in the back. The ceiling is covered with dozens of pictures snapped of customers posing next to the giant Coke bottle, including one who has been frequenting the store for 40 years. "It's really all about memories," Ring says reaching into the cooler to offer me an 8-ounce bottle of ice-cold classic Coke. "It brings back a time when things were laid back and easy." Yes, for the Ring family, Coke is definitely it. And then some.
The Timeless Little Big Store
Dennis and Brenda Ray relish sharing their passion for history through their charming general store in downtown DeFuniak Springs. Photo Scott Holstein
As a career professor, Dennis Ray — still quite a dapper Southern gentleman at 82 — usually knows the answer to most questions. But ask him why he returned in 1993 to settle in his hometown of DeFuniak Springs after 35 years away, and he is at a loss to describe just what it is about this particular patch of Florida that has a hold on him. Still, for this lay historical preservationist and his wife, Brenda, who own three businesses in town, serving as shopkeepers of The Little Big Store, an old-time style general store nestled in the heart of downtown DeFuniak, gives them a chance to relive, if not revive, the charming town's rich past.
"We wanted to preserve some of our heritage and at the same time be prosperous in the community," Dennis Ray tells. "Recreating shops in the old downtown historic district is one of the best ways to do it."
The Rays' first project was renovating the turn-of-the-century Busy Bee Café in 1992. It proved "a tremendous success," which kept the retired couple a little too busy, so they decided to farm out the daily restaurant operations with the provision that it remains in the "old style."
Next, they restored The Big Store on Baldwin Avenue … it wasn't a first for this antique shop. It actually burned to the ground in 1900 when barrels of turpentine near the train tracks ignited, setting nearly an entire city block ablaze. The shop was rebuilt in brick in 1903. When the Rays bought the building they were delighted to find it stuffed with old period pieces. They promptly put some of the original wooden counters and glass display cases back to work holding essential and non-essential sundries when they reopened The Little Big Store located just around the corner on South 8th Street.
A tinkling bell signals the steady arrival of patrons coming from near and far, including Canadian Alice Wesseler and Mary Lou Cleary, who ventured to the shop during their winter vacation in Panama City for … pickles. "We found this store last year after we had high tea at Hotel DeFuniak," Cleary says as she carefully surveys the floor to ceiling shelves stocked with jars and cans. At a request of a friend back at the condo, this pair of snowbirds are on a 126-mile scavenger quest to find the shop's private label stash of Candied Jalapeños, which she says taste just like pickles. "Here they are!" Cleary cheers signaling her mission is accomplished.
The Rays leave what they call the "brass and glass" of modern businesses to others making choices that they hope evoke a period feel down to Dennis' "costume" — a well-worn green eyeshade visor paired with a tidy, white apron. "It's not everybody in the world's cup of tea, but I think a lot of people today are seeking out some of the security and the feeling of a slower-paced time and the nostalgia of what grandma and grandpa did — and that keeps us popular."
That is especially true with one particular customer demographic — kids! Though they do not have any of their own, the Rays delight in interacting with local children, who come to the store for penny candy and … if they are lucky, an arithmetic lesson from Mr. Ray himself. "I didn't think they had seen an old store and didn't figure they'd have an interest in it, but they are some of our strongest and most loyal customers," he says. The math lessons have paid off nicely for Ryan Chilcutt, who is now 20 years old. He runs the place on the weekends so the Rays can take a well-earned break.
Their store, restaurant and antique shop are not the only passion projects for this active couple. Their home, lovingly dubbed The Verandas, is meticulously restored to its 1904 grandeur. The Rays, who don period costumes and give tours of their home as part of an annual Home Tour, enjoy the "nostalgic charades of the period," but they assure that they "don't live primitively." When they restored the home's coalhouse they converted part of it into a laundry room with a modern washer and dryer.
The historical figure the Rays most enjoy studying and honoring is Thomas Jefferson. As good teachers do, the Rays have found a novel way to pass along their deep knowledge of early American history in a way that is both fascinating and entertaining — a garden tour.
Just as their shop isn't just about the sale, this isn't your "garden variety" garden tour. A stroll through The Heritage Garden, planted next to their Victorian home, reveals a rare collection of box wood shrubs amassed over seven years from the birthplaces, houses and even tombs of our early founding fathers and shaped into the "footprint" of Poplar Forest, Thomas Jefferson's private vacation home in Bedford, Va. It's a labor of love that the Rays eagerly and generously share. "I take local students walking through the garden and tell them about Thomas Jefferson and why he is important to me and the country through the plants and shrubs," he says with a twinkle in his blue eyes.
Their personal passions and popular businesses keep these two seniors active in their community and on the go. "I wouldn't have it any other way," Dennis says, "because I need to be needed, to be at work and have something I'm responsible for."
Small Businesses Pack a Big Economic Punch
Owning a small business is a big deal. In fact, 99.7 percent of all companies in the United States are considered small businesses. This sector employs more than half of all private industry jobs. With double-digit unemployment across the nation, any relief is likely to come from growing small businesses. In fact, the U.S. Small Business Administration (SBA), reports that 64 percent of new jobs created within the past 15 years have been within small businesses.
The Small Business Development Center operating in partnership with the University of West Florida is part of the Florida Small Business Development Center Network, a non-profit service organization comprising 34 offices from Pensacola to Key West. The SBDC formed 36 years ago with a mission to provide entrepreneurs and established businesses with the assistance needed to start, grow and succeed, in order to bolster the Florida economy. In Northwest Florida, there are full-service offices in Pensacola and Fort Walton Beach that service Escambia, Santa Rosa, Okaloosa and Walton counties.
Beyond its one-to-one, no-cost consultation, the SBDC also offers training in the form of year-round workshops, seminars and brown-bag lunches on the most requested topics, from Starting a Business to Business Taxes: Figuring & Filing. "We work with any client at any level, but we've seen this so much, we've designed a program to address all the topics they need to think about," says SBDC associate director Tom Hermanson.