Sirens Lingerie and Swim Dishes On The Latest Styles
Take their advice and you'll be well-suited for summer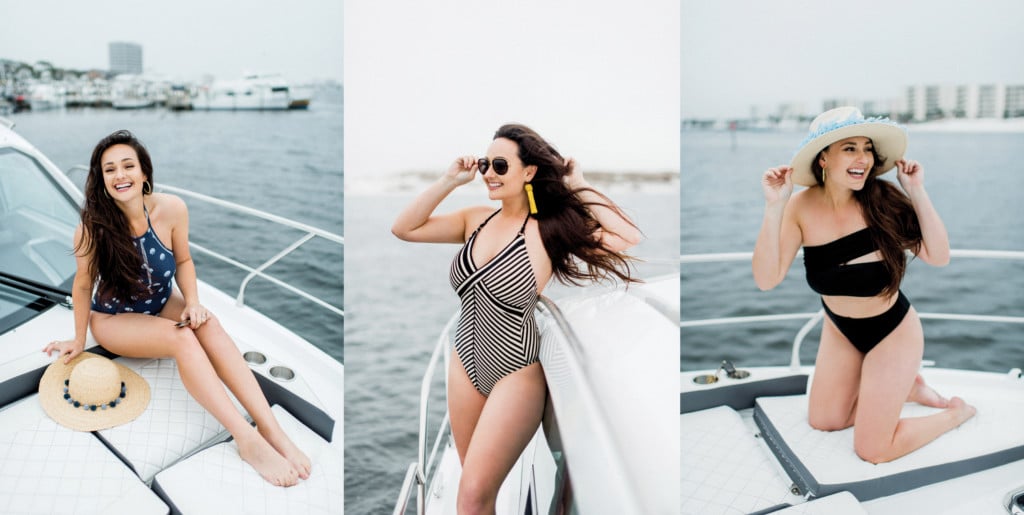 The prospect of summer has hearts melting with thoughts of sunbaths, sea days and sandals.
It's all so lovely until … it hits you. Before dipping your toes into the pool, you must take the plunge into the dressing room to try on a new swimsuit.
Around this time of year, that full-length mirror is always unforgiving, reflecting translucent legs that could probably use a shave, and a torso that may have indulged in a piece of pie too many over the winter holidays.
But Darcy Pentel, owner of Sirens Lingerie and Swim in Destin, is no stranger to the pressure women put on themselves to find the perfect bikini.
"Shopping for a swimsuit should never be stressful," said Pentel.
"What it comes down to is, we need to feel comfortable, confident and our best in our suits, and functionality plays a big role. Asking questions and working one-on-one with my clients enables me to get a sense of what their needs are and we go from there."
Do you need something sturdy, yet stylish, for splashing in the surf, or is the goal to simply look cute for your annual pool party?
The safest bet, according to Pentel, is to go with a one-piece, as its versatility makes it suitable for multiple occasions.
In 2018, sales of this silhouette spiked, as swimmers snatched up everything from Baywatch-classic cuts to racy monokinis.
"One-pieces are amazing suits that are often overlooked, but flatter a multitude of body shapes," Pentel gushed.
"The possibilities are endless: sassy, low plunges, underwired support for fuller busts, skirted for more coverage or even flounced into swim dresses."
Personally, I associate swim dresses with snowbirds. They always come in garish, floral patterns and our geared toward those who wish to camouflage their body with a boxy cut.
Pentel assures me that's no more, as modern swim dresses work to accentuate and flatter the figure and, if you like, show a little skin with keyholes and side slits.
As for this season's patterns, we'll be taking a step back from flashy and start embracing classy for all styles of swimwear.   
"Ditsy prints, animal print and polka dots were everywhere in Miami last July," Pentel said.
"I'm always a fan of polka dots and animal print when done properly, but the 2019 trend seems more focused and refined, which I think is wonderful! This allows you to add timeless pieces to your suit collection that you can enjoy longer than just one season."
Don't underestimate the impact of a solid.
Pantone has announced "Living Coral" to be the official "Color of the Year," a shade that flatters any skin tone with its blushy, peachy-keen hue and provides a striking contrast to our emerald-green waters.
Other pastel shades such as pale pink, lavender and yellow offer a soft, feminine style that glows even more as you tan.
Speaking of tanning, what was with all those bikini-cuts last year, such as the high-necked halters, sleeved-bikinis and lace-up cutouts? While extremely cute, I was not happy when my macramé-embellished bandeau furnished me with horribly awkward tanlines across my chest and back.
"From what I am seeing, the ultra-trendy adornments and silhouettes have disappeared just as fast as they came," Pentel said.
"This year, it's high-waisted bottoms with belts and one-shouldered tops, and lots of streamlined, clean, timeless collections."
Indeed, retro, high-waist bikini bottoms are raging into this season. Pair them with a balconette bikini top for some vintage flair, or add a touch of modernity with a sleek wrap top.
"High-waisted bottoms are also getting a flash of the '80s with a French high-cut — think Body Glove," added Pentel. "Personally, I don't think this style is complimentary for all body types."
If, for example, you have a short torso, Pentel would point you in the direction of a low-rise, traditional bikini style to lengthen your waist.
And, ladies, this isn't South Beach. Don't be cheeky and show too much with those Brazilian cuts.
"Let's just say I strive to curate a timeless, classic and chic assortment of swimwear that you can wear anywhere," Pentel said.
It's that kind of expertise and, when required, brutal honesty that will help us look and feel our best in the sand and sun.
"A knowledgeable staff who provides you with personal assistance is priceless when it comes to swimsuit shopping. I encourage people to seek out specialty boutiques where person-to-person service is available to maximize your shopping experience."
1. Anne Cole Studio Women's High Neck Seashell One Piece Swimsuit, $145; Pool to party pom pom hat, $95 Available at Sirens Lingerie and Swim in Destin.
2. All-in-one piece v-neck halter suit by Robin Piccone, mitered stripe with gold lamay thread, $195 Available at Sirens Lingerie and Swim in Destin.
3. Spanish-made Cordobes fringe hat by Glamourpuss NYC, $275; one-shoulder top and ribbed bikini set from Shein.com, $13. Hat available at Sirens Lingerie and Swim in Destin.
Model: Maria Galati Hill
Boat: Galati Yachts, Galatiyachts.com