Sharing Lessons in Entrepreneurship
Retired Waffle House executive urges students to hang around successful people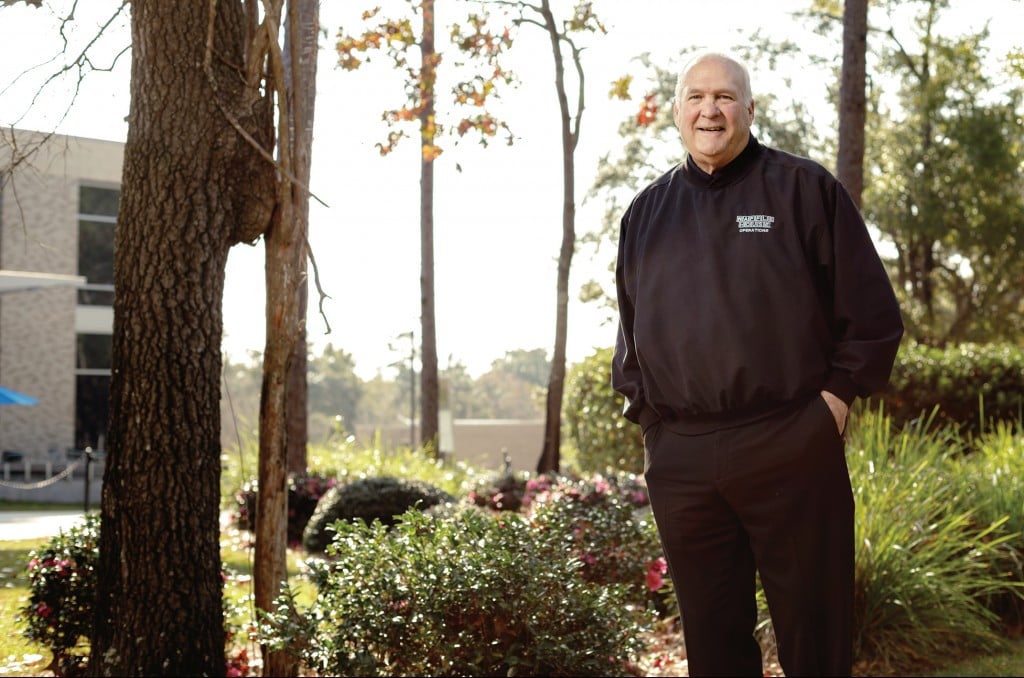 When I inquired about Bert Thornton's availability for an interview, he told me he's like Waffle House.
"Available 24/7/365 — we never close."
I at first thought this was humorous — Thornton is the familiar breakfast franchise's vice chairman emeritus — but after an hour-long phone call with Thornton, who was en route to Atlanta with his wife, Kathy, I realized this was simply true.
This is a man who has never stopped linking, learning and achieving.
"Kathy asks me all the time if I'm really retired," Thornton said. "I never have a day that's not full."
Thornton's indefatigable drive, it seems, has always been present. Following an education at Georgia Tech, where he played football under Coach Bobby Dodd, Thornton served two years as an artillery officer with the United States Army. He completed a tour in Vietnam, then separated from the services and worked as a salesman and systems analyst for NCR.
His foray into IT was cut short when his old fraternity brother gave him a call. His father had just opened the first Waffle House, and he successfully recruited Thornton in 1971. Four years later, Thornton became the business's vice president. He spent the next 35 years of his life overseeing the expansion of the franchise to over 2,000 locations, and in 2004, he became its president and chief operations officer.
Today, Thornton spends his time authoring personal improvement books, participating in his condominium's post-Hurricane Sally revitalization efforts and more recently, serving as entrepreneur in residence at the University of West Florida College of Business's Center for Entrepreneurship.
Though the COVID-19 pandemic messed with his first year at UWF, Thornton said he's excited to see it "ramping back up." He has delivered several presentations to students on leadership, success and mentorship, contributed to panel discussions and serves on the College of Business advisory board.
Thornton said his academic undertaking resulted from the craftiness of Quint Studer, founder of Pensacola's Studer Community Institute and the university's other entrepreneur in residence. The pair met around 2015 when Thornton keynoted Pensacola's inaugural EntreCon, a local business, leadership and entrepreneurship convention.
"Quint Studer, you see, tricked me," Thornton said. "One day, he asked if I'd be on a panel discussion with him at UWF, and I said, 'Sure.' I get there, and there're about 120 students gathered in the library, but I see no panel set up. I asked Quint how this was going to work, and he said, 'Simple, I'm going to introduce you, and you're going to talk about your book!'"
Studer had taken an interest in Thornton's first book, Find an Old Gorilla: Pathways Through the Jungle of Business and Life. Thornton said its pages are full of advice that he both gave and received throughout his professional career, as well as articles that resonated with him. The theory is that if you're attempting to navigate a jungle, you'd seek the aid of an old gorilla. He's been around a while, you see, and knows the way to the ripest bananas.
Thornton still lectures on this topic but said most of his work at UWF is conducted during the question-and-answer sessions that follow his presentations. Among the most frequent queries is, "How do I become successful?"
"There is a silver bullet for success," Thornton said. "If you want to be successful, hang around successful people … and listen. You've got two ears and one mouth for a reason: You've got to listen twice as much as you talk. Who you hang around with early in life will largely dictate where you end up.
"You can be successful if you care, if you try, if you learn and if you STAY. You've got to care the most, try the hardest, learn something every day and you need to stay and bloom where you're planted." He believes one should read something every day and is prepared to recommend books, articles and podcasts that align with students' interests. Too, he talks about how students can make themselves attractive to people of substance and what it takes to become a worthwhile mentee.
Find an Old Gorilla is largely centered around personal leadership skills. Thornton's new book, High Impact Mentoring: A Practical Guide to Creating Value in Other People's Lives, describes how to be a resource for others. Thornton, a mentor to many, co-wrote the title with Dr. Sherry Hartnett, who owns a marketing consultant firm and teaches marketing courses at the UWF College of Business.
"We wanted to write this because there's a great paradox out there," said Thornton. "You've got a rising group of high achievers who desperately need mentoring, but they aren't aware of the resources out there and they don't know how to ask for them. The irony is there's a legion of savvy business people and organization leaders who could be helpful. Yet, these two groups don't get together."
This book, he said, is an effort to unite mentors and mentees.
Thornton participates in Hartnett's Executive Mentorship Program at UWF, where matches between students and business leaders are made based on the interest, availability, skills and commonalities between both parties. Hartnett has constructed what Thornton considers the best mentoring effort he's ever seen, involving the likes of lawyers, doctors and "hamburger flippers like me."
"These students are absolute sponges," Thornton said. "The good ones have a sincere interest in wanting to learn, and I've made it my life's mission to help emerging leaders.
"It's my goal to take potential superstars and turn them into superstars. I find that my happiest friends aren't the ones who play the most golf and take the most cruises, but the ones who live a life of gratitude. You'll never find anyone more grateful for what they have than Kathy and me. We give back and try to help others become successful, but this is where the worthwhile mentee thing comes in. You have to want it, be willing to do it and have the capacity for it."
NAVIGATION
Even the most experienced of fishing guides may need a guide when visiting unfamiliar waters. And today, the business world changes so rapidly that it doesn't stay familiar for long. Writes Bert Thornton in Find an Old Gorilla: Pathways Through the Jungle of Business and Life, "Even if you feel at the top of your game, navigating the jungles of life and business is tricky business, and it helps if you take an 'Old Gorilla' along. Working through challenges is a process, and most low achievers don't get it. The ones I've met spend a great deal of their time complaining. They blame others for their problems, and they beg random people for help in mending the consequences of their poor judgment rather than seeking informed advice on how to move forward." As to high achievers? Thornton finds that many times they are too proud or confident to seek the counsel of others.