Settled in Seagrove, Albert Bruns is a "Student of Culture"
Bruns explores his deep ties to the quaint town of Seagrove Beach.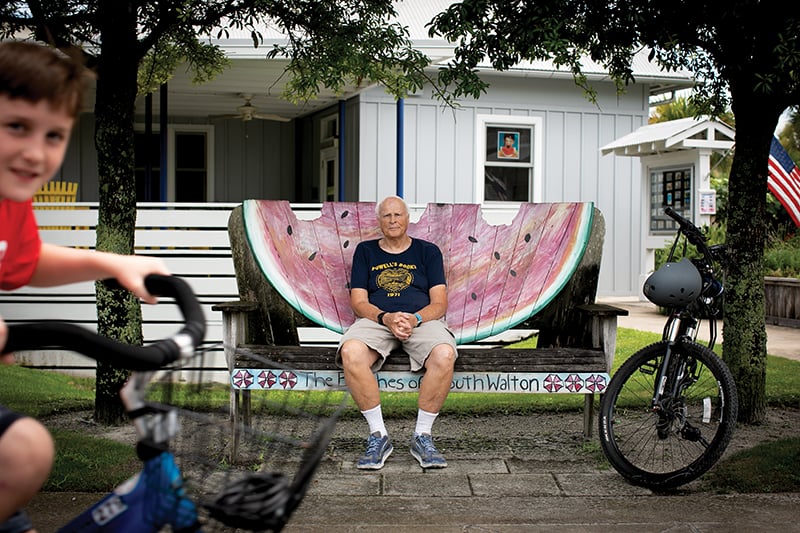 Decades removed from the New Orleans period of his youth, Albert Bruns remains fascinated by the place, its history and its mixture of Creole, Cajun and American influences.
His parents were born there and met there.
At this writing, he is reading a book that explores a time when high-minded reformers sought to confine brothels to a prescribed district within the city and to discourage jazz music.
He recommends that people read The Grandissimes: A Story of Creole Life by George Washington Cable, a work first published in 1880.
That is, Bruns, who shuns the label "intellectual" because it connotes exclusivity, is a student of culture.
And he is most comfortable with what he sees as the multi-layered culture of a place he prefers above all others, a place that for him surpasses Virginia, Texas, North Carolina, New York, Canada, Colorado, California, India and other locales where once he paused.
"People ask me, given all of my travels, where I would choose to live if money were no object, and I tell them I'd live right here — I wouldn't even leave this house," Bruns said, while relaxing beneath an afternoon rain and the tin roof of his porch, located a block inland from the Gulf of Mexico in Seagrove Beach.
"Everyone who moves to New Orleans becomes New Orleans," Bruns said, attesting to the transfixing, transformational power of the Big Easy.
Bruns became the beach.
He was a tyke living in Virginia in a home that belonged to his paternal grandmother when his parents separated and mother Mary, along with Bruns and his siblings, retreated to Louisiana.
The year was 1946.
Mom caught on as a writer-illustrator with the New Orleans Item, a liberal alternative to the Times-Picayune, where she had worked previously.
She was an exception to the rule.
Women didn't hold jobs as reporters then.
"If you want to know what that newsroom was like, all you need to do is watch 'His Girl Friday,' " Bruns said, referring to the 1940 film starring Cary Grant and Rosalind Russell.
"Men in hats with Graflex cameras and cigarettes hanging out of their mouths."
The Item maintained a stance on civil rights that proved unpopular.
Readership and advertiser support declined, and the paper ceased publication in 1958, leaving Mary Bruns to work a series of "little jobs" until she retired.
Meanwhile, Albert's uncle, John White, who traveled throughout the Southeast in his work as an attorney for the Federal Trade Commission, had discovered Seagrove Beach.
He bought a lot there in 1949, "probably for less than a hundred bucks," Bruns said, and built a house on it in 1955. (Bruns helped out by digging up palmetto bushes.)
It was Uncle John — he was married to Mary's sister, Sue — who introduced Bruns to Northwest Florida.
He had a daughter just 10 months older than Bruns and the two children became companions on trips to Florida, first in 1953, when White made arrangements to stay with a boat captain on St. Andrew Bay in Panama City.
As a side trip, the travelers visited Uncle John's lot in Seagrove and picnicked on sand dunes near Eastern Lake.
"It was beautiful," Bruns said. "When those dunes were bulldozed for condos, that was traumatic for me."
Bruns visited Seagrove often after his uncle got his place built.
"I have terrific memories from that time," Bruns reflected.
"We had no TV, no air conditioning. We would get up in the morning and go swimming in the Gulf until lunchtime. Then, we were forbidden to go back out until 3 because of the intensity of the sun. Sometimes, we would walk the beach two-and-a-half miles to Grayton Beach. It was the nearest place where we could go to get a Coca-Cola. There was no Highway 30A at the time."
When storms threatened and the surf roared, still Bruns would swim, trusting that his older cousins would save him if he got into trouble.
"Somehow, we all survived."
In 1961, Mary Bruns moved from New Orleans to Florida.
She had been encouraged to do so by the son of the founder of Seagrove Beach, who was about to move out of his house.
Bruns was away at boarding school in North Carolina when his mother moved, but his relationship with Seagrove had been solidified.
It had become home, the place where his wanderlust would end.
At breaks and during a semester off, Bruns, who would earn a bachelor's degree from Columbia University in New York City, recharged on the sand.
"It was like Robinson Crusoe," Bruns said.
"If you saw some footprints, you wondered who made them. (Even on the Fourth of July.) Once, I saw a boat near shore. There was a dog on the beach that growled at me. I noticed there were rifles in the boat. A man came out of the water and it turned out he was a treasure hunter. My mother became friends with him."
Not far from the house, there were quail about. Bruns would wander into the woods and encounter wild pigs.
On the beach, it was not unusual to see white skunks.
Bruns presumed that they had evolved so as to blend into their surroundings.
"We called them blonde," Bruns said.
"They were streaked with yellow almost like they were stained with urine."
Bruns, however, is not committed to living out his days at Seagrove because of what used to be. He enjoys what is.
"I am familiar to a lot of people around here," Bruns began to dissect the layers of the culture that surrounds him.
"I worked at Sundog Books in Seaside and at the bookstore in Rosemary Beach. I worked at an art-and-toy store and a coffee shop and at Frank's Cash & Carry hardware store in Seagrove."
Seven years ago, Bruns, then 68, wiped out on his motor scooter on his way to work.
No one witnessed the accident, but by the time he got to his feet and dusted off, "people arrived to look after me and notify my wife and take care of my scooter. There is a village aspect to this place."
Too, of course, there are tourists, people who "visit to drink and have a good time.
But businesses depend on them and I have no problem with them — unless they are noisy after 11 o'clock."
And, for Bruns, especially, there is an irreplaceable layer made up of family members and friends of family, a tribe of perhaps 200 people.
"So many descendants of my mother's father have houses down here," Bruns said.
Indeed, so numerous and deep are his ties to Seagrove that he misses the place soon after he takes off on vacation.
He shares his home with his wife, Prudence, with whom he shares interests in reading, history, India, electric bicycles and transcendental meditation. She overcame Hollywood and
New York City and life as a party girl to, like Albert, become the beach.
"My father didn't relate to New Orleans," Bruns said.
"He had older brothers who were born in Virginia, and he felt like that should have been his birthplace. He loved the place, just loved it.
"As for me, Seagrove became my Virginia."