Second Chances
A motley crew joins together to make music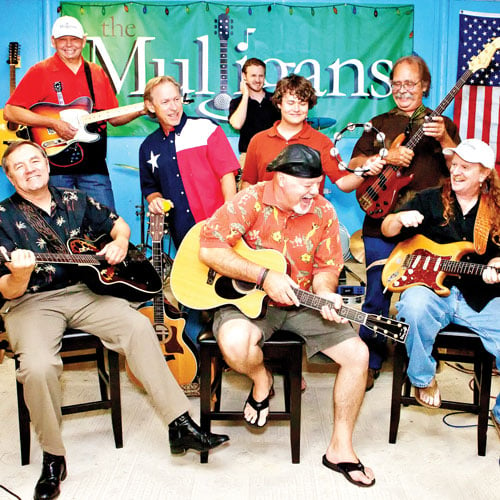 Growing up in Niceville, Edwin Watts loved the game of golf. So much that it became his business, in which he earned considerable success.
But from his early days there was always music in his heart. Then came that Sunday night in 1964 when America first saw The Beatles, and at age 19 Watts knew at some point he would be able to call himself a musician.
Vocalist and guitar player Tim Richey is in his groove when performing. Photo by Shelly Swanger
Which is just what he has become at the age of 67, as one of the organizers of a local band known as The Mulligans.
Band members range in age, from Watts' generation to a current high school sophomore, and the material covered ranges from the original rock 'n roll of the 1950s through the next several decades and beyond. Covers include the likes of Elvis, The Beatles, America, Buddy Holly, Eric Clapton, Otis Redding, Alan Jackson, Hank Williams, Jimmy Buffett and Santana.
"I don't think there's anything we can't play," said Ray Angerman. "Just give us a day, and we can get there. Sometimes we surprise ourselves."
Angerman is the pastor at Good Shepherd Lutheran Church in Shalimar, and some people are even more surprised to find that his son, Austin, is the keyboard player for The Mulligans.
And yes, the name of the band has a connection to golf. Or as manager Lincoln Cox explained: "The basic nature of the term involves the opportunity to take a second chance, which is just what Edwin and the other members have done with this band."
Some musical groups really do start in someone's garage, but this one was born from several friends just jamming in Edwin Watts' living room.
"We would be happy if we were shootin' marbles together, we just love each other so much," said Dan Mossman, a former Marine aviator who is a retired commercial airline pilot. "The nice thing about this band is everybody's a star and everybody gets showcased. It's just wonderful."
Watts grew up listening to radio broadcasts of the Grand Ole Opry with his parents on Saturday nights. But watching the lads from Liverpool on Ed Sullivan ignited a spark. "That's when I went out and purchased my first guitar," he recalled. "It was a Gibson electric, and I bought it at a pawn shop. I didn't have a lot of time to practice and play, so I more or less learned on my own."
Edwin Watts Golf started its business in 1968, and the founder developed it into a global success based on brand name golf equipment, apparel and accessories. He retired in 2008 after selling the company to Sun Capital Partners, Inc.
But several years before that, Mary Watts presented her husband with a vintage Gibson Les Paul guitar for his birthday. And he began applying his dynamic energy more and more to music. "He's a guy who when he wants to do something, he does it well," said Cox, who once was a main marketing man for Edwin Watts Golf. "He's very focused on the task at hand, whether it's accounting, or making deals or playing guitar."
So it was time to find a teacher, and it didn't take much asking around before Watts got connected with one Steve Spayde. "He's just an incredible player," Tony Leonard, who owns Playground Music in Fort Walton Beach, said of Spayde. "He knows guitars inside and out. Back in the '60s, Steve was a long-haired musician who would come in our store and play every guitar he could until somebody would have to run him off at the end of the day."
So it started, with Watts and Spayde. But soon it involved friends Tim Richey, Ray Angerman and Dan Mossman.
"The friendship just built," Spayde said, "and one day Edwin said, 'Hey, let's make this a band.' And really, we have just as much fun hanging out as we do playing together." Which happens at weekly practices in a rented studio the band refers to as "The Clubhouse." Dozens of friends and family members regularly attend, and the sound naturally leads to spontaneous dancing.
"We're really a community band, that's always been our goal," Watts said, "and with our background we have the ability to bring more to the table than just playing. We can help with sponsorships and marketing, and we can also provide a revenue source."
In the past 18 months The Mulligans appeared at such benefit events as the Bobby Bowden Spring Golf Tournament, the Fisher House Gala and twice at the American Business Women's Association Billy Bowlegs Poker Run. "They were awesome," said Kathy Houchins of the American Business Women's Association. "People were dancing and screaming and loving it — they played all the right songs."
Houchins and Tammy McDaniel attended practice at "The Clubhouse" before choosing the band for their event.
"They're great musicians and they have a great sound," McDaniel said. "There was a very good response from the crowd, and they brought folks from the outside that normally wouldn't attend an event like ours."
Fort Walton Beach attorney Paul Brannon, director of the Fisher House Gala, said the Mulligans are scheduled to come back for this year's event in September.
"In the past we had only solo acts," Brannon said, "but I was exceptionally pleased with them. For the first time we actually increased our Gala attendance. They have a large following, and we received some extra 'pub' on the Fisher House. It's just amazing what they bring to an event because of the connections members of the band have."
And the sound? "I was kind of shocked at how good they were when I heard them play," Brannon replied. "I'm a little younger than the type of music they play, but I grew up listening to it in the car with my dad. Their music is tailored to almost anybody — it's the classics, and they do it so well."