Seagar's Prime Steaks & Seafood
at the Hilton Sandestin Beach Golf Resort & Spa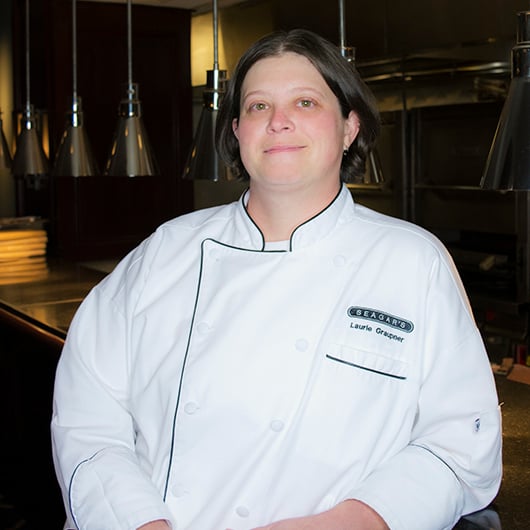 Promotion
Executive Chef Laurie Graupner
How would you describe the cuisine? Seagar's Prime Steaks and Seafood is a traditional, New York-style steak house that serves the highest-rated prime beef and the freshest Gulf Coast seafood.
What is your favorite dish and why? I love making gnocchi and pasta. You will find both of these dishes on our seasonal menus — most likely paired with seafood.
How do you measure your success? I don't measure my success; rather, I focus on preparing food that makes happy memories for people, learning and improving as an executive chef and teaching new skills to others on our team.
What made you want to pursue this career? My grandfather's passion for food and for cooking was transferred down to me. When I was a child, I would travel to California to visit my grandparents, and my grandfather would watch cooking shows during my stay. He and I would sit together, and he would talk to me about the things he tried to make at home. He was incredibly passionate about preparing food. After he passed away and I graduated from high school, I wanted to do something that would make him proud of me. That is when I enrolled in culinary school.
What is your philosophy? You get what you put into things.
What is the most important item in the kitchen? The most important thing is not necessarily an item; it's staff. Having great team members who have a passion for what they do makes all the difference in the kitchen. I'm very fortunate to have a talented and passionate team of cooks supporting our restaurant.
What inspires/influences your cuisine? The biggest influences on the seasonal menus at Seagar's are the extended growing seasons in Florida and the Gulf-to-table seafood. We have access to the freshest and best of both. I love using the freshest ingredients and partnering with local purveyors, farmers and fisherman, whenever possible.
4000 Sandestin Blvd. S, Miramar Beach  |  (850) 622-1500  |  seagars.com