Savannah: America's Most Haunted City
Savannah reveres its dead men's tales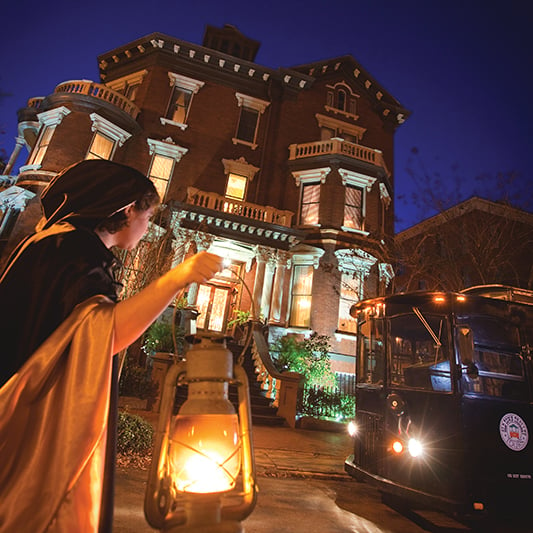 Walking down the historic, cobblestone streets of "America's Most Haunted City," I'm not sure if it's really a ghost or just my overactive imagination raising the hair on the back of my neck.
In the quiet twilight, the moss-draped, majestic oaks and the centuries-old homes and buildings lining Savannah, Georgia's river and city squares certainly seem to whisper to me to discover their stories.
Annually, nearly 800,000 tourists hire one of the city's 20+ ghost tour companies to hear Savannah's macabre tales — and learn a little history. Their goal is to be completely entertained — and, sometimes, a little scared.
On this misty evening, I joined their ranks.
I chose to see the city's spooky sites by horse-drawn carriage. Others are led on walking tours or trolleys, while the more adventurous hitch a ride in a hearse.
In 2002, Savannah received the designation as the most haunted city in America from the American Institute of Parapsychology. Erica Backus, Visit Savannah's director of Public Relations, said the designation adds a level of uniqueness to the travel experience.
"Every day, we celebrate the mystery of Savannah's ghost culture," she said with a laugh.
The tour guides will tell you, though, that the designation is more than just a tourism ploy. To them, there is no doubt that an abundance of spirits haunt Savannah.
"It is the most haunted city in the U.S., hands down," swore Spooky Steve, a former Florida State University student and current guide with Hearse Ghost Tours.
He continued, "Very few cities have such a calamitous past. Every bad thing that could happen to a city has happened here."
In fact, over its nearly 300-year history, Savannah has seen yellow fever, three wars, famines, slavery and natural disasters. Death, devastation and destruction are as much a part of Savannah as its river and Southern charm.
"It's a necropolis — a city built upon its own dead," Spooky Steve said. "If human remains are found in Tallahassee while digging a sidewalk, everything stops, forensic teams are called and the newspaper covers it. In Savannah, it happens all the time. There are children's playgrounds built on graves, and streets and sidewalks are built right over the top of human remains."
Tim Nealon, founder and CEO of Ghost City Tours, said that Savannah "definitely has an aura about it."
Unlike many large cities, Nealon explained, Savannah gets really quiet at night, with most of its citizens heading indoors. River Street closes down, giving the tourists and poltergeists a chance to get to know each other.
Shannon Scott, owner of Shannon Scott Tours, said, "Talking about ghosts in Savannah is like talking about the weather in other towns. Everybody has a story. I was standing in line at the grocery store the other day, and the guy behind me was talking about the ghost in his house."
So where are Savannah's most haunted spots?
Topping the lists are Savannah's public squares. According to Ghost City Tours website, "Savannah's Historic District is home to 24 squares. Some were laid out during the city's founding years when General Oglethorpe settled the area, while others are more recent additions from a century or so ago. But all have a story to tell — beneath the grass, the benches, the picturesque landscape, some were old burial grounds or execution places."
Wright Square is ranked as one of the most haunted of Savannah's public squares. It was one of the first four squares constructed in the city. With the original courthouse and jail located across the street, Wright Square was known as the "Hanging Square."
On my tour, the horse's feet clopped, clopped along East York Street and East State Street as our guide told the story of Alice Riley.
In 1734, Riley and her husband, Richard White, were Irish servants, serving William Wise, a harsh, prominent member of the community. Wise was found dead on March 1, 1734, in his house, with his head resting in a large bucket of water. He had been drowned. Riley and White were reported missing from Wise's farm and suspected of killing the cruel man who had, allegedly, raped Riley, repeatedly. Riley and White were found, charged and convicted of murder. White became the first person hanged in Savannah.
Riley was discovered to be pregnant with Wise's child. The magistrate decided to wait until the birth of the child before hanging Riley. Shortly after the baby's birth, in January of 1735, Riley was hanged at the gallows at Wright Square. The baby boy, James, died two weeks later. Riley and her baby were buried near the square on York Street.
Legend has it, Riley professed to be innocent until her very last moments.
Over the hundreds of years since her execution, there have been numerous reports of a woman in old-fashioned clothing stopping visitors to the square, asking for help finding her baby.
Riley's apparition has reportedly appeared to more people than any other ghost in the city of Savannah.
Our tour guide pointed to the graceful oaks of Wright Square and said, "If you notice, these oaks have no Spanish moss. They say, Spanish moss will not grow where innocent blood has been shed."
Another spot that most tour guides rank as the "top most-haunted" is the home at 432 Abercorn Street.
"Officially, 432 Abercorn Street is so evil, it is only known by its address," said Spooky Steve.
Nealon described the residence as "sinister," and said that one of his guides reported being scratched down his back during a visit to the house and that other visitors have reported being pushed or shoved or having their cameras knocked out of their hands.
Scott called the Hampton-Lillibridge House the most haunted in Savannah. He insists it was once studied by Duke University, which ranked it a "level three or four" for poltergeist activity.
Luckily, I didn't find out until after I had checked out of my hotel, the River Street Inn, that Nealon considers this former cotton warehouse; the alleyway beside it, called Factor's Walk; and nearby Tondee's Tavern to be some of Savannah's most haunted locations. If I had known, I probably would not have slept a wink.
Maybe the eerie feeling I'd had earlier wasn't just my imagination playing tricks on me after all.
Scott says that even the most skeptical in Savannah usually become believers in the paranormal.
He challenges anyone moving to Savannah, "Give it six months. You'll have your own ghost stories to tell."