Sarah Ralph is a Force To Be Reckoned With
'Your identity is what you make it'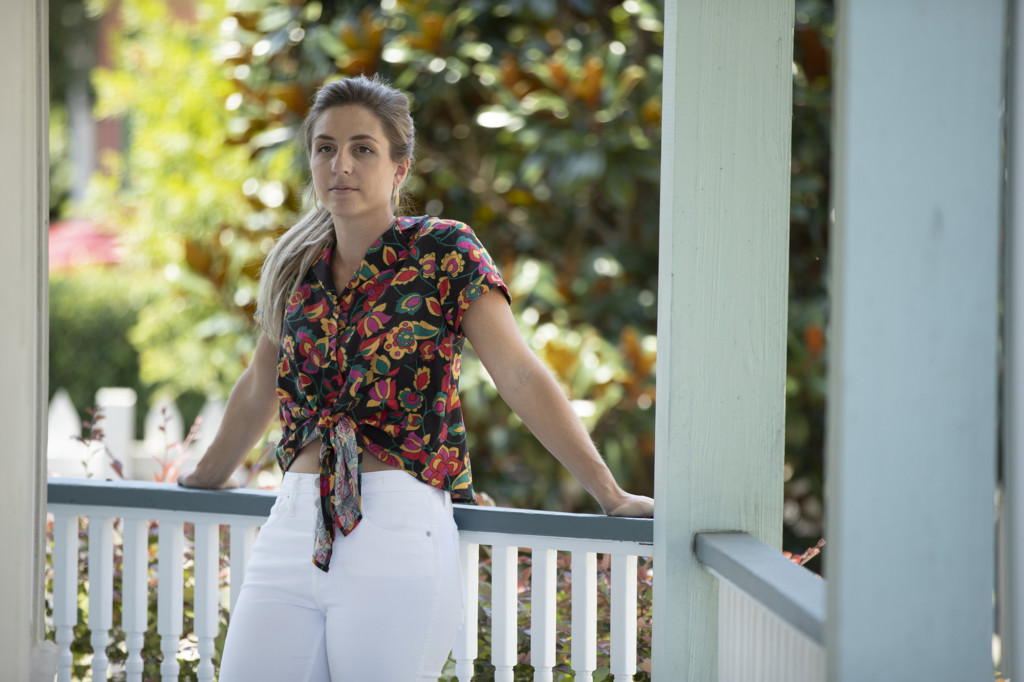 Sarah Ralph was raised to have a solid worth ethic.
At age 12, her first job was to assist with her father's television repair business, where she'd answer phones and coordinate appointments for people to drop off their televisions. Between calls, she could be found brandishing a soldering iron and welding off scrap television components.
Her parent's trust instilled within her an early sense of responsibility, one that today influences how she raises her 3-year-old son, helps her balance her career with creativity, and is reflected through the way she's perceived by others.
"I've always been told I walk with a purpose," said Ralph, "like I'm going somewhere. That I walk quickly and forcefully. That I talk quickly and forcefully. I don't beat around the bush and may come off as blunt, but I say what I mean."
And as a National Business Development Manager at Wyndham Vacation Rentals, a little grit gets the job done.
Three years ago, Ralph, 35, began working for the marketing department for ResortQuest by Wyndham Vacation Rentals in the Fort Walton Beach office, but her focus soon shifted to supporting the company's business development team.
"We realized our sales representatives were all out there trying to market themselves and recreate the wheel in many aspects, because the message — and what they're going up against — was generally the same," Ralph explained. "I helped bring consistency there and when we stepped back, we realized our markets on the east and west coasts could benefit from that as well."
Ralph oversees a modest team of four, who were founded on that vision and travel to Wyndham properties statewide to reinforce the best practices.
Despite having obtained a degree in marketing from Penn State University, Ralph landed a job in underwriting and product development for an insurance company, where she was able to move around the country to their different offices and see how operations worked on a larger scale.
Ralph believes she couldn't have asked for a better company to introduce her to the real world. During a two-month training period, Ralph went from "a 23-year-old who barely had her life together, to an adult who knew how to dress and act like a professional."
"It's always been a drive in me to climb the corporate ladder," said Ralph. "I'm a hard worker and can adapt, and innovation is what I push for. I feel like if you have those things, you can do just about anything."
Well, she says, just about anything.
After relocating to Destin by way of her husband's military career, Ralph gave birth to their son and decided to take a year off from work. She approximates she lasted about seven months before realizing being a full-time mom wasn't in the cards for her.
"I have so much admiration for stay-at-home moms, like my sister," Ralph said. "But I think I'm an extroverted introvert. I crave social interaction. My son is amazing and my absolute world, but he's not my entire life."
And, neither is her career. Like many creatives, Ralph will develop an "itch" if she goes too long without expressing herself artistically. She enjoys blogging, writing about "embracing the hilarity of everyday life," and experimenting with mixed-media art.
"I think that a lot of people are intimidated by art," she said. "But not all of us can close our eyes and paint a perfect picture. It's a method, a process where you have to discover a medium and, through that, work at finding your own creativity. Nobody's going to tell you you're wrong."
It's the same methodology Ralph applies to her sense of style. Three years ago, upon returning to work, Ralph realized her wardrobe, though well-suited for the insurance industry in the northeast, was not at all the "beach business" style her co-workers so effortlessly commanded.
Trunk Club, a Nordstrom service that entails matching people with a personal stylist who handpicks a selection of designer clothing and ships them to your home, was a lifesaver.
"My stylist, Weston, really took the time to understand my situation and helped build me back up," said Ralph. "After a year, I felt more comfortable about my style and what I was going for."
Ralph likes to think she dresses dominant, with a gentle flair. She's less keen on fads, and opts to invest in key pieces that she knows will last. At this interview, she sports a pair of black, wide-leg trousers, and an elegantly-fitted white tee accented by suspenders.
"Everything in my life is timed," Ralph said. "I needed Trunk Club, because I wanted to feel beautiful as a woman, but I didn't have the means to do it."
Services such as Plated, a dinner delivery service, sends Ralph ingredients and recipe cards that state exactly how much time must be committed to each one.
"I'm always thinking in advance," Ralph said. "Even with things like my makeup. Right now, my 'lipstick' is just a lip balm that reacts to your pH levels and is supposed to create your perfect tint. My mascara is designed to wipe off easily at the end of the day."
When Ralph gets her hair done at Avantgarde Salon & Spa in Destin, her stylist knows to fashion a cut capable of being air-dried, only requiring a minimal spritz of product to create texture.
She's had fun learning how to maintain and paint her own nails, as devoting an hour and a half to a salon is impractical.
"I believe it's OK to cut corners to give yourself the time to be as much as you can be," Ralph said. "For me, that's looking like a force to be reckoned with.
"I did struggle with finding who I was for a really long time, but I was fortunate to be able to put myself out there and always have my husband's support. If you're questioning your role, just know that, through determination and hard work, your identity is what you make it."