Sandestin Real Estate's Kitty Whitney Has Made a Career of Developing Businesses
"Life is primarily for laughing, loving and living; it isn't just for whining, worrying and working."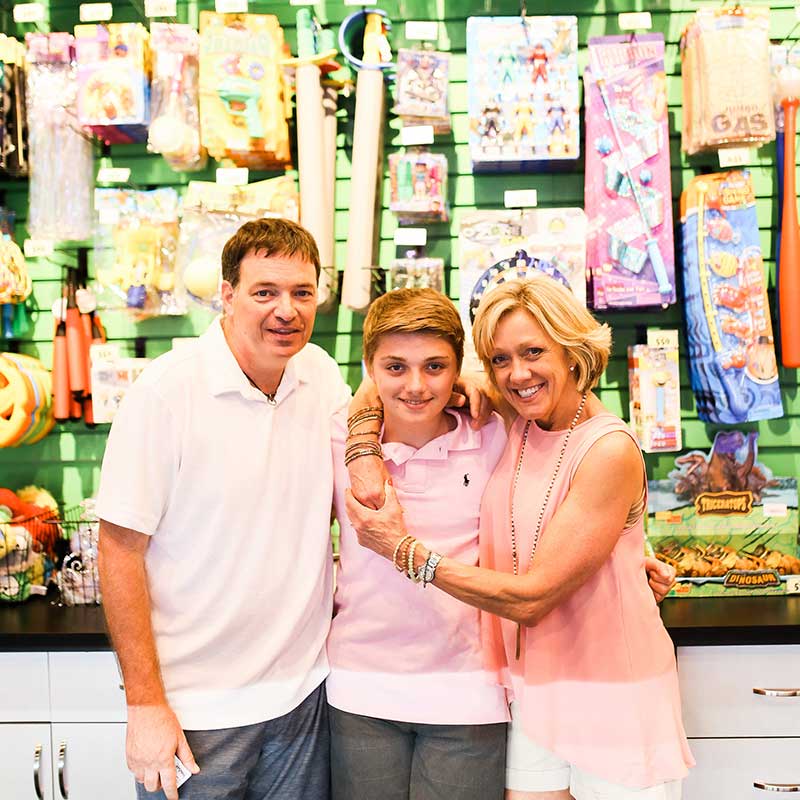 Kitty Whitney had embarked on a critical-care nursing career and was living in Dallas when her husband, Todd, completed a program presented by the motivational speaker Ed Foreman.
Kitty and Todd were still setting up housekeeping at the time.
He had gone to work for a computer hardware manufacturer, Dallas Seminconductor, but money was tight.
Still, first Todd and, a month later, Kitty, scraped up tuition and travel money and enrolled in Foreman's three-day "Successful Life" course, a "habit-improvement" approach developed to enable people to improve their lives physically, emotionally and mentally.
Foreman fairly preached that "life is primarily for laughing, loving and living; it isn't just for whining, worrying and working."
Now, decades later, Kitty, the executive director and broker at Sandestin Real Estate, remains a Foreman disciple.
She owns a video recording of the three-day course and, at least once each week, she watches a portion of it.
Foreman taught his last course in November 2015 and has suggested to Kitty that she might be the right person to carry his lessons forward.
Indeed, on a limited basis, Kitty, with Foreman's blessings and those of her boss, Sandestin Golf and Beach Resort owner Tom Becnel, has begun teaching Successful Life-style classes. Her students include members of her staff.
Not surprisingly, Kitty is finding that she likes the role of teacher/consultant. It has long been a part of her professional resumé.
Kitty grew up living "Bayou Life" in Thibodaux, Louisiana, the sixth of eight children. Folks had chickens in their backyards, and her father fished as a way to feed his family. Kitty, at an early age, came by a desire to move out and up.
She attended Nicholls State in her hometown, earned a bachelor's degree in nursing and met (on a blind date) Todd, who had grown up in nearby Houma in a modest home where he was the ninth of nine children.
Todd would depart Nicholls State for LSU in Baton Rouge, where he graduated with a degree in electrical engineering, but the couple stayed in touch.
In Dallas, Todd distinguished himself working with microprocessors and as a semiconductor engineer specializing in failure analysis — failure was very good to him — and he moved to a job with Cyrix, then Intel's chief competitor in the microprocessor game.
When Cyrix went looking for someone to oversee the development of a plant in Singapore, Todd raised his hand, because that is what you do as a Foremanite: You say yes to opportunities. You set aside worry. (Foreman: "Worry is nothing more or less than negative goal setting.")
Kitty suspended her nursing career and went with Tom to the Far East. He was given two years to get the plant there up and running, but got the job done in eight months. The couple moved on to Italy and another plant project.
Kitty picked up languages along the way and worked closely with her husband as a business liaison for Cyrix and found that she and Todd collaborated well.
The Italy project complete, Cyrix offered Todd another Europe-based project, but a competitor intervened, successfully recruited Todd and brought him back to Dallas.
There, Kitty resumed her nursing career, and the couple talked about launching a business together.
As a nurse working in ICUs, Kitty had become familiar with infusion pumps and other equipment used to deliver medicine to patients via an IV access.
She reasoned that it should be possible to establish a clinic where patients could learn how to use the equipment at home and avoid having to go to the doctor or entertain an at-home visit from a nurse.
Kitty, bouncing between Dallas and Louisiana, started the couple's Infusion Network business in Baton Rouge, a market they knew well.
Manufacturers had been making portable models of infusion pumps, but they were intended for nurses.
Kitty gave them advice on how to make them patient-friendly, and, through new programs and protocols, they did.
"We made a lot of progress working with manufacturers on those devices," Kitty said. "We had a lot of ideas that they adopted. I should have gotten a patent."
In establishing the Infusion Network, Kitty had to pay close attention to FDA and DEA regulations and nursing and pharmacy board protocols.
She had to convince insurance companies that her business model was in their best interest because it stood to reduce claim amounts.
When underway, the business was equipped with treatment rooms where nurses would administer the patient's first dose to ensure that it was tolerated well.
Then, they would go on to teach patients how to self-administer their meds. So the theory went.
And, Todd bought in. So much so that he overcame Kitty's objections and quit his job.
"We did it," Kitty recalled. "We jumped off the cliff together and moved to Baton Rouge."
Six months later, the business had made nothing and savings were dwindling.
Referrals from doctors had proved impossible to come by.
"Todd began to think we had made a mistake and I would say, 'No, we've got this,' and then I thought he might be right and then he would try to reassure me," Kitty remembers.
Finally, a doctor whom Kitty had been hounding for six months gave her a referral with some expressed reluctance. The patient had AIDS and required IV meds and, despite his challenges, he proved to be the Infusion Network's first success story.
"He was able to go back to work," Kitty said. "He made a life for himself and started feeling positive instead of sick. We received more referrals from the doctor, and the business caught on. In less than a year, we were at full capacity. In three years, we doubled and tripled in size with locations in Baton Rouge, New Orleans and Lafayette."
Kitty started getting calls from brokers representing clients with an interest in buying her business. Routinely, she would hang up on them. She wasn't about to sell her puppy.
But, over time, the frustration and the hassles and the delays associated with collecting money from insurance companies wore the Whitneys down. They sold their three-year-old business in 1999.
Today, under its current owners, the company continues to provide the same services that it did when the Whitneys owned it.
The couple established a residence in the Delmar neighborhood at Sandestin, where they had vacationed and attended conferences.
Kitty stayed on with the Infusion Network as a consultant, and Tom taught himself how to serve as his own financial advisor.
"In our careers," said Kitty, "both Todd and I have had phenomenal opportunities to learn business, be resourceful and figure things out. When we opened the Infusion Network, we did our own hiring and firing, HR and marketing. I did the contracts with the insurance companies and Todd managed money, payroll and the profit-and-loss statement. He even drove the delivery van for a while, and I was the janitor."
After becoming full-time Sandestin residents, Kitty and Todd traveled extensively and began to talk about parenthood.
Before then, they had had little time to do so. They were 40 when Max, now 13, was born.
"Max was six months old, and we moved from Delmar to a larger house in Burnt Pine, thinking we might stick around for a while," Kitty said.
"But, I'm not gonna lie, never did I think we would be here this long. I had always liked to move around and experience change and different environments."
Max was 5 and ready to start kindergarten when Carla and Tom Becnel moved in down the street.
Carla took part in a "boot camp" exercise class that Kitty was leading and spoke to the teacher after class, suggesting to her that she should become active in the community.
"Later on, I met Tom and he told me that the Walton Area Chamber of Commerce needed some business growth and development leadership," Kitty recalled.
"I reacted initially by saying that not to save my child would I go to work for the Chamber of Commerce."
Still, Becnel succeeded in introducing Kitty to people at the chamber and he described the role that the chamber played in making the concerns of South Walton County, which is without incorporated communities, heard before the County Commission in DeFuniak Springs.
Kitty was impressed by the number of businesses that needed growth and development advice and guidance and decided to give it a try.
She worked as the chamber's director for two years before Becnel called to say that he needed some help with real estate development at the resort.
"I told him I had a real estate license but had never sold real estate, and he told me that he didn't want me to sell real estate; he wanted me to run the business."
And, Kitty did what Foremanites do. She said yes to opportunity.
Meanwhile, Todd, along with Kitty, had discovered that entertainment venues for children in the area were "worn out and a little rough."
He resolved to do something about that and put together a plan for the coolest arcade around.
In 2012, he established the Blast Arcade and Laser Maze at The Village of Baytowne Wharf, later acquired the space next door and opened Moo La-La Ice Cream and Desserts.
About a year ago, he launched Thrills Laser Tag and Arcade at the Seascape Towne Center.
"Right now, Todd is in an operations review with his five managers," Kitty noted on a recent morning.
"They supply him with reports and he coaches them and guides them and encourages them to supply ideas for keeping the businesses on target. One of Todd's great talents is to teach and then delegate, and to create plans that provide for accountability."
"I do the same thing with my team at Sandestin Real Estate. I give my support staff goals and direction and they thrive on that. They are more productive as a result. The sales professionals are experienced and talented, so I simply try to provide new avenues of business and keep them motivated."
Max, like his guitar-playing mother, has a gift for music.
He plays a guitar, left-handed, and is talented enough to knock out some Carlos Santana. Too, he plays piano, mandolin, ukulele and drums. He's picking up Italian from Mom and studies Spanish among his classes at the Seaside Neighborhood School.
And, like his parents, he is demonstrating a knack for business.
After attending with Todd an International Association of Amusement Parks and Attractions convention, Max was convinced that a photo booth should be added to the Blast Arcade. Dad wasn't so sure.
Max persisted. Like a boy petitioning for a dog, he promised to take care of the booth himself. Dad relented. He loaned his son $12,000 to buy the machine, which was placed away from the arcade elsewhere in the Village.
Six months later, Max had paid off the loan. Now, he is placing booth proceeds in his tuition savings account.
He wants to attend MIT and to become a NASA engineer.
That is, he's a Foremanite in the making, you know, one of those "winners who develop the habit of doing the things that others don't like to do."