Safe Water for Walton Looks After Precious Resource
The Walton County nonprofit is concerned about the disposal of leachate.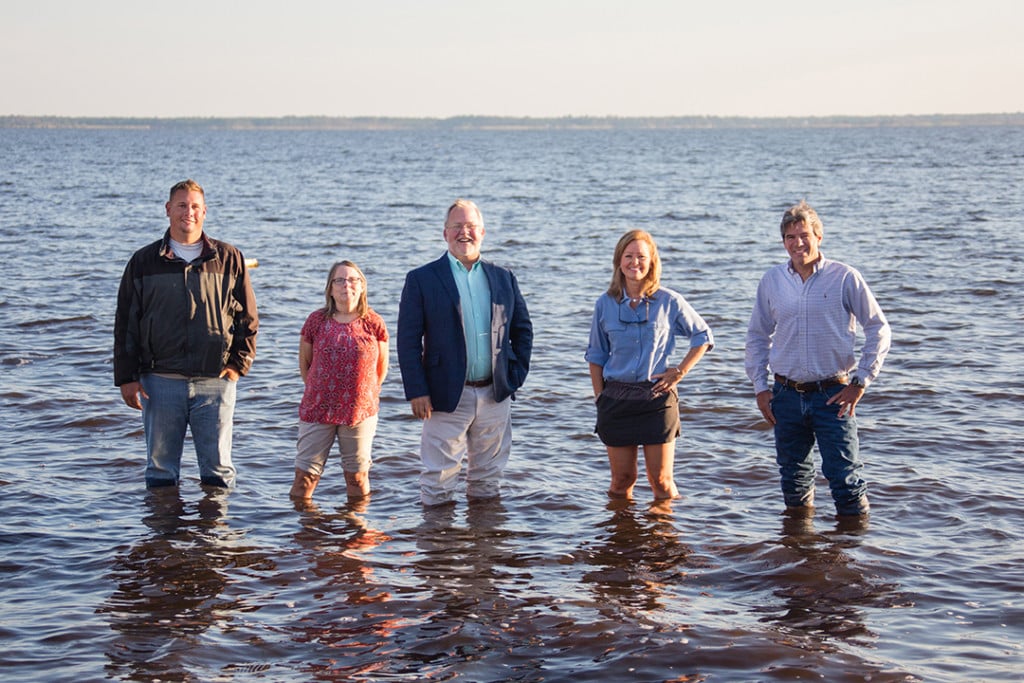 In December 2016, Waste Management Inc., facing stiff public opposition, withdrew its application for a Class I deep injection well in Broward County, population 1.91 million.
Soon thereafter, the Fortune 500 company submitted an application for such a well in Jackson County, where the population never has exceeded 50,000, the poverty rate hovers around 23 percent and political clout doesn't often amount to more than a windblown shout.
In either case, Houston-based Waste Management sought the well as a means for the disposal of leachate, the toxic "garbage juice" that collects at the bottom of lined landfills such as the Springhill Landfill near the Jackson County community of Campbellton.
It's unlikely that the applicant anticipated the kind of opposition that has developed in a county whose chief claims to fame are caverns and Limousin cattle.
Nonetheless, the NAACP in Jackson County came out against the well, citing it as a matter of "environmental justice."
The Jackson County Commission adopted a resolution expressing strong opposition to exploratory wells and deep injection waste-disposal wells — and then the Walton County Commission and other local governments did likewise.
Further, the application spurred the creation of a nonprofit advocacy organization, Safe Water for Walton, whose chief concern is the health of the Choctawhatchee River and Bay watershed, which encompasses all or part of six counties in Florida: Jackson and Walton and also Bay, Holmes, Okaloosa and Washington.
"We're not opposed to the applicant," stressed Kelly Layman, the spokeswoman for Safe Water for Walton and a founding board member.
"It wouldn't matter to us if Pope John Paul had filed the application. We are opposed to the proposed well location."
At present, Waste Management takes leachate to wastewater treatment facilities in Sneads and Marianna.
A successful application would allow the company to itself dispose of leachate by injecting it 4,000 feet beneath ground level via a well that would pass through one, maybe two, layers of freshwater aquifer.
Layman and her fellow members of Safe Water for Walton are concerned about the potential for groundwater contamination.
Leachate, according to the federal Environmental Protection Agency, may contain volatile organic compounds that can cause liver and kidney damage or cancer.
Layman pointed out that while a permit for an injection well, if issued, would limit responsibility for contamination to a 1-mile radius, water migrates underground.
"What sounds like a super hyper-local issue really isn't," Layman said.
"That's why we're concerned in Walton County. We're at the base of the funnel. I can't think of a worse place to inject leachate. Walton County has 16 spring-fed coastal dune lakes that don't exist anywhere else in the world. We have an inordinate number of private drinking water wells in our area. Plus, every water body connected to the Floridan Aquifer is spring fed, and they're all vulnerable to the potential failure of an injection well. Counties near and south of the landfill are home to the largest cluster of documented freshwater underground springs (80 in total) anywhere between Tallahassee and Pensacola." Added Layman, "The Choctawhatchee watershed is the third largest river system in Florida in terms of the volume of water discharged. That's astounding."
Early on, before Safe Water for Walton was even established, state Sen. George Gainer (R-Panama City) expressed concerns about Waste Management's application.
"I have serious issues that disposal of leachate water in a new well could cause contamination to seep into the Upper Floridan Aquifer, which is the source of drinking water for most of the state," Gainer wrote in a May 30, 2017, letter to the state Department of Environmental Protection. "The risk is just too great."
"You don't know what is in the leachate unless you know what is in the landfill," Layman cautioned.
Several times, scheduled action on the permit application has been postponed. In September, Waste Management asked that the application be held in abeyance while it explores possible alternatives to an injection well.
"Waste Management continues in efforts to secure an environmentally safe, reliable and guaranteed source to appropriately treat and dispose leachate from Springhill Regional Landfill, as an alternative to a deep well," René Faucheux, Waste Management manager of government and community relations, said in a statement issued to Emerald Coast Magazine on Oct. 18.
"Waste Management is exploring several options that could deliver a safe and reliable solution. Regarding the deep well test application, Waste Management submitted correspondence requesting the Florida Department of Environmental Protection hold the permit application in abeyance and take no further action regarding this application through March 1, 2019."
Serving as a point person for an advocacy organization is not something Layman ordinarily does, but she brings to that role abundant connections. Kelly is no ordinary layman.
A resident of Santa Rosa Beach, she has an intimate knowledge of the workings of state government and has relationships with key players, gained from her experience as chief of staff at the Department of Environmental Protection; legislative liaison at the Florida Supreme Court; and as a staff aide to the Senate Judiciary chairman.
Layman intends that Safe Water for Walton ultimately become an organization whose activities are proactive, positive and educational, but she promises that for as long as the injection well permit application remains pending, it will be her top priority.
She doesn't intend for people to grow complacent.
Nonetheless, Safe Water for Walton already has engaged in activities that provide clues to the constructive presence it increasingly will be.
It has brought Operation Medicine Cabinet, a national movement, to Walton County.
The activity affords individuals an opportunity to discard unused or expired medications by taking them to collection points, much as a county conducts hazardous waste amnesty days.
Collectors ensure that the medications, many of which wastewater treatment plants are not designed to remove, do not enter the aquatic environment.
In the wake of Hurricane Michael, YOLO Board, located in Miramar Beach, reached out to Safe Water for Walton, and the business and the organization combined to help storm victims by supplying them with water, sanitation tablets and storage jugs.
New Orleans Saints quarterback Drew Brees, an owner of the Surge Trampoline Park in Fort Walton Beach, endorsed those relief efforts.
In October, he donated a weekend's worth of park admission fees and proceeds from a raffle of autographed sports memorabilia to Safe Water for Walton.
"We're studious. We're shrewd. We're on a mission," Safe Water for Walton says about itself on its website.
People from Marianna, Florida, to Houston, Texas, are finding that out.
Join them for their POWER UP campaign to bring safe hot running water back to families who have experienced devastation from Hurricane Michael. Learn how you can help them reach their goal here.