Ron Sandstead Beautifies Destin with Public Art Project
A celebration of the community and its local artists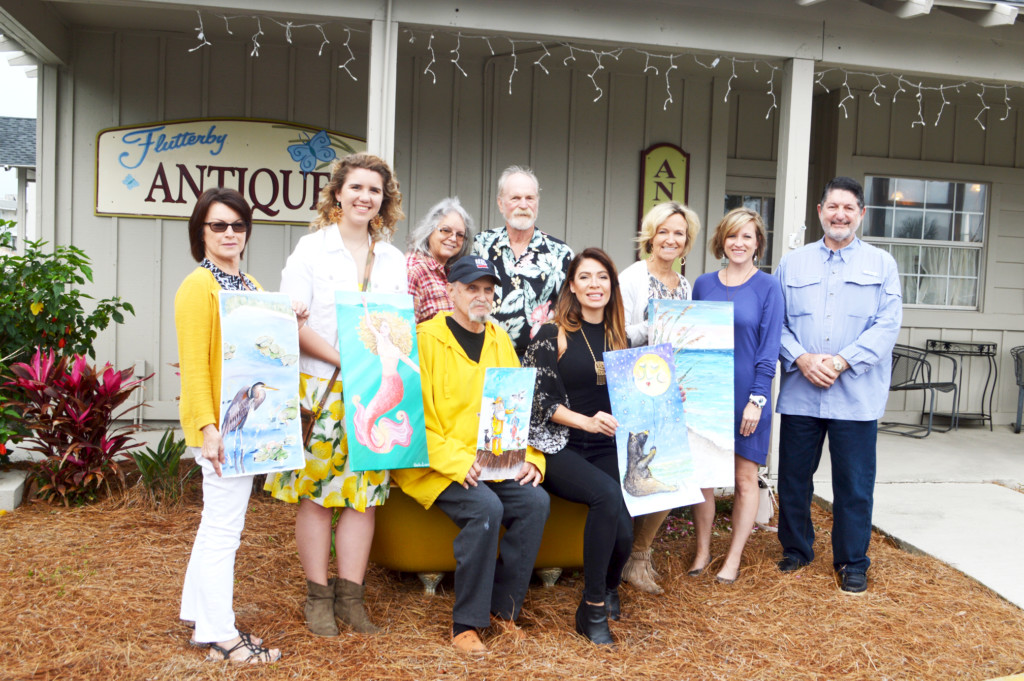 Ron Sandstead and his wife, Michelle, relocated to Destin, Florida, from the Denver area in 1996 to help rebuild the town after Hurricane Opal ravaged the World's Luckiest Fishing Village.
And after 23 years, he is still at it — still renewing the town he loves.
Though his knees signaled he needed to bow out of the construction business some years back, Ron, 72, a fine carpenter, shifted his creative energy to jewelry making.
"I needed to do something different. When I told my wife and daughters, 'I think I'll try to make jewelry,' they had a good laugh," he says.
Though easy mannered, Ron is a determined man who eventually does what he says. He began handcrafting jewelry eight years ago from vintage silver flatware. He sells his jewelry art at Flutterby Antiques on Main Street in Destin, which he and Michelle own and operate. He also shows his work at local art festivals.
Five years ago, when Ron stood up (again) at a Community Redevelopment Agency (CRA) meeting with a laundry list of ideas to improve Destin, the CRA president encouraged Sandstead to act on his ideas, and so he did.
"I knocked on doors of businesses all along Main Street in Destin, and July 3, 2013, I had a dozen people show up on a holiday weekend. We met every week for four months. We set up committees and focused around key goals," he says.
Known as the Main Street Betterment Alliance of Destin, the nonprofit group has achieved nearly all the goals scribbled on Ron's original list.
"We've adopted Main Street as part of the city Adopt a Street program, repaired and painted the old Crestview Produce building, planted trees in the medians, cleared the land and started the Main Street Community Garden behind the American Legion, and raised money for veteran's charities," he said.
And with the launch of the Destin Banner Art Project in January, Sandstead has checked off his last big task: feature local artists on decorative banners down Main Street.
So far, the Destin Banner Art Project has showcased two rounds of eight local artists from along the Emerald Coast for a total of 16. Artists have ranged from emerging student artists to seasoned, award-winning Artists of the Year professionals.
Each artist is invited to create and donate an original work of art of their choosing. Banner art has ranged from colorful seahorses and sea turtles and mystical mermaids and seamen to towering palm trees and proud pelicans. Sandstead has the artwork professionally photographed before the images are converted into a weatherproof banner. The City of Destin then installs the banners, which hang for three months.
The first grouping of artists included Robin Cannon, Andrea Chipser, Joy Fine, Claire Gagne, Estelle Grengs, Ann Hopkins, Libbo Morgan and Allison Yii. The second round, on display now, includes Dill Beaty, Kathleen Broaderick, James Mulling, Peggy Rowe, Kathy Schumacher, Andi Scurto, Jennifer Viaene, and Ora Wolfgram, the first student artist invited to exhibit.
The next round is slated to be installed in late August.
Sandstead hopes to have a celebration honoring all the artists and sponsors at the end of the year, when he will auction off the original artwork to further support the program. With the artists donating their artwork, the city donating the installation crew and businesses donating funds to offset production expenses, this project is not a moneymaker; it is a labor of love.
"Most of my life I lived for me; this is different. I'm trying to make a difference. I'm trying to do something with this public art project that will leave a legacy that can be carried on for years. Same with the community garden," he says.
What's next for the artisan-turned-community-organizer?
More local art.
"We have artists and their art in galleries, but we do not have an art district. I'd like to see more public art on the streets, art murals on buildings, concrete park benches with mosaic tiles and even statues.
"Louisville has horses. Pensacola has pelicans. Key West has, well, chickens I guess," he chuckles. "I don't know what we do here in Destin just yet, but I'd like to sculpt some of the artwork."
Sandstead says tourists shouldn't have all the fun, it's time that some effort is focused on local residents. I just ask, 'What can we do to make the people who live here happy?' Some things I believe in are art, doing good and listening to better angels. I just want to see Destin be the best city it can possibly be."