Ron Holman Recreates Broadway in Bay County
To theater in Bay County, Ron Holman has been a big daddy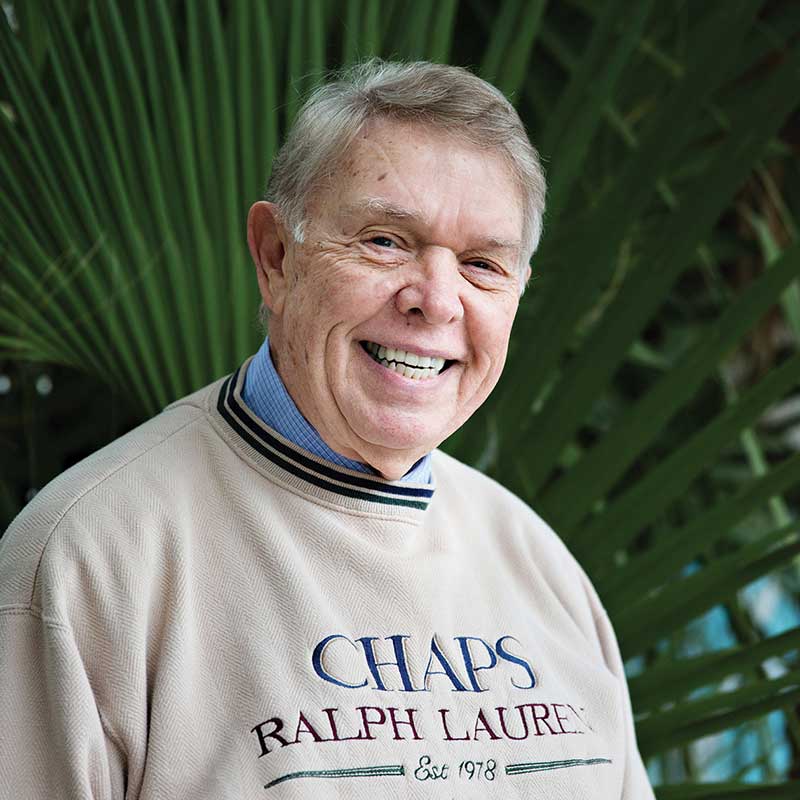 In a Utah Shakespeare Festival production of King Lear, Ron Holman's role as the Duke of Cornwall required him to pull an eye from the head of the Duke of Gloucester and then squeeze it until blood oozed onto his hand.
"The props man made up a bunch of eyeballs in advance, enough for the scheduled run of the show," Holman recalled. "One night, toward the end of the run, I squeezed the eye to no effect. So I squeezed it harder. Still no blood. I was beginning to think that the eye had dried out. Once more I squeezed it, even harder, and this time it ruptured and the blood showered people in the audience.
"That may have been my most endearing gaffe."
And one that made it almost impossible for Holman to carry out advice frequently given stage actors: If you make a mistake or something unintended occurs, pretend like nothing happened and the audience will be none the wiser.
Holman has been dispensing that instruction for decades.
For 30 years beginning in 1983, he was a drama teacher in Bay County high schools — 20 years at Rutherford and 10 years at Arnold. (He has former students working as actors in New York, Los Angeles and Houston.) In 1992, he founded the Imagination Factory Children's Theater, the only theater in the region, he said, that produces plays with children for children.
The theater, reserved for actors ages 6–16, performs three full musical productions a year — in May, in December and one during the summer as the culmination of Camp Broadway.
This summer, campers will be writing and producing a 30-minute film under the direction of videographer Dave Curnett.
"We're combining Camp Broadway with Camp Hollywood," Holman said. To that end, he will draw upon his vast experience as a director and the screenwriting classes he took long ago at the American Film Institute in Los Angeles.
Holman twice tried on Los Angeles in an effort to get discovered but didn't break through.
At one point, he may have been close.
Holman was scheduled to perform in a live production of The Fantasticks, a musical that features two farmers who trick their children into falling in love. The production was scheduled as a showcase intended to give scouts an opportunity to size up aspiring actors. Holman was optimistic, then managed to tear the cartilage in a knee the day of the show. He was unable to go on and, disappointed, retreated to his hometown.
"I have tried to leave Panama City several times, but it's always reeled me back in," Holman said. "I tell people it's my black hole. But, honestly, I didn't realize how much of a Southern boy I am until I moved out West. I never really got comfortable in L.A."
Bay County, then, would benefit by Holman's homing instinct. He has inspired countless students to explore theater and has directed and starred in various productions at the Kaleidoscope Theater in Lynn Haven.
Imagination Factory shows are performed at the Martin Theater in downtown Panama City before field-tripping student audiences during the day and adults at night.
The Imagination Factory's December production of Princess What's Her Name, in which Sleeping Beauty visits various fairy tale characters in an effort to reconstruct lost memories, set a record.
"It was our longest and in many ways our most ambitious show ever," Holman said, noting that it ran an hour and 45 minutes in length but was "very cute" throughout.
Holman attended the University of Alabama as an English major and transferred to the University of North Alabama for his senior year after discovering an interest in theater. At UNA, he studied under Gladys Shepherd, who became an important influence in his life. He went on to the University of Mississippi where he fell a thesis short of a master of fine arts degree. (He was "waylaid" and made the first of his California forays.)
As an actor, Holman always has gravitated to characters who are outsized, outlandish and outspoken. His favorite role, he said, was that of Pseudolus in A Funny Thing Happened on the Way to the Forum. (Zero Mostel famously played that role in a film adaptation of the play.)
Other roles come quickly to Holman's mind: Big Daddy in Cat on a Hot Tin Roof and the various roles he played in Greater Tuna, a comedy set in tiny Tuna, Texas.
"And I was a natural as Henry VIII in Anne of a Thousand Days," Holman recalled. "But I have taken something away from every part I have ever played."
And it is those takeaways that Holman who, now at age 70, gives back to the 25 or so students he works with at any given time, even as they energize him.
"You hear so much these days about how lazy kids are and how they are so focused on electronic devices and social media, which I know nothing about," Holman observed. "But when they come to the theater, they put everything down and they get focused and they find that they have a real desire to learn theater and not just to get up and act silly.
"That restores my faith in youth, and I love all the energy."
Holman was asked what he'd like to accomplish in his remaining years. "I'd like to be on Broadway," he said, but conceded he may not make it. "Maybe, when I retire all the way, I will just live in New York for a few months and immerse myself in the theater. I haven't traveled much in years and I would like that."
And, there is the matter of that unfinished thesis.