Ron Green Has Big Plans For His Future And The Emerald Coast
The Green Machine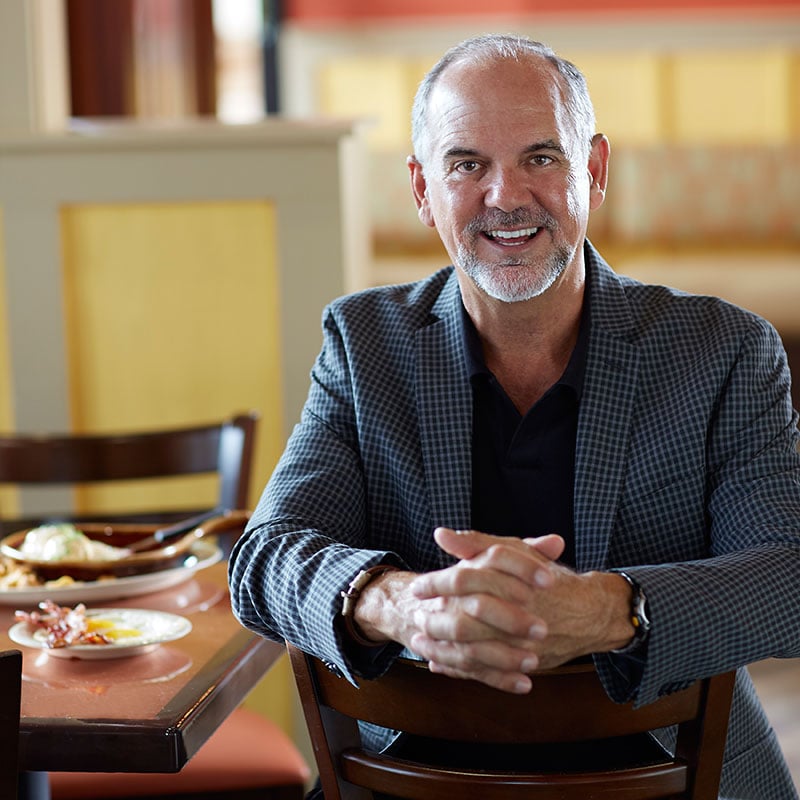 If there's one thing Ron Green has learned over the past decade or two, it's that all dining establishments are not created equal. As a restaurateur and franchisor, Green, the founder of Another Broken Egg of America Inc., has established himself across the country as a foodie force to be reckoned with.
Ron Green
Colleen duffley productions
It wasn't always this way though. For most of his adult life, Green never fancied himself as the culinary type.
"My past history is mostly government projects and facility design," shrugged Green. "I was in a whole different field, and I didn't really get into the restaurant business 'til I was 43 years old."
His flight to the hospitality industry started in 1996 as a matter of necessity while living in Mandeville, Louisiana. Green, then a government contractor with the Department of Energy, found himself without a reliable breakfast or brunch option in the area.
For him, that was an affront to morning people everywhere.
"I never got good service," said Green. "The food was greasy. And I said, 'If I'm ever going to do this, I want to develop a high-end breakfast, brunch and lunch concept that people are willing to pay a couple of dollars more for but they'll get a whole different experience.' "
After extensive research into the industry, his first restaurant, Broken Egg Café, opened in Old Mandeville, Louisiana, in a century-old cottage. Two years, one big move and a tiny tweak to the name later and Green landed on the Emerald Coast with the same dreams in tow.
Another Broken Egg began franchising in 2004. And although the company's footprint has grown, the concept is still based on the same deliciously simple ingredients: fresh food, local flavor, a relaxed but upscale atmosphere and unmatched service. It's a recipe that's served Green and his franchisees well thus far. By 2018, the brand headquartered in Grand Boulevard at Sandestin is slated to have more than 100 locations nationwide.
"I think you can tell the strength of a franchise business by who buys its franchises," explained Green. "We've never really advertised. It's all word of mouth. People have come to us. What we have seen more than anything else in the last five years is that people who have bought into the system are re-buying."
While multiple ownerships are among the brand's latest trends, expanding into entirely new regions is another example of the positive growth that has the establishment — as well as their franchisees — excited for what's ahead.
"We think we'll open between 22 to 25 (restaurants) a year starting in about another year and a half," strategized Green. "Plus we have several restaurants waiting to open. We just sold 12 locations in San Diego. We're also seeking new franchises in the Northeast, the Midwest, even further in California."
Since the concept behind Another Broken Egg has gained sustainable momentum, Green's been hard at work developing a new luxury eatery brand that speaks to the laidback style of Northwest Florida's coastal communities.
He's dubbed it "The Beach House."
"It's just a coastal, casual, come-as-you-are kind of place," smiled Green.
Situated in the former location of the Elephant Walk, The Beach House's persona might be unassuming and relaxed, but the restaurant itself is anything but.
With 13,500 square feet offering soaring Gulf-front views, five different venue options and 300 seats, The Beach House is an impressive space. Combine that with its fresh-from-the-sea menu options, extensive cocktail listings and the only beachside restaurant with a pool on the Emerald Coast — and The Beach House has quickly managed to elevate the local rotation of dining options in Miramar Beach from supreme to next level. The space is also available for events.
Surprisingly, the renovation process for the new-to-market concept took a brief three months (and nearly $1 million) to complete. For Green, the speed of his turnaround was a matter of coordination and efficiency.
"I've opened 52 restaurants in 19 years," noted Green. "So we understand the dynamics of construction. We got a lot done in a short period of time, and we were very successful at it."
For Green, opening his first small plates and dinner establishment meant focusing on the aesthetics almost as much as the grub. His aim was to bring the outside in, and the inside out — making each room and veranda as comfortable and inviting as the last.
"I went in there in the mornings, afternoons and evenings thinking about how I wanted to do this," said Green. "I wanted to capture what the view captures — turquoise, dark blues and sky blues."
Adding a dash of whitewashed woods and sea oat yellows completed the effect. While no plans for franchising the colorful brand have emerged as of yet, Green admits he's open to the idea — though there'll be a few stipulations.
"When I opened my first restaurant, I just wanted to open one — or maybe two or three," said Green. "Now we're at 52. I'd be remiss to say this will be the only one. But if it's called The Beach House, it's going to need to be on the beach."